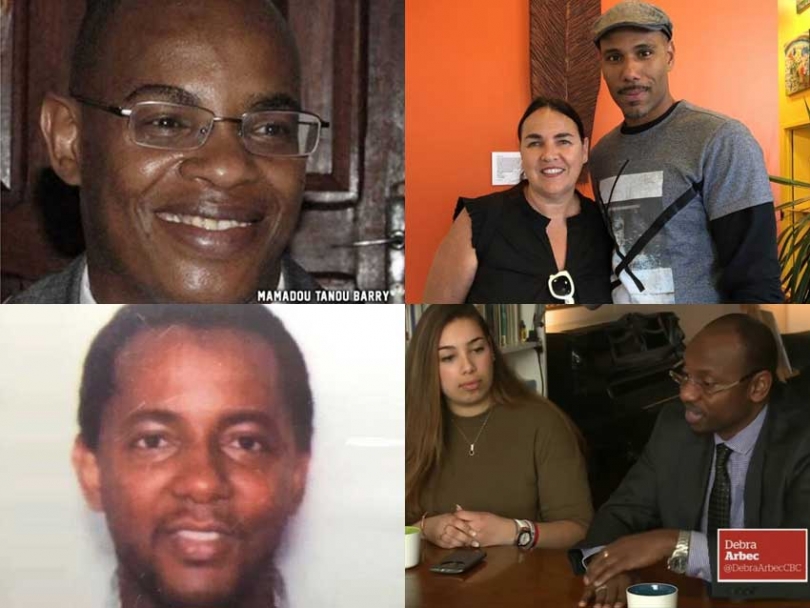 Mamadou Barry (top) and Ibrahima Barry (bottom) were both victims of the Quebec mosque attack. Kim Vincent and Will Prosper in Montreal (Top), Sophia Laababsi and Soulaymane Bah in Quebec City (Bottom) are volunteers crowdfunding to build two wells in Guinea.
21
July


2017
Volunteers Crowdfunding To Fulfill the Dream of One of the Quebec Mosque Shooting Victims Making Progress But Still Need Support
Written by Chelby Daigle
Like all of the victims of the Quebec mosque shooting, Mamadou Barry's death not only impacted his family, it crushed the dream of access to clean drinking water for his village in the West African country of Guinea. Barry was raising funds to install a 100-meter-deep well in his village, located outside of Labe, Guinea's second-largest city.
However, diverse community members came together to fulfill Barry's dream. 
The team of volunteers includes Kim Vincent and Will Prosper in Montréal, and Sophia LaaBabsi, Ibrahima Dabo, a member of the Barry family in Québec City, and Souleymane Bah, president of l'Association des Guinéens du Québec all based in Quebec City with personal ties to the victims and their families.
They are currently crowdfunding to raise enough funds to build two wells, one in Mamadou Barry's village and another in the village of Ibrahima Barry, who was also murdered in the Quebec mosque attack. He is also from Guinea and his village also needs a well in order to improve access to clean drinking water.
The team has crowdfunded over 16K of the 25K they hope to raise for the project which will need to begin before the end of the year inshallah (God willing).
Since March of this year, ordinary people, mostly Quebecers, have made modest donations in order to reach this goal.
Muslim Link interviewed team member Kim Vincent about the project. She intends to travel to Guinea this year to help with the completion of the wells. She, and other members of the team, will be using their own funds to travel.
Why did you get involved with this project?
The attack on the Islamic Center that killed six men was a shocking violation for our society as a whole and a very painful one for me. I am not a Muslim woman but these killings are an affront on us all. I wanted to make sure that these men were honoured in some permanent way. When I learned that there were 17 children orphaned that day, I knew I had to do something real and lasting for them.
What has it been like working with such a diverse team based in Montreal, Quebec City, and Guinea?
We have become close friends. We have a common desire to make this effort a reality. It is a privilege to work together and find solutions together. We are also working with an NGO based in Barcelona ´Rain Drop', run by Alexis Roman who has been drilling water systems for 10 years. He is an old friend and we are fortunate to have his help and expertise to guide us.
Souleymane Bah was able to travel to Conakry over Ramadan; he met with contractors who will also be involved in the realization of the wells.
What are some key lessons you have taken away from doing this work?
We are all aware of the need for clean water systems in Africa and it has been an area of charity that I have given to before but I had not experienced the entire process. Conakry has several foraging engineers and many NGOs are active there. People have been very helpful and receptive to the project.
On a personal level, I am forever changed by this project and we are thinking of continuing and forming an NGO ourselves eventually. We don't want what we have learned to end here. We hope to apply it and make use of our tools in Guinée (Guinea) and maybe in Haiti as well. Once one realizes that they can make a difference on this scale, it is impossible to look away.
The vast majority of the funds raised have come from small donations by your average person in Quebec. How do you feel about that?
It was always our goal to be funded by the people of Quebec for the sake of the children of the victims. We had some media interest with the
 (French).
Will Prosper spoke about the project at the Broadbent Institute's Progress Summit in April and we garnered some support from English Canada as well as a result but we can be proud that the vast majority of support has come from average Quebecers who are still stunned by the tragic event.
The messages of support from the citizens are especially moving and it is a direct way for them to communicate with the bereaved families.
Sophia Laababsi is in direct contact with the widows of Mamadou Tanou Barry and Ibrahima Barry who have 6 children between them.
I sincerely hope that [our project] can bring them some shred of comfort.
To contribute to the Two Wells project click here
This article was produced exclusively for Muslim Link and should not be copied without prior permission from the site. For permission, please write to info@muslimlink.ca.