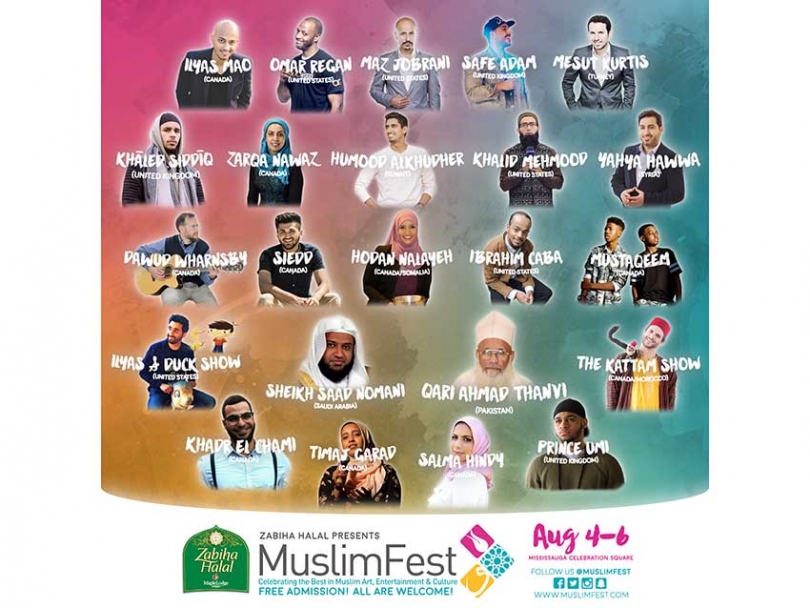 Muslim Link interviewed MuslimFest's Event Director Tariq Syed about why folks should visit Mississauga this weekend to check out this year's festival.
31
Jul


2017
Check Out MuslimFest, Mississauga's Annual Muslim Arts Festival, This Long Weekend!
Written by Chelby Daigle
MuslimFest is back for another year, taking place from August 4th to 6th in Mississauga's Celebration Square.

The annual Muslim Arts Festival is the largest of its kind in North America, attracting over 30,000 attendes annually.

Festival and Events Ontario selected MuslimFest as one of the best festivals in Ontario in 2016.

Launched in 2004, MuslimFest is a joint project of DawaNet and Sound Vision. Offering a mix of music, comedy, spoken word, visual art, theatre and workshops on a diversity of topics, along with fun activities for children and a multicultural bazaar, MuslimFest showcases the talent of a diveristy of Muslim artists from Canada and around the world.

Muslim Link interviewed MuslimFest's Event Director Tariq Syed about why folks should visit Mississauga this weekend to check out this year's festival.
Tell us about the origins of MuslimFest?
MuslimFest was actually an idea that came to mind about 14 years ago. This was just when our global political climate was becoming pretty tense. Misunderstandings toward Muslims at home and overseas were also worsening. We really wanted to create a reason to share positive experiences and build bridges with our fellow neighbours. After all, this is what Islam encourages. What resulted was a grassroots organization that transcended those political issues that kept our communities from bonding.

MuslimFest also gave us an ideal platform to present a different narrative of Islam and Muslims. This was crucial, especially considering the negative stereotypes being circulated by mainstream media.

Ever since then, our festival's changing themes truly highlight unique Muslim culture, artistry and distinct family entertainment.

Why do you think it is important for Muslims to have an arts festival?

There are so many great reasons why Muslim arts should be preserved and celebrated. Where do I begin? MuslimFest has given one-of-a-kind opportunities for hundreds of talented individuals to practice artistic expression and create engaging content. This helps promote education about different cultures and backgrounds. I think society is so driven by political and economic factors, so people need art for empowerment and inspiration. Our arts festival leaves attendees with a wider perception of the world and greater understanding towards each other. Above anything else, this has been the most worthwhile outcome of MuslimFest.

How has MuslimFest become an important annual event for everyone in Mississauga?

Hope you don't mind my humble brag! MuslimFest is one of the largest festivals in North America, and now the largest Muslim festival in our country taking place in Mississauga. The festival is actually recognized by all three levels of Canadian government. We also win several annual awards due to impactful social media and online engagement. Muslimfest has really contributed to the diverse identity of this amazing city.

Last year, the festival received over 30,000 attendees across its weekend event. This has really placed Sauga-City on the map for family entertainment and halal food.

Many MuslimFest-goers from across the province also travel to Mississauga for the event, not to mention our local and international performing artists.

How do you choose the artists each year?

Lots of factors go into choosing artists and performers for our concert, shows and workshops. We're always on the lookout for emerging talent and voices worth hearing. It's not a popularity show. We don't intend to make the festival about that! MuslimFest uniquely features both rising and known entertainers.

The most important part about performing at MuslimFest is creating memorable experiences, so we try to look for artists who share this goal.

Of course, it's also important to reach out to performers who fit the festival's creative and family theme. We also value fan input and try to offer what they'd like to see.

You never know, ask and you just might receive!

Who are you excited to see perform this year?

I'm always down for a good laugh, so I can't wait to see what comedians Hamza Moin, Maz Jobrani and Omar Regan have in store.

We're also excited for attendees to get to know female comedian Salma Hindy. She has a great sense of humour which people can really relate to.

We're also anticipating Safe Adam and Prince Umi from the UK, along with Mesut Kurtis from Turkey.

I can't wait to see Ilyas Mao, Dawud Wharnsby and band Mustaqeem hit the stage.

Honestly, it's so hard to do justice to over 30 amazing artists. Folks can get a preview of performers on our website here.
I hope everyone can attend this year's festival to watch these talented individuals come together for a live concert, theatre-play and stand-up routine.

What are the highlights for each day?

It really depends on what you're into! I hope families can attend MuslimFest starting Friday August 4th for the unveiling of our special mixed multi media dedication to Canada's 150th anniversary. There will be ongoing displays of various forms of art, as part of the festival's International Art Exhibition.

Personally, I can't wait to get some food and maybe purchase a few souvenirs from the Grand Bazaar.

Another highlight is the festival's popular concert. During Saturday and Sunday's prime time, fans can look forward to beautiful musical performances by Canadian singer Siedd and Middle Eastern artist Humood.

This year, MuslimFest will also feature movie screenings and cool workshops throughout the weekend.

What are some highlights for children aged 10 and under?

There's so much for children to enjoy at MuslimFest. As we're primarily a family event first and foremost, the festival always organizes fun activities and shows for this age group. Parents can look forward to getting their kids active at the Fun Village. The festival will also provide an Arts & Crafts station and Animal Carnival.

MuslimFest is super excited to feature children's author Omar S. Khawaja. Omar will lead a live storytelling session, complete with a giant screen. Kids can read-along to the adventurous stories of Ilyas & Duck.

What is there to do for youth?

The festival is a great way for youth to end their summer on a high note before heading back to school. I'd say that all of MuslimFest shows and programming are designed to reach and engage a younger adult crowd. The festival is an ideal spot for youth to take part in interactive stuff with friends.

We're bringing back our basketball court this year, including the graffiti mural. Young attendees can also watch the inspiring short film "The Dome", and voice their opinion during its panel discussion.

They can also learn about the political world by viewing a play called "War & Displacement" with Abdurrahman Murray.

Of course, there's always the entertainment side of MuslimFest, like comedy shows and live concerts. This is definitely something everyone should stick around for!

Not so off-topic is MuslimFest's matrimonial mixer - we hope our Sunday Single Muslims event brings some successful stories InshAllah!

Is there still room for people to sign up for the Single Muslims event?

For males, yes, there's still room! Don't be shy and sign-up soon, you'll be in our duas for a blessed union InshAllah. If you missed the window of opportunity, don't worry either. We're focusing our efforts on a functional matrimonial program which anyone can join anytime of the year. More details to follow, just make sure to follow us on social media to learn about the launch!

Tell us about your workshops?

Yes, a big part of the festival is its indoor workshops. There's literally so much to do at MuslimFest, we only wish there were more hours in the day! Workshops are a nice way to take a break from being outdoors. We have amazing skills-building workshops where festival attendees can discover their interests and learn about different subjects. We've gone all-out this year to have a little bit of everything.

Workshops on Saturday and Sunday will be comprised of painting, science fiction, non-fiction and calligraphy. These off-stage programs are coached by unique professionals. I recommend anyone interested in poetry, fiction, film or painting to check them out. A full schedule of all programs and shows can be found on our website here.

Tell us about the Canada 150 exhibit?

MuslimFest's Canada150 Exhibit is something that's taken months to plan. In honour of Canada's 150th year, we're finally launching 150 Muslim Contributions to Canada. It's something like a mixed media display of artful contributions made by everyday Canadian Muslims. This artistic content will showcase Canadian culture, heritage and community. We've opened this exhibit to community members and artists for any creative submission to symbolize how Canadian Muslim communities contributed to the growth of our country. I think it's very much related to the festival's original vision and mandate: the purpose of our Canada150 exhibit is to inspire others to be contributing Canadians and build positive dialogue about the Muslim community.

What can people find in your Bazaar that is different than at your regular Muslim conferences?

MuslimFest's grand bazaar displays around 60 uniquely diverse outdoor booths. The Mississauga Celebration Square has been a great spot for MuslimFest, but it's kind of small when compared to venues used by Muslim conferences. Because of this, we try to make sure you'll come across as many different vendors as possible. Attendees can also meet festival sponsors, partners, and nonprofit groups supporting the festival. MuslimFest always reaches out to local leaders, so you might just come across a mayor or two during your MuslimFest walkaround! Artist meet & greet will also take place within the bazaar area.

Tell us about your interfaith hackathon, why should people attend?

The Interfaith Hackathon is an important dialogue session about addressing social problems. People should definitely attend and participate in the brainstorming sessions. The conversation will revolve around environmental issues, sustainability, food shortages and relevant topics that affect so many people locally and around the world. The purpose is having faith-based communities come together on shared values and common ideas. The aim is to hopefully provide resources for all members of society. It's about getting the conversation started in order to create doable solutions.

For people coming out of town for the event, what recommendations would you make for parking and accommodations?

This year's MuslimFest occurs on the Civic long holiday, so be prepared for a busy hotel season. Our festival gets pretty packed. I recommend arriving at the festival sooner rather than later. There's underground parking free of charge. If you can't find a parking spot, that's alright. We're located right beside the Square One shopping centre, which fortunately has a huge parking lot. You can also skip driving and consider public transit to the Square One area. At least that helps the environment!

MuslimFest 2017 will take place at the Mississauga Celebration Square on Friday August 4th at 6 pm, Saturday August 5th and Sunday August 6th, both days 12 pm - 9 pm.
For the schedule visit the website here.


This article was produced exclusively for Muslim Link and should not be copied without prior permission from the site. For permission, please write to info@muslimlink.ca.