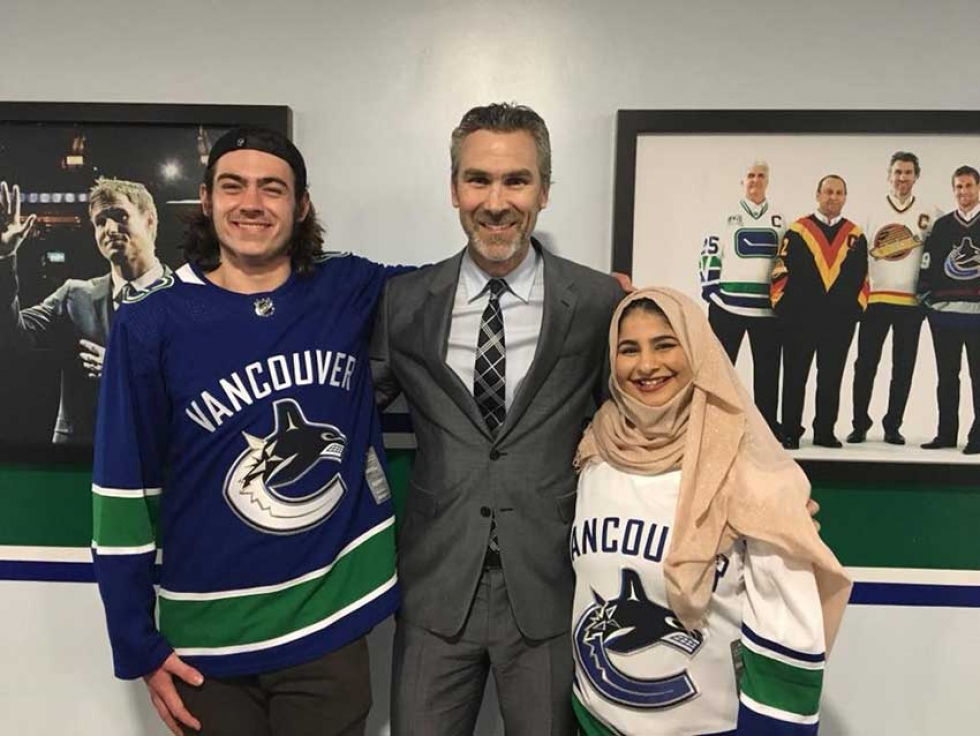 The Vancouver Canucks show their appreciation for Jake Taylor and Noor Fadel in their fight against Islamophobia. This photo was taken with retired professional hockey player Trevor Linden, the current president of hockey operations of the Vancouver Canucks,
Noor Fadel
26
Dec


2017
A Very Canadian Christmas Gift For Hero Who Stood Up To Violent Islamophobia
Written by Chelby Daigle
Muslim Canadian journalist Muhammad Lila from Toronto crowdfunded for a gift for Jake Taylor, an ordinary Canadian who intervened during the violent Islamophobia-motivated assault of a young Muslim woman, Noor Fadel, on the Skytrain in Vancouver in November.
As Noor Fadel stated on her Instagram, "Out of all the passengers he alone stepped in and protected me. He got off the train and comforted me until police paramedics came by. He means the world to me and more than anything I'm honoured to call him a friend."
According to Muhammad Lila "When 18-year old Noor Fadel was assaulted on the train, everyone sat and watched.When the attacker said he wanted to "kill all Muslims." everyone sat and watched. Except for Jake Taylor.
He grabbed the guy, told him to "get the F--- out of here," and stayed with Noor until the police and paramedics arrived.
Jake never asked for anything in return. He's shy and doesn't like the spotlight. His story went viral on Facebook, reaching millions of people. More than 30,000 people sent in messages of support. There was a crowdfunding campaign to say thank you. I flew in myself, to give him a handmade, leather-bound book with thank you letters from around the world.
And nothing can top what the Vancouver Canucks did for him. The leadership team wanted to honour him, and Noor, so they [invited] them to be special guests at Rogers Arena for a game on Hockey Night in Canada. Jake had no idea what was about to happen. Midway through the game, during a commercial break, the arena went quiet. The announcer began the story of what Jake did, and how he'd become a hero.
Jake got one of the loudest ovations I've ever seen at a hockey game. I kept thinking it would be short, and that everyone would want to get back to the game. But they didn't. They kept cheering and cheering. When I looked over to the Canucks bench, I saw some of the players looking up at the screen and cheering.
There's a lot of bad stuff in the world. When we see something good, we should encourage it. When we do the right thing, everyone wins."
Iraqi Canadian Noor Fadel welcomes the attention that has been paid to Jake Taylor. In her interview on The Chosen Khan, she states, "For me, he was the one that was there for me. And ya, it's a decent thing that any human should do, but no other human did so he's a hero and I'm going to say it and my family thinks so too. What he did was amazing and he didn't need to do it....People are messaging me and saying that 'It's great what he did for you and stuff but I think media are focusing too much on the White guy who saved the Muslim girl on the train'. Well, that's exactly what happened! The White guy helped the Muslim woman on the train while everyone else was seated and watching!"
However, it is important to also pay tribute to teenager Noor Fadel's courage as many survivors of violent Islamophobia, in her case a verbal, physical and sexual assault, do not choose to speak out so publicly, given the danger and hatred they face. Noor's attack is an example of what is now called "gendered Islamophobia", as it is becoming increasingly clear, even according to hate crimes reported to Statistics Canada, that visibly Muslim women are disproportionately targeted for violent Islamophobic attacks, including physical and sexual assaults. Unfortunately, as in Noor's case, public transportation is a frequent location for these incidents.
Noor was already an outspoken community organizer; in February she co-organized a rally called
Resist 4 Peace
 corresponding with the opening of Trump hotel in Vancouver.
Oh and Noor's also
a poet
and Judo master! She's just 18 mashallah (praise God)!
https://twitter.com/VanMayorsOffice/status/941854100521545728
We highly recommend getting to know Noor, inshallah we will be hearing much more from her. It's important for us as Muslim Canadians to show our love, support, and appreciation for our young outspoken community organizers, like Noor, who are paving the way for themselves and the rest of us.
She is working to address the issue of Islamophobia on public transit in Vancouver by following up with TransLink to address safety and security, including adding cameras on the train.
Please check out The Chosen Khan's December 21st interview with Noor here.
She discusses her family, her organizing, experiences with Islamophobia in high school, mental illness, self-care, and the traumatic impact of the assault.
In the podcast she states, "No more separating each other! We can't just go from culture to culture, religion to religion, and focus on ourselves only. No, we have to realize this is Canada, we're diverse. This is Vancouver, we're diverse. And we need to be accepting of one another and support each other.....No matter what race or religion you are, there's the good and there's the bad.....We already know there's enough finger pointing to go around. Stop pointing fingers at each other! Just take some accountability and do your own self a favour and be kind!"
https://www.instagram.com/p/BdF61f5gNFs/?taken-by=poetrybynoor
This article was produced exclusively for Muslim Link and should not be copied without prior permission from the site. For permission, please write to info@muslimlink.ca.