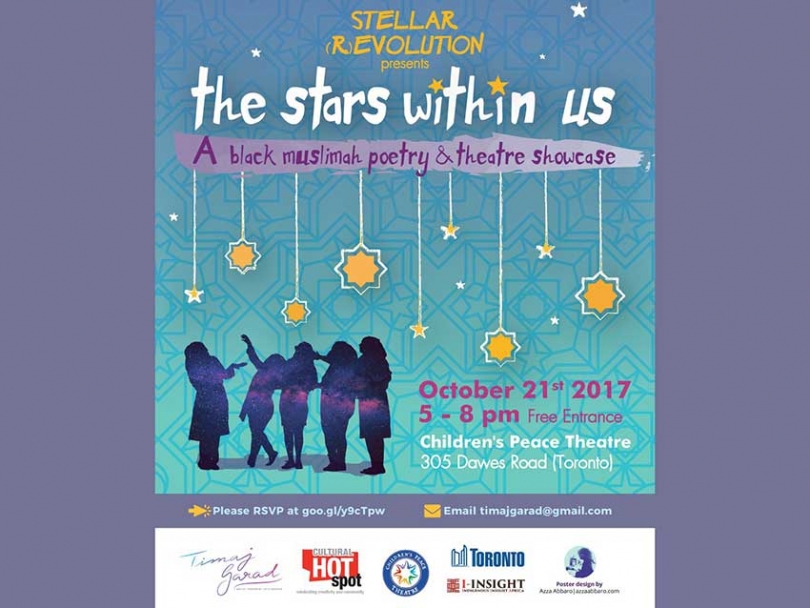 The Stars Within Us: A Black Muslimah Poetry & Theatre Showcase will debut original works developed in the Stellar (R)evolution (cycle 1) workshop series on Saturday, October 21 in Toronto
18
October


2017
Explore The Black Muslimah Canadian Experience Through Poetry and Theatre
Written by Chelby Daigle
On Saturday, October 21, folks in Toronto had an opportunity to hear from some emerging artists from Canada's vibrant Black Muslim community. The Stars Within Us: A Black Muslimah Poetry & Theatre Showcase will debut original works developed in the Stellar (R)evolution (cycle 1) workshop series, a SPARK Cultural Hotspot program created and facilitated by Timaj Garad in partnership with the City of Toronto, also supported by I-Insight and the Children's Peace Theatre.
Muslim Link interviewed Spoken word poet Timaj Garad and two workshop participants, Shukria D. and Hafsa Ali,  who performed on Saturday, about why it is important to create spaces for young Black Muslim Canadian women to share their stories through art.
How did you develop the idea for Stellar (R)evolution
Timaj Garad: Stellar (R)evolution was a passion project years in the making born of a sense of urgency to gather black Muslimahs to connect, share our stories, heal, and re-imagine our futures in ways that empower us collectively and as individuals. This project is a response to the systematic and on-going silencing of black Muslimah narratives through the nuanced islamophobia, anti-black racism, and misogyny we experience at our identity intersections and acknowledging that storytelling is a powerful way to take back our narrative and transform ourselves and our communities in the process. I wanted to offer an opportunity for black Muslimah youth to unearth and share their stories through spoken word poetry and theatre, giving voice to those stories creatively, playfully, and collaboratively.
I've always been fascinated by outer-space and use a lot of imagery in my own work related to it. Something I found particularly fascinating about outer-space is the life cycle of a star, which goes through the process of stellar evolution. Even more intriguing, when a star dies, the remnants of it re-emerge as a new cosmic entity (usually a new star) - a transformative rebirth and renewal, still alive and creating. I believe this phenomenon is a beautiful metaphor for our resilience as black Muslim women. We evolve, survive, and thrive so brilliantly. However, we are also extraordinarily brave and fierce so the name of the series went through a evolution of its own from Stellar Evolution to Stellar (R)evolution; 'R' in parentheses to remind you that our stories, just like our survival, are revolutionary.
How did you develop the partnerships to put this project on?
Timaj Garad: I applied for the City of Toronto's SPARK Cultural Hotspot East York partnership program this summer for Stellar (R)evolution, and thankfully, received the partnership opportunity, which funds this cycle of the program. I also developed a partnership with Indigenous Insight Africa through my work as a Creative Consultant and Arts Mentor for their Critical Conversations mixed media arts program for Toronto-based African youth last year. I connected with Children's Peace Theatre through a shared vision to provide art-based summer programming for black youth in the city and Stellar (R)evolution was invited to feature in their Project Future Languages of the Land showcase alongside black and indigenous program participants. Children's Peace Theatre provided generous venue support throughout the series. I'm so grateful to all our project partners and the people and organizations who supported through spreading the word and encouraging the progress of Stellar (R)evolution.
Why did you want to participate in this program?
Shukria D.: I heard about this program through a friend who knew how much I love learning new things and attending workshops. I was most excited about the opportunity to express myself through spoken word, an art form that I have always enjoyed from afar. I also wanted to start trying new things and leaving my comfort zone- struggling with public speaking I knew this would be a great opportunity to try it.
Hafsa Ali: The reason that I wanted to participate in this program was to better establish myself as an artist, to be in a place where there were others who were like me, a space that spoke to all my identities. I wanted to join this program to allow my art to take a different direction, to challenge myself and get over my awkwardness and it did just that.
What have you learned from the program?
Shukria D.: Through the past few weeks I have learned a lot about creating poetry, telling a story and various expression forms. I learned a lot about myself as well! Timaj was encouraging and talented and provided a safe space for us to learn and collaborate.
Hafsa Ali: Throughout the series of this program I've learned to be confident and trust in my work. I've learned the different components of poetry and what it takes to make a meaningful piece. We got to explore not only the writing part of spoken word, but always the performance styles and branched into theatre, a scary but welcoming change.
Why is it so important to showcase Black Muslimah voices in Canada today?
Hafsa Ali: It is important to showcase the voices of Black Muslimahs in Canada because there is hardly any representation of us in any discipline, our voices are seldom heard and the few times that they are it's not told by us. There is hardly any spaces where we can be Black, Canadian , or Muslim separately let alone at the same time.so It's important that we establish ourselves and make people acknowledge that we exist in any way that we can, whether it's through art, activism, or education, because we are important, powerful and beautiful people who deserve to be celebrated.
Timaj Garad: Black Muslimah voices are systematically suppressed by a dominant narrative that seeks to erase us. From every angle, whether it's the Muslim community, Black community, or within larger Canadian society, we are demanded to fragment ourselves in ways that diminish the complexity of our multi-layered identities. We experience the violence of anti-black racism, islamophobia, and misogyny in ways that are intersectional, informed by all of our identities, yet we rarely see representations that give voice to these experiences. Instead, we are asked to check our blackness at the doors of our mosques and our muslim-ness at every other door. For those of us that are visible hijab-wearing Muslims, our blackness is questioned. At every turn we are asked to choose between our identities, which is no choice at all. Expecting us to make this choice is to expect us to leap out of our skin, out of our own hearts.
The Stellar (R)evolution workshop space has been a healing space for us to gather, discuss, and connect to our stories and each other in ways that could have only been possible in an environment that celebrates, uplifts, and empowers Black Muslimahs - a space for and by us. The Stars Within Us showcase is an invitation to allyship and awareness, as much as it is a celebration and acknowledgement of our stories. It's so important for Black Muslimahs to take back the stories that will only be told for us without us (and in harmful ways) otherwise.
Our stories are resilient. Our stories are necessary. Our stories are urgent. Our stories matter. Black Muslimah stories matter.
Tell us about what attendees can expect Saturday.
Timaj Garad: The youth of Stellar (R)evolution have been working hard to create original spoken-word infused plays and will be debuting them at the showcase this Saturday. This phenomenal group of young women will be offering the community their STELLAR passion-driven moving works of performance art. Their works explore themes of identity, belonging, home, and well-being. We will be gathering from 5 - 8pm at the Children's Peace Theatre's scenic cozy venue located at 305 Dawes Rd. for The Stars Within Us showcase by Stellar (R)evolution. Our audience will have an opportunity to meet the artists after the show and engage with the performances. We will also be announcing exciting upcoming projects that you'll love if you love Stellar (R)evolution and The Stars Within Us. Please join us and witness our Black Muslimah magic by RSVP-ing here!
Shukria D.: I've had the honour to listen to the performers create and collaborate, these are resilient, intelligent, expressive women who have put together beautiful pieces! So hopefully attendees can look forward to a great show!
Hafsa Ali: This Saturday attendees can look forward to powerful performances by amazing artist that pieces revolving around the different intersection of their identities. Be prepared to be moved!
Learn more about The Stars Within In and how to register to attend here
This article was produced exclusively for Muslim Link and should not be copied without prior permission from the site. For permission, please write to info@muslimlink.ca.