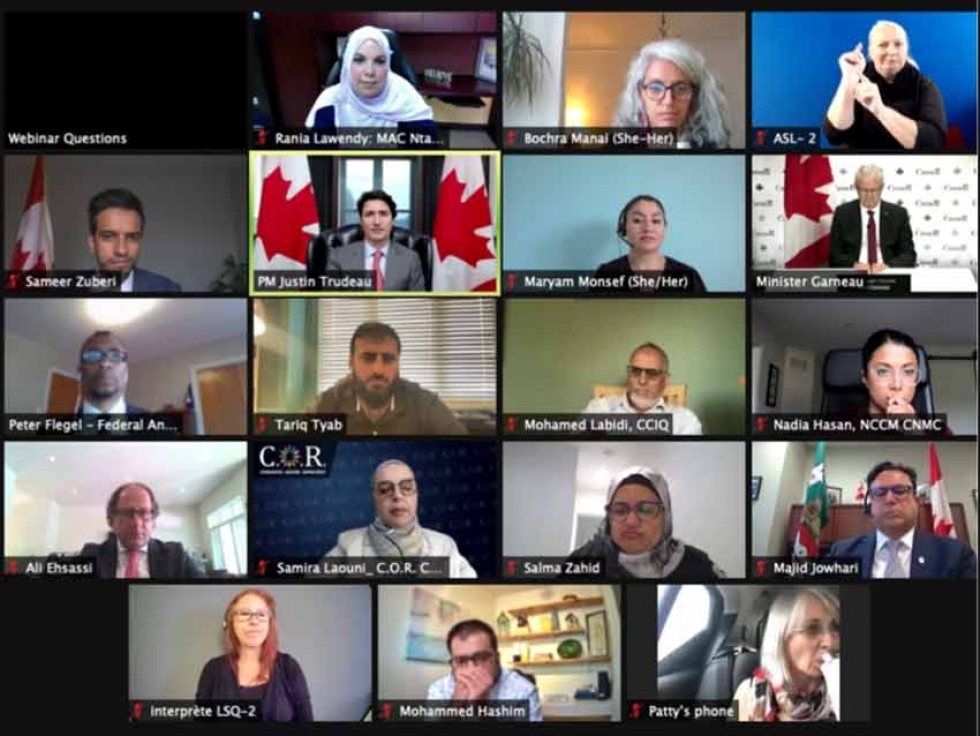 ZOOM Capture of some of the invited attendees of the National Summit on Islamophobia.
MAC
31
Jul


2021
Muslim Association of Canada (MAC) Statement on the Outcomes of the National Action Summit on Islamophobia
Written by Muslim Association of Canada
The Muslim Association of Canada (MAC) recognises the recent National Action Summit on Islamophobia as an important opportunity to start real change to tackle violent and systemic Islamophobia in Canada.
Canadian Muslims acknowledge the Prime Minister's leadership at the Summit and Minister Bardish Chagger's tireless work to organize the event. MAC welcomes the Prime Minister's commitments to engage the community in the next Anti-Racism Action Plan and explore opportunities in other important programs.
However, the Muslim community is considering the outcome of this summit a litmus test of our government's commitment to take real effective action to dismantle the root causes of Islamophobia that have allowed hate to spread in our society and its institutions. The outcome of the summit is going to be weighed carefully by our community and all Canadians. It will either establish confidence in governmental action to end the growing discrimination against Muslims and suffering sustained by Muslims; or it will diminish that confidence and trust and reinforce the existing hegemony which is suspiciously Islamophobic.
MAC supports the commitment of the Honourable Bill Blair, the Honourable Bardish Chaggar, and the Honourable Steven Guilbeault to improve the Security Infrastructure Program (SIP), Anti-Racism Action Program (ARAP), Community Support, Multiculturalism, and Anti-Racism Initiatives Program (CSMARI).
MAC welcomes the announcement by the Honourable Diane Lebouthillier to initiate a review by the Taxpayers' Ombudsperson to address the concerns of Muslim led charitable organizations. While this option is not what the community called for, the study must consider the legitimate concerns raised by the community to ensure the terms of the review tackle the root causes of systemic Islamophobia in the CRA Risk and Analysis Division (RAD).
MAC is prepared to work with the government to enhance the effectiveness of these programs to ensure they are responsive to the community's core needs.
On July 20, 2021, MAC submitted an independent proposal with 9 specific recommendations. We put forward two priorities: we must eliminate institutional and systemic Islamophobia; and we must institutionalize the fight against Islamophobia. The top three priorities that must be addressed immediately are:
To establish a federal office to implement an anti-Islamophobia strategy
To immediate moratorium on CRA RAD audits of Muslim charities pending a review of the division
To reform and provide oversight of the CBSA and eliminate the profiling of Muslims
MAC will continue to work with the Government to explore recommendations and actions to tackle Islamophobia in Canada.
Read MAC Executive Council Member Rania Lawendy's speech at the National Summit on Islamophobia online here