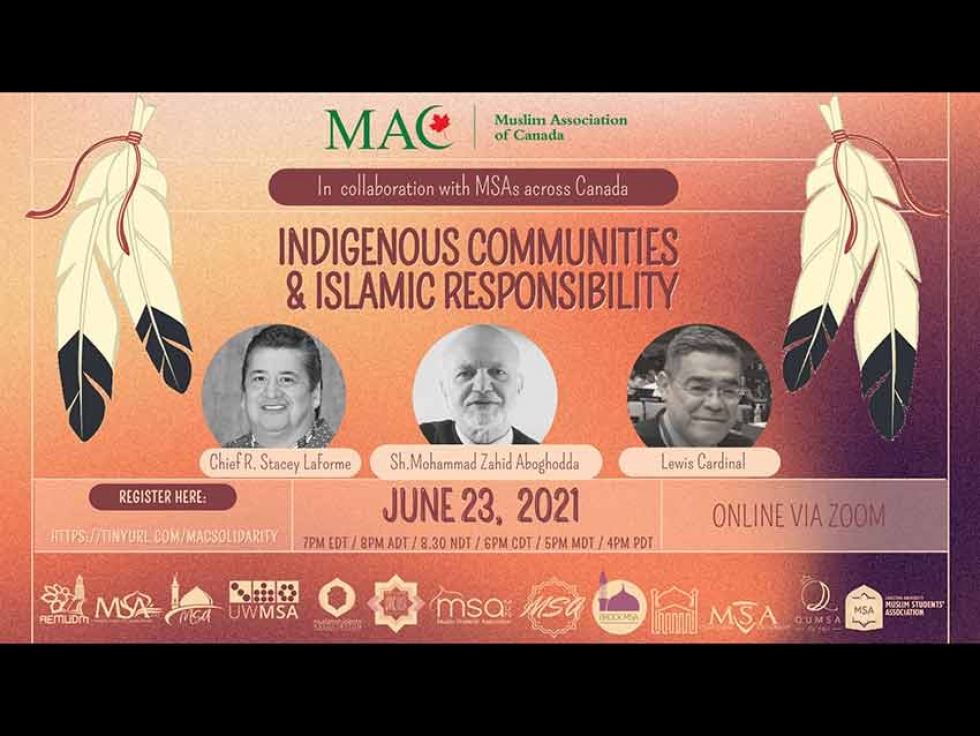 20
Jun


2021
Muslim Association of Canada (MAC) and MSAs across Canada Organized a Session on Indigenous Communities and Islamic Responsibility: Watch Online
Written by Muslim Association of Canada
We are proud to collaborate with over 15 MSA's across the country on this unique initiative.
Bringing the voices of the Indigenous communities of Turtle Island, and contextualizing within an Islamic worldview, we will try to understand our role in supporting their fight for justice today.
We will explore what truth and reconciliation can really look like, as well as how we can find hope through collective actions as we stand in solidarity with our Indigenous brothers and sisters.
The first step to solidarity and standing up to injustice is education and being ready to listen - this is a very important event, we need your help to spread the word.
Indigenous Speakers include:
Chief R. Stacey Laforme, New Credit First Nation (MNCFN)
R. Stacey Laforme is the elected Chief of the Mississaugas of the New Credit First Nation (MNCFN). Born and raised on MNCFN, Chief Laforme has served his community for more than 18 years, being first elected to council in 1999. As Chief of the MNCFN, he works to increase the profile, welfare and prosperity of the First Nation throughout the traditional 3.9 million acres of territory in Southern Ontario. He was instrumental in having the MNCFN be the first ever official First Nation host of the Pan Am/Parapan Am Games in 2015. He is a noted author of books and poetry, with his poem Remember engraved in the Veterans Memorial, and others featured in the short film Sacred Trust and at Fort York in Toronto. Chief Laforme is committed to preserving the land, history, language and culture of the MNCFN. (Bio Source)
Follow Chief Stacey on Twitter here
Lewis Cardinal comes from the Woodland Cree First Nation in Northern Alberta. He is a communicator and educator who has dedicated his life's work to creating and maintaining connections and developing relationships which cross cultural divides. A lot of his work has taken him into inter-government and inter-faith work as well as community development. His long track record of public service includes Founding Board Member of Alberta Aboriginal Arts, Board Member of Theatre Network, Co-Chair of the Aboriginal Commission for Human Rights and Justice, and Trustee of the Council for a Parliament of World Religions, just to mention a few. Lewis has received Queen Elizabeth II's Diamond Jubilee Medal for Public Service, the IndSpire Award for Public Service (the highest award given to an Indigenous person by Indigenous people in Canada), the Province of Alberta's Centennial Medal for his work in Human Rights and Diversity, the Distinguished Alumni Award from Grant MacEwan University, and he was recently conferred the Honorary Degree of 'Doctor of Sacred Letters' from St. Stephen's College at the University of Alberta. (Bio Source)
Follow Lewis Cardinal on Twitter here
Watch the recorded session on YouTube below (It may take a few moments to load)