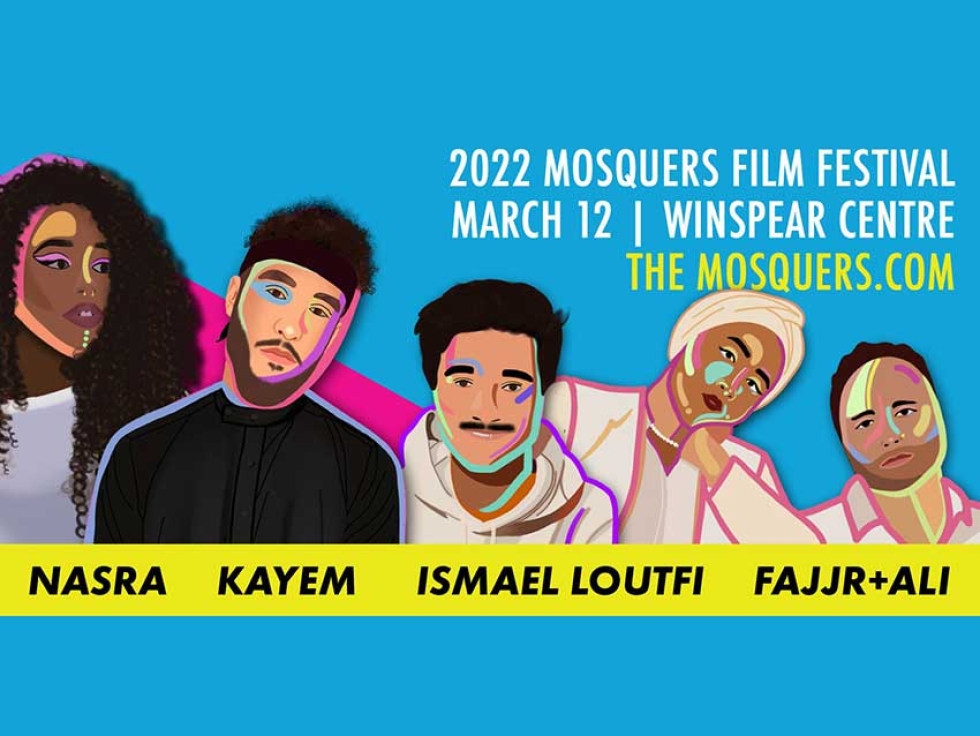 04
Mar


2022
Mosquers Film Festival Returns to Edmonton After Two Years with Unparalleled Showcase of Global Muslim Talent
Written by The Mosquers Festival
March 1, 2022 (Edmonton, Canada)
On March 12th, hundreds from across the world will gather for the first time since 2019 for the Mosquers Film Festival at The Winspear Centre.
The festival will feature ten short-film finalists from around the world, including three from Alberta.
There will be performances by acclaimed singer Kayem, the band Fajjr + Ali, comedian Ismael Loufti, and light calligrapher Karim Jabbari.
The showcase will also include over $10,000 in awards for actors and filmmakers that all uniquely portray the Muslim experience.
This year, the programming will consist of three unique events:
March 11: Opening Credits, the invite-only mixer that will feature a star-studded panel conversation featuring CSA Winner Hamza Haq, acclaimed and award-winning writer Sahar Jahani, and the multi-talented Canadian author, filmmaker and journalist Zarqa Nawaz
March 12: The Main Event, the red carpet moment to feature the talented Muslim creative community with performances, screenings, and award ceremony; and finally POPCORN, the official afterparty to the Main Event that will serve as a celebration of visual art with paintings, photography, sculptures, and various other forms of creative expression on display.
"We are thrilled to be back in Edmonton to host the 13th annual Mosquers Film Festival that displays the highest caliber of global Muslim talent the film industry has seen," said festival Co-Chair Sofia Alani. "Unfortunately the pandemic had stopped us from bringing everyone together in person for the last two years, so we are especially excited to have everyone celebrate some of the world's leading Muslim artists. Our mission has always been to educate, entertain, and build bridges through showcasing the diverse facets of the Muslim experience and we are honoured to continue this important work."
The Mosquers Film Festival started in 2006 as a modest short-film competition tackling everyday issues and today draws talented filmmakers, performers, and audiences from across the globe.
ABOUT THE MOSQUERS
Based out of Edmonton, Canada, The Mosquers started as a short-film competition aimed to spread a message of creativity, positivity, and compassion to the general public, average Muslim, and media at large. It is now the world's leading film festival that transforms the way people see Muslims through films that have made people laugh, cry, and most importantly, think. With submissions from 50 different cities in 20 countries, the Mosquers Film Festival continues to unite the community through a night of celebrating the art of film while providing a channel for talented Muslim to express themselves.
Check out the films that will be screening at the festival below. YEG Local means the film was made by Edmonton-based filmmakers.
Read Coverage of the Festival in Canadian Media below: