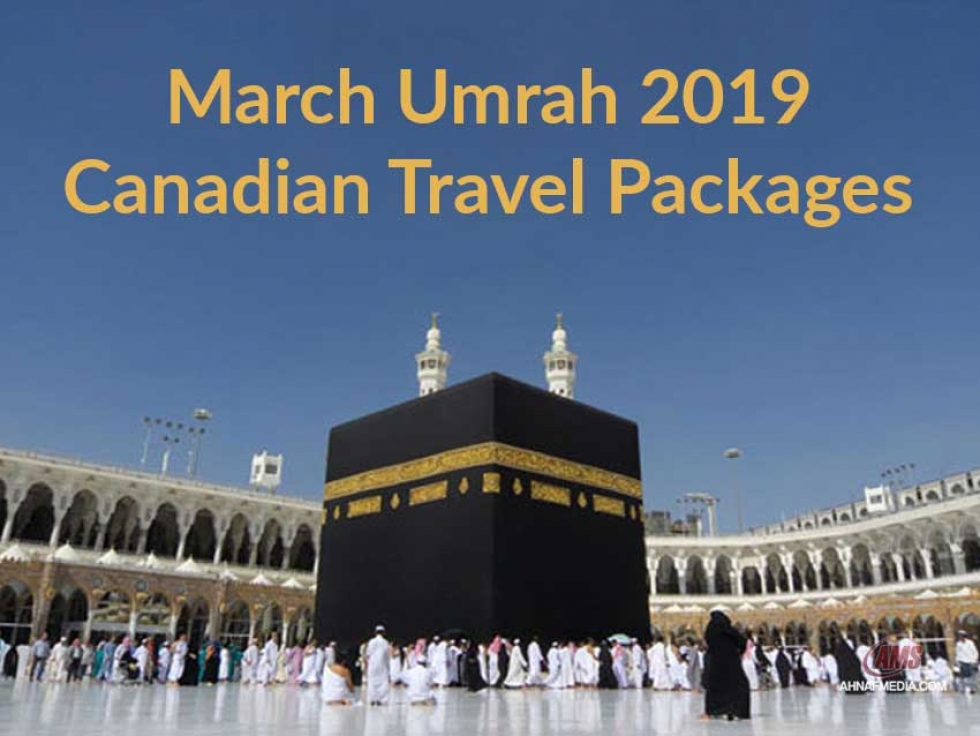 31
December


2018
March Umrah 2019 Canadian Travel Packages
Written by Chelby Daigle
Muslim Link has compiled a list of 2019 Canadian Umrah Packages that take place during March Break in Ontario and Quebec as we have seen many visitors to our site searching for this information.
If you have any questions, please contact the hajj travel agencies directly.
If you would like Muslim Link to add your Canadian Hajj Package to this list, email us at This email address is being protected from spambots. You need JavaScript enabled to view it.
***************************************************
The Government of Canada recommends that Canadians travelling for Umrah take the following precautions in the interest of their health:
All travellers should see a health care professional or visit a travel health clinic, preferably 6 weeks before travel. Find a travel health clinic near you.
Make sure your routine vaccines and adult boosters, including measles, are up-to-date.
Pack a travel health kit and consider purchasing travel insurance.
Find out more about the Registration of Canadians Abroad service so that Canadian counsular officials can contact you in case of an emergency.
Visit the Saudi Arabia Ministry of Health website for health requirements and recommendations for travellers to Saudi Arabia for Hajj and Umrah for information on required vaccinations and other health recommendations. They require that all Canadian travellers have the quadrivalent meningococcal vaccine (ACYW-135).
The Government of Canada encourages you to register on Registration of Canadians Abroad before travelling through: https://travel.gc.ca/travelling/registration
The Government of Canada encourages you to stay connected to the latest travel advice and advisories, and can find our emergency contact information at travel.gc.ca, also available via our mobile Travel smart application (www.travel.gc.ca/mobile).
The Government of Canada cannot resolve immigration violations, become involved in any disagreements, e.g. pilgrim and travel agency disputes or lost baggage, rearrange airline, hotel, or other travel bookings, pay for hotel, legal, medical, travel, or other bills, obtain someone's release from prison, or provide legal advice or intervene in court cases or criminal investigations.
The Government of Canada can issue replacement passports in case of theft or loss, seek to contact you within 24 hours of being told that you have been arrested, take special arrangements for you in case of civil disturbances or disasters, provide contact information for local lawyers and hospitals, arrange for a spouse or next of kin to be informed if you are involved in an accident, arrested, or die, and advise them on the appropriate procedures.
****************************************************************************
2019 March Break Canadian Umrah Travel Packages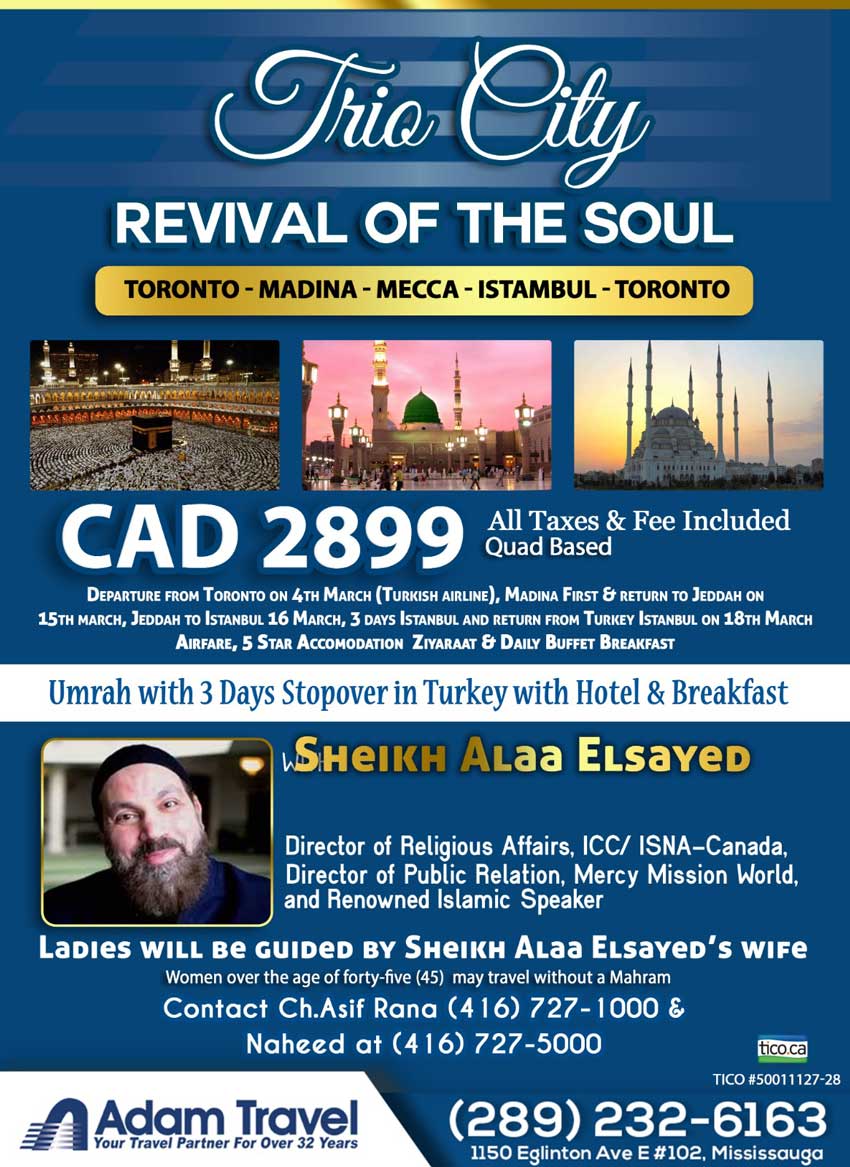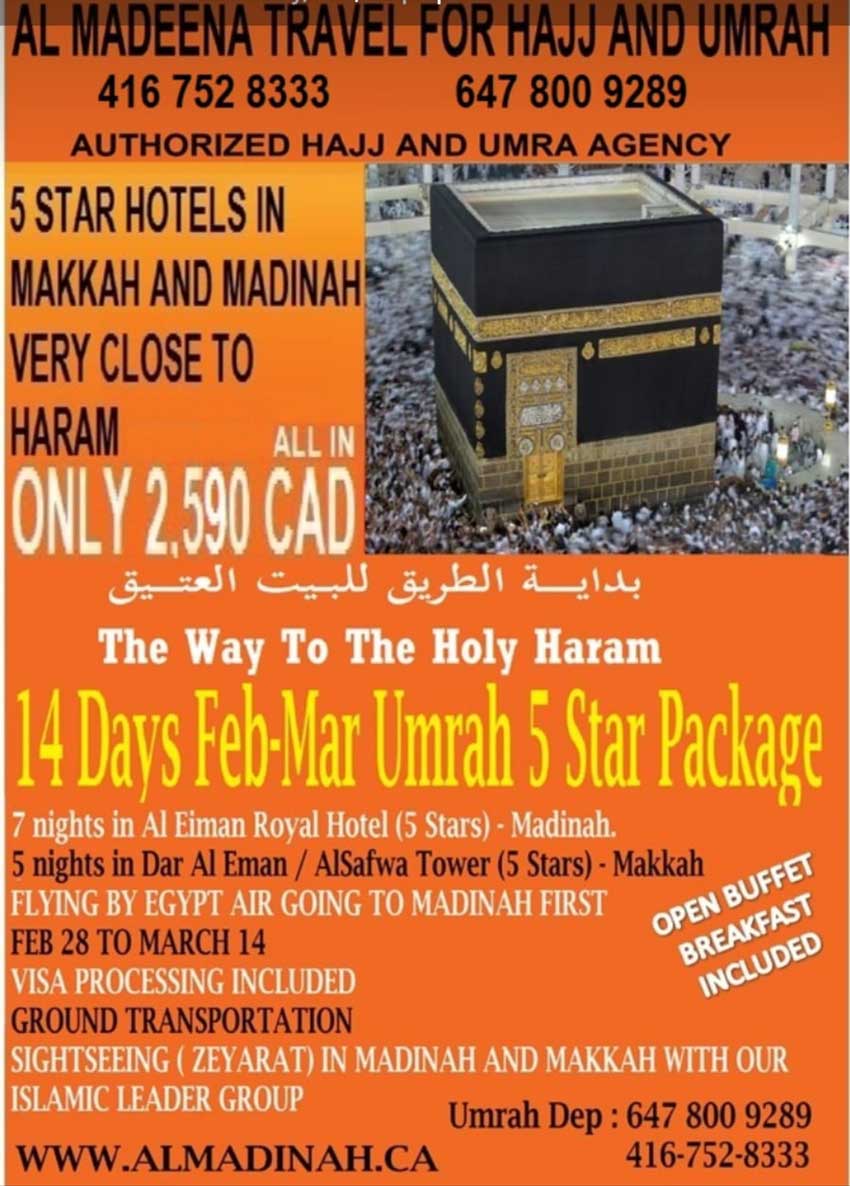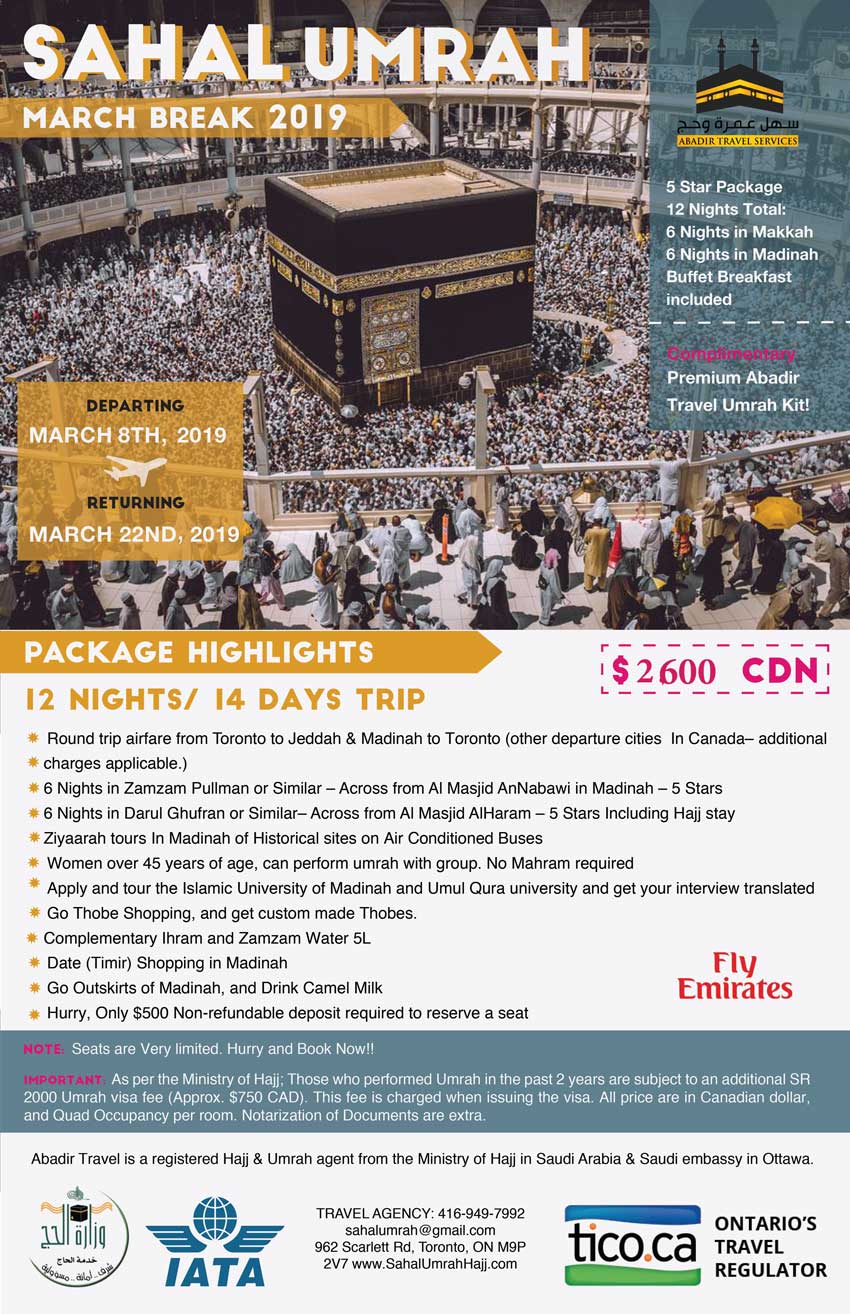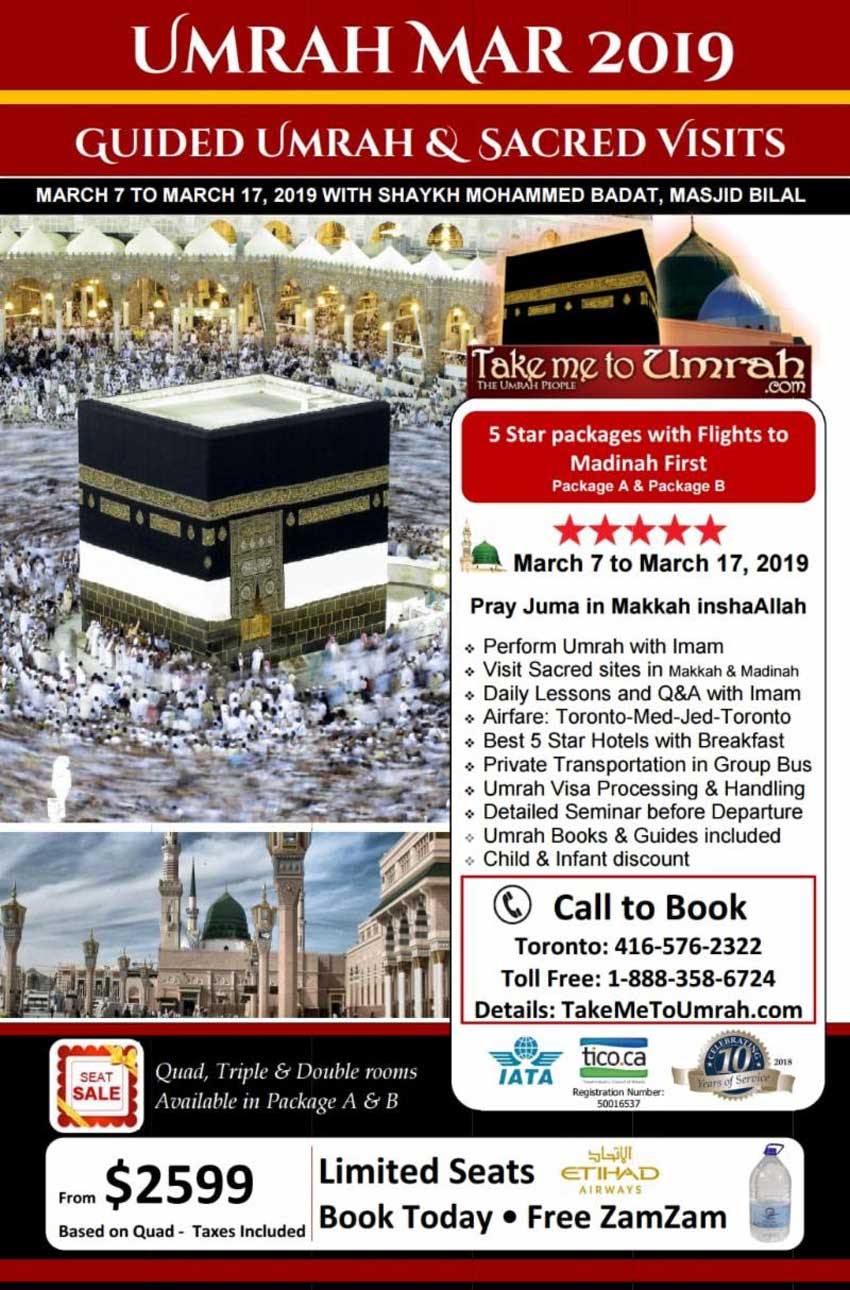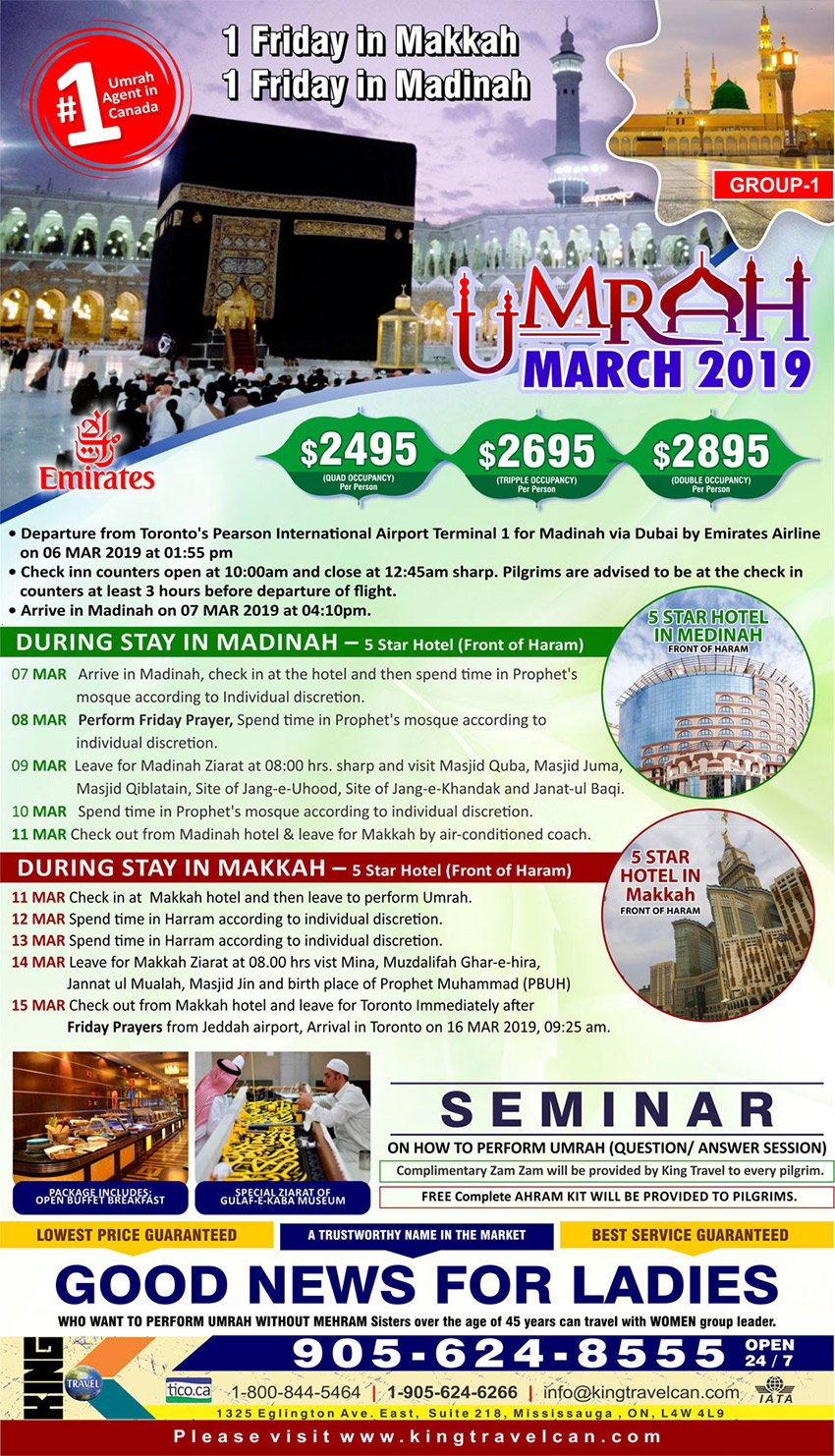 Other Canadian March Umrah Packages listed in Alphabetical Order:
This article was produced exclusively for Muslim Link and should not be copied without prior permission from the site. For permission, please write to info@muslimlink.ca.