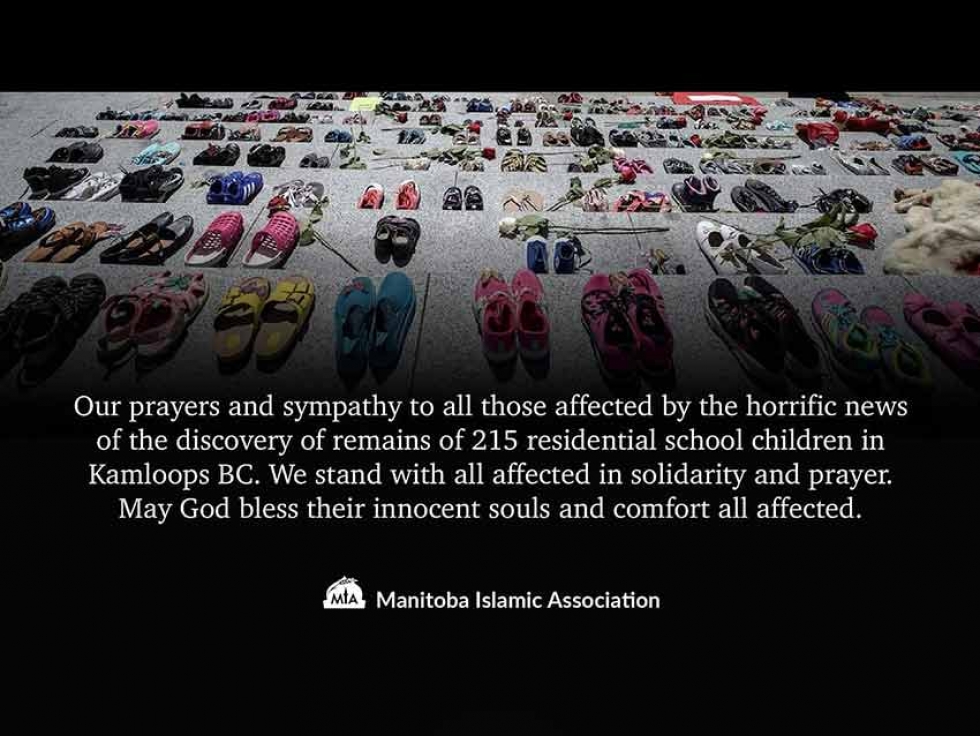 01
Jun


2021
Manitoba Islamic Association Statement on the Discovery of the Remains of 215 Children in Kamloops, BC
Written by Manitoba Islamic Association
Dear community members, Assalamu Alaikum. Peace be upon you.
We have all been saddened by the discovery of the remains of 215 children at the site of a residential school in Kamloops, BC. While many of us may find it shocking that so many children would die attending school, this is not surprising for Indigenous Canadians who have been struggling to uncover the truth about the legacy of residential schools.
Islam teaches us to honor life and spread justice and peace.
وَنُرِيدُ أَن نَّمُنَّ عَلَى ٱلَّذِينَ ٱسْتُضْعِفُوا۟ فِى ٱلْأَرْضِ وَنَجْعَلَهُمْ أَئِمَّةً وَنَجْعَلَهُمُ ٱلْوَٰرِثِينَ
وَنُمَكِّنَ لَهُمْ فِى ٱلْأَرْضِ وَنُرِىَ فِرْعَوْنَ وَهَـٰمَـٰنَ وَجُنُودَهُمَا مِنْهُم مَّا كَانُوا۟ يَحْذَرُونَ
We wished to favour those who were oppressed in that land, to make them leaders, the ones to survive, and to establish them in the land. (Quran 28: 5 - 6)
We call on you to honor the children's souls, and show solidarity with Indigenous Canadians by taking the following steps:
Pray for the soul of these children and for their communities and families to have peace and justice.
Educate yourself and those around you about this issue. Please see some resources below.
Join us in creating a memorial for the children, by placing a pair of children's shoes outside the Grand Mosque or the Pioneer mosque. You can do so starting today.
Many in the Muslim community will realize that there are parallels between their own history with colonialism and that of Indigenous Canadians.
May Allah ease the burden of all who suffer and help us bring more justice into our world.
Suggested learning resources:
The National Centre for Truth and Reconciliation