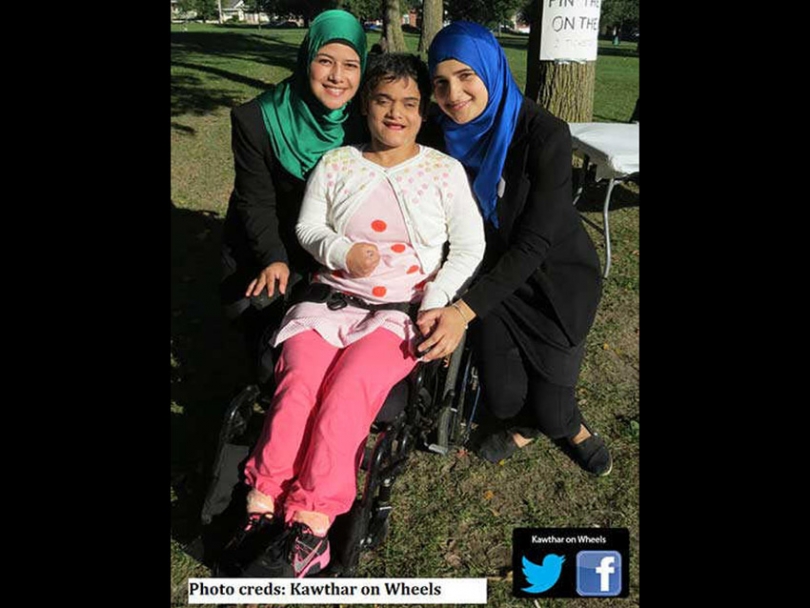 Narjes, Kawthar, and Lama Zeitoun at a recent Kawthar on Wheels fundraiser
Photo credit: Kawthar on Wheels
01
Nov


2013
Local students launch organization to provide free wheelchairs
Written by Fatima Osseiran
Two local university students have decided to raise funds to provide free wheelchairs in honour of a disabled family member in a most unconventional way: collecting pull-tabs off pop cans.
Lama and Narjes Zeitoun founded Kawthar on Wheels (KOW) last June, a non-profit organization which aims to provide wheelchairs for those with physical disabilities and financial challenges.
Lama says she first heard about the idea of recycling pop-cans while volunteering in a retirement home. "As soon as I heard about it, the first person I thought about was Kawthar," she says. "So I called Narjes, and told her we have to do this."
Kawthar Zeitoun is Narjes's older sister and Lama's cousin. She is both physically and mentally handicapped and requires a wheelchair. Thankfully, her family was able to provide for her, but Narjes says that not everyone in similar situations will have enough funds to pay even for a subsidized chair. Both girls felt they wanted to help change that reality.
 "Wheelchairs for us may not seem as something really important," says Lama. "But for someone who's physically disabled, that's their means of everything."
The two girls held a fundraiser mid-September which attracted over 300 people at Mooney's Bay. The afternoon was packed with face painting, games, raffles, and a barbeque.
So far, KOW has managed to collect over ten thousand pull-tabs from Ottawa's communities.
"We began this organization collecting pull-tabs. Now we have a bunch of families collecting pull-tabs, with stacks of pull-tabs in their homes", says Batoul Khazan, a volunteer, and student at the University of Ottawa.
Mariam Awada, a Grade 11 student at Glebe Collegiate Institute, says she came to raise awareness about the issue in memory of her uncle who used a wheelchair from the age of three, until his passing at age 27.
The organizers say their next step is to formally register as a non-profit organization with the government. Following that, they hope to provide other mobility aids delivered locally and possibly across borders.
How can you help? "You can go on our website. All of the directions are there you can find out everything about us there. You can also call or email us, and we'll get back to you, and we'll arrange a pick up."
To learn more, visit their website http://kawtharonwheels.weebly.com/
This article was produced exclusively for Muslim Link and should not be copied without prior permission from the site. For permission, please write to info@muslimlink.ca.