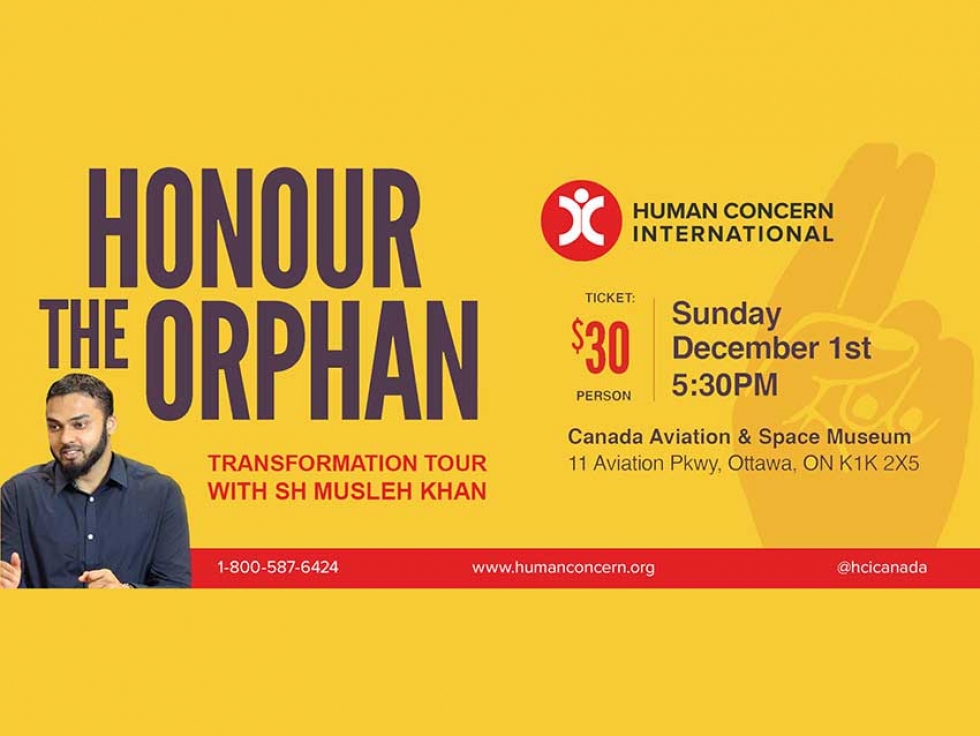 10
Nov


2019
Join Human Concern International and Shaykh Musleh Khan to Raise Funds for Orphans on December 1 in Ottawa
Written by Human Concern International
Shaykh Musleh Khan commenced his Islamic education at the University of Medina in 2002, where he obtained a degree in Islamic Theology in 2010. Shaykh Musleh serves as a Resident Scholar and Lecturer at the Islamic Institute of Toronto and now develops and instructs classes throughout the city, spends time with youth. He has also served as a chaplain with the Toronto Police Service.
He is coming to Ottawa to discuss the importance of honoring orphans and children in need.
The Prophet Muhammad (pbuh) said: "Whoever takes care of an orphan, he and I will be together in Paradise like this (his index and middle fingers held close together)."
Losing a loved one at an early age is a traumatic experience for any child. There are hundreds of thousands of children living in orphanages around the world. In countries where war, famine, and poverty are common, countless children are orphaned. These children are left alone, hungry and homeless.
The Prophet Mohammed (PBUH) appreciated those who looked after orphans. Our Orphan Sponsorship program ensures no child is left behind, transforming lives and providing hope for a brighter future.
With your help, we hope to fundraise towards transforming the lives of more orphans around the world. 
Currently, HCI runs sponsorship programs for children in need in Afghanistan, Bangladesh (including Rohingya refugees), Pakistan, Kashmir, India, Somalia, Sudan, Lebanon, Syria, Palestine, Egypt, Tunisia, and Yemen.
You can learn more about HCI's Child Sponsorship Program online here and by watching the video below (It may take a few moments for the video to load from YouTube).
This article was produced exclusively for Muslim Link and should not be copied without prior permission from the site. For permission, please write to info@muslimlink.ca.