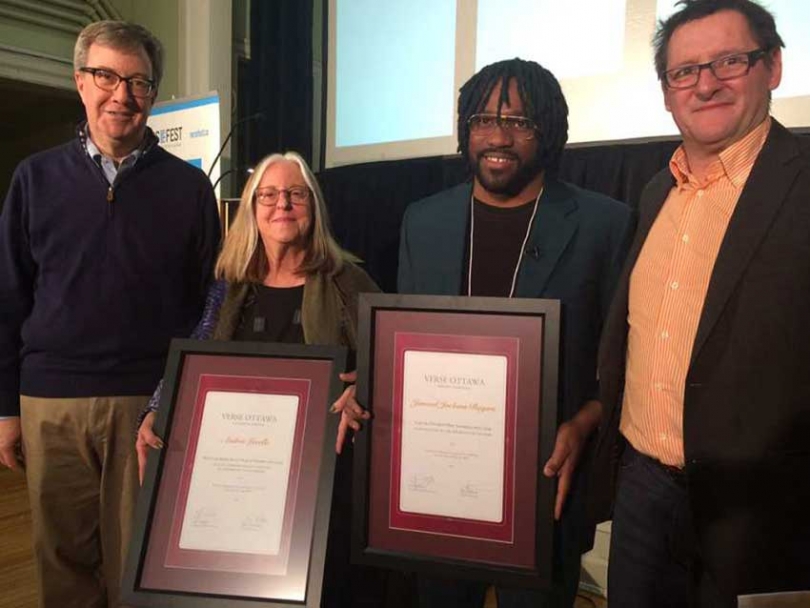 Mayor Jim Watson introduced Ottawa's new poets laureate, Andrée Lacelle (French) and Jamaal Jackson Rogers (English), with VERSe Ottawa president Yves Turbide.
Mia Younès
02
April


2017
Jamaal Jackson Rogers named Ottawa's Poet Laureate
Written by Chelby Daigle
Jamaal Jackson Rogers was named Ottawa's English-language Poet Laureate by Mayor Jim Watson in March. Rogers, a spoken word artist, arts educator, residential counsellor for adults with disabilities, and creative director of Origin Arts and Community Centre, will be the city's first poet laureate in over 25 years.
According to the Ottawa Citizen, "VERSe Ottawa and the city partnered to resurrect the poet laureate program this year. The last time the city had a poet laureate was in 1990, but it was a unilingual program. Now, the poet laureate program will feature a French-language poet and an English-language poet. The program budget is $25,000 annually and each poet will receive a $5,000 honorarium. The rest of the money will support programs and events to promote poetry, as suggested by the poets laureate. VERSe Ottawa keeps a roster of more than 200 local poets on file. Two special committees selected Lacelle and Rogers to be poets laureate for a two-year term."
To learn more about Jamaal Jackson Rogers read Muslim Link's interview with him here.
This article was produced exclusively for Muslim Link and should not be copied without prior permission from the site. For permission, please write to info@muslimlink.ca.