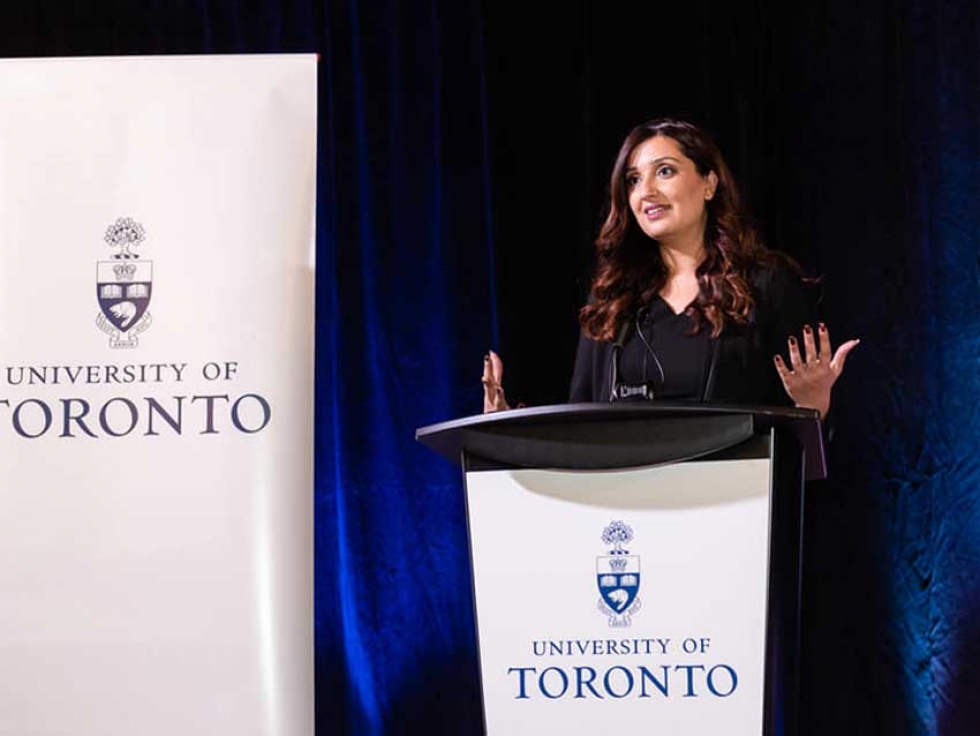 Samra Zafar addressing the University of Toronto Presidents' Circle in November 2018
Samra Zafar's Facebook Page
27
Dec


2018
Kate Cassaday, executive editor at HarperCollins Publishers Ltd, has acquired ­­­English-language rights in Canada to a memoir by international speaker and human rights activist Samra Zafar.
Zafar's book, A Good Wife, will be published in spring 2019. Cassaday said of the acquisition, "From the first moment I met Samra, I knew that I wanted to share her powerful story. Every page of this important memoir is guided by Samra's strength and humanity."
At 15, Samra Zafar had big dreams. She was going to go to university and forge her own path. Then, with almost no warning, those dreams were snatched away from her. She was suddenly married to a stranger at 17 and had to leave behind her family in Pakistan to move to Canada. Her new husband and his family promised that the marriage and the move would be a fulfillment of her dreams, not a betrayal of them. But as the walls of their home slowly became a prison, Samra realized the promises were empty ones.
Desperate to get out and refusing to give up, Samra hatched an escape plan for herself and her two daughters. Somehow, she found the strength not only to build a new future but to walk away from her past, ignoring the pleas of her family and risking cultural isolation by divorcing her husband.
A Good Wife tells the harrowing and inspiring story of a young girl with big dreams, becoming a woman who has found strength in the face of oppression and battled through to empowerment. Samra said of the decision to share her story, "I decided to speak up because I knew my story is not just mine. I hope that by raising my voice, I will help others find their voices. I'm grateful to the wonderful team at Transatlantic Agency and HarperCollins for making that happen!"
Samra's personal essay on her marriage, published in Toronto Life magazine, went viral in 2017, and her piece on Yahoo! News has been viewed more than 12 million times worldwide. She is an international speaker, social entrepreneur, scholar, author, and human rights activist, connecting with people around the world and empowering others through her advocacy and non-profit work. She also serves as a governor for the University of Toronto. Samra's free time is dedicated to her two beautiful daughters.
Samra Zafar states: "My book is for every woman who has ever felt that she has to give up bits and pieces of herself in order to be loved and accepted - you are enough and you are worthy. There can be beauty and joy after trauma, as long as we keep believing and moving forward. The strength to create the life we want lies within us - we just need to find it.
Change is never created through silence, and in today's world it is more important than ever to raise our individual and collective voices against injustice and oppression. This is my little effort to do just that."
The memoir will be released March 5th, 2019 in Canada.
*********
To learn more about Samra Zafar:
Read an original interview with Samra Zafar published on MuslimLink.ca here
Check out her recent interview with CTV News online here
Check out her TED Talk on YouTube:
Visit her website
Follow her on social media: Facebook Page, Twitter Page