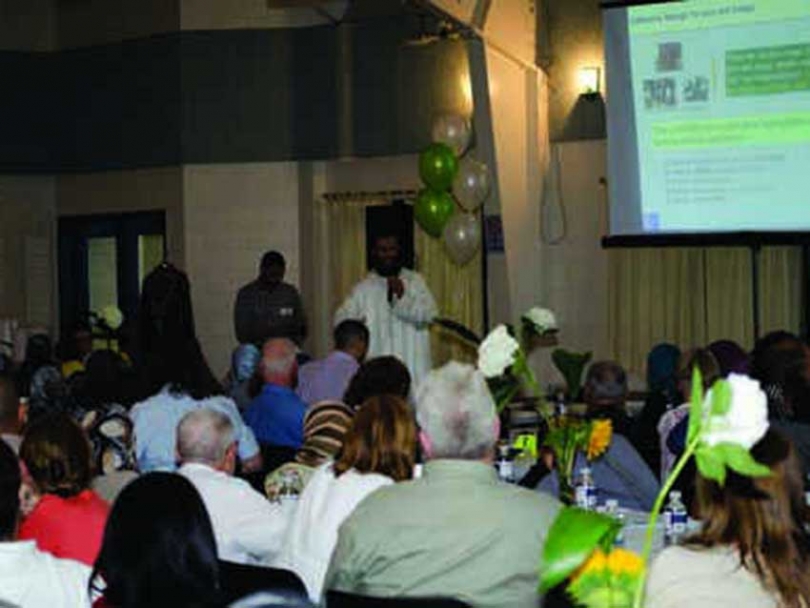 Jalil Marhnouj of the Assunah Muslims Association Mosque addresses an inter-faith gathering at the fourth annual Harmony Iftar.
Photo Credit: Anisa Shafea
18
Aug


2012
Harmony iftar offers food & faith for a fourth year
Written by Amira Elghawaby
In high school, Ayan Ismail would get constant questions about why she wasn't eating or drinking during the month of Ramadan. The questions persisted right through university.
"I wanted to answer them," she explained in an interview, "but I also wanted to do something."
That "something" has turned into an annual tradition called the Harmony Iftar. As the name suggests, the aim is to promote understanding and friendship between Canadian Muslims and the wider community
"At the first dinner, there (were) forty people," recalled Ms. Ismail, surrounded by over two hundred guests who attended this year's event on August 11 at the Jim Durrell complex in Ottawa South.
"They liked it because people didn't feel so comfortable going to the mosques. They liked the informal atmosphere," she said.
With help from a group of dedicated volunteers, and funding support from both individuals and local Muslim organizations, Ms. Ismail has kept up the effort, which was featured on CTV news last year, and which has continued to grow.
This year, speakers focused on a value of uniting people to propel positive change.
Khadija Haffajee, a pioneering force on interfaith cooperation in Ottawa and beyond, has often focused on that message. She urged the crowd at the iftar dinner to think about their role in promoting goodwill and understanding of the "other" in order to further the social good.
Sue Evans, director of the Multi-faith Housing Initiative, to the tireless efforts to provide affordable housing for low-income families that have been going on for years and which are supported by a myriad of faith groups.
Organizers took the opportunity to recognize Sulaiman Khan, of the Islam Care Centre, and Erica Bregman from Jewish Family Services Ottawa for their positive contributions to furthering success among different faith communities.
Representatives of Ottawa's police services, RCMP, Ontario legislature and the Ottawa District School Board were also on hand to join the breaking of the fast, as well as listen to a detailed slideshow explaining Ramadan.
"This has been so wonderful," exclaimed one woman of Christian faith who had never participated in an iftar. "I loved the prayer," she said of the maghrib salah performed at sunset. "There was a real energy there."
For organizer Ms. Ismail, it's those sorts of comments that keep her going, and make her admit with a rueful smile that, yes, she hopes to do it all again next year.
For more information, check out www.harmonyiftar.wordpress.com  
This article was produced exclusively for Muslim Link and should not be copied without prior permission from the site. For permission, please write to info@muslimlink.ca.