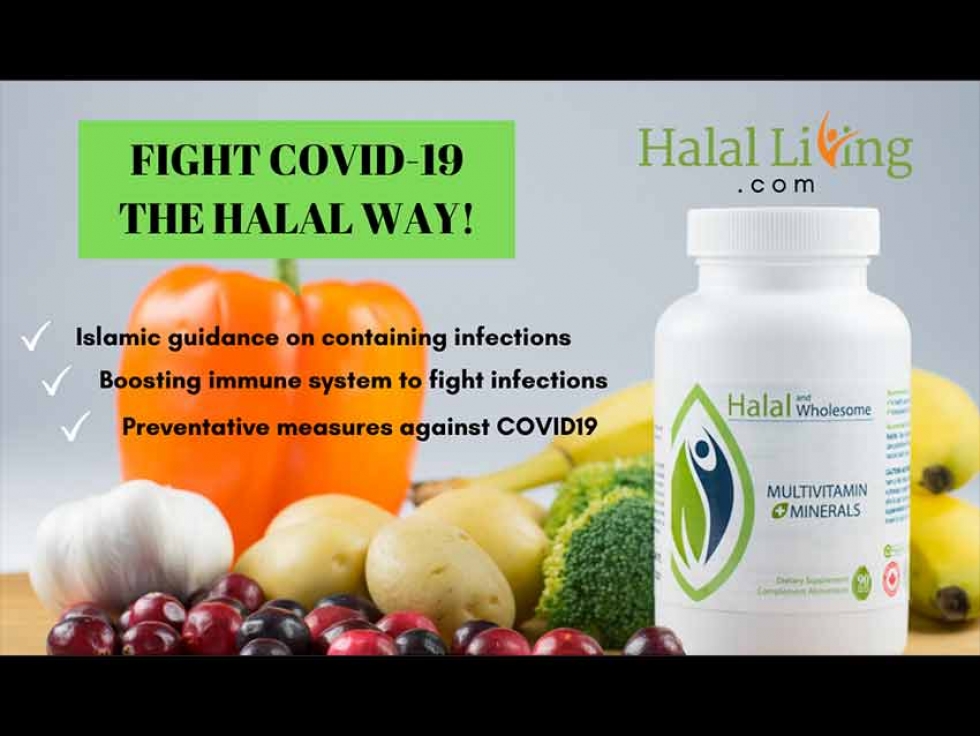 09
Apr


2020
Founder's Message: Halal Living SPC is Offering Discounts on Its Vitamins and Supplements Amid COVID-19 Pandemic
Written by Halal Living SPC
Assalmu alykum brothers and sisters,

As you all know, the entire world is now faced with an unprecedented event the likes of which has never been seen before. The COVID-19 pandemic has now spread to almost every place on earth. During times like these, we need to go back to Allah for help and protection and we need each other to get through these very difficult times.
Prophet Muhammad, peace be upon him, taught us the basic principles of infection control and prevention required to deal with such a pandemic over 1400 years ago. It was narrated in Sahih Al-Bukhari that he, peace be upon him, said, "if you hear of an outbreak of plague in a land, do not enter it; but if the plague breaks out in a place while you are in it, don't leave that place." We are now told by health experts that staying at home, practicing social distancing and avoiding unnecessary travel is the best way of dealing with this pandemic. It is very important during stressful times like these to remember that everything that happens does happen with the permission of Allah and that it happens for a reason. The entire human race is so humbled by this tiny unseen virus, and I believe this is a great opportunity to go back to Allah and to strive to live our lives in a way that is pleasing to our Creator and ultimate Protector.
In addition to isolation and social distancing, other measures include washing our hands frequently and avoiding touching our faces as much as possible. We should also try to boost our immune system by eating healthy foods, rich in essential nutrients and antioxidants while avoiding processed food as well as unhealthy habits such as smoking. We should also try to get regular physical activity while observing social distancing in order to remain healthy and fight off the virus. It is also very important for people with chronic conditions such as diabetes or hypertension to get these conditions under control in order to reduce the risk of infection and to minimize their risk of complications in the event that they get infected with the virus.
Taking dietary supplements and vitamins can help augment our diet in order to boost our immune system and offer more protection against the virus. Dr. Tom Frieden, the former director of the US Centers for Disease Control and Prevention, and former commissioner of the New York City Health Department said that "of all the various proposed measures to increase our resilience to infection, regular physical activity and adequate vitamin D levels probably have the most scientific evidence to support them." A link to the entire article can be found here. if you can't get enough sun where you live or unable to go out for regular physical activity, taking a vitamin D supplement can greatly help increase your vitamin D levels and help boost your immune system and increase your ability to fight infections.
We at Halal Living SPC feel obligated to do everything we can to support our Muslim community as much as we can during these difficult times. We are partnering up with Islamic Relief Canada to donate vitamins and supplements to Muslim families all over the country. We also decided to offer a discounts on our entire store in order to help you and your family stay healthy, with the blessings of Allah. Offer will last for as long as it is needed to get through this devastating event inshaa Allah.

Please visit our website to get your vitamin D and other essential vitamins and supplements you and your family need today. We offer free shipping on all orders within Canada. Also please share this email/post with your friends, family, and everyone you think can benefit from this offer.

May Allah protect all of us and help us come out of this calamity healthier, stronger, better Muslims and better human beings.

Stay safe!

Peace,

Ahmed Zikri, Pharm.D.
Founder and CEO
Halal Living SPC