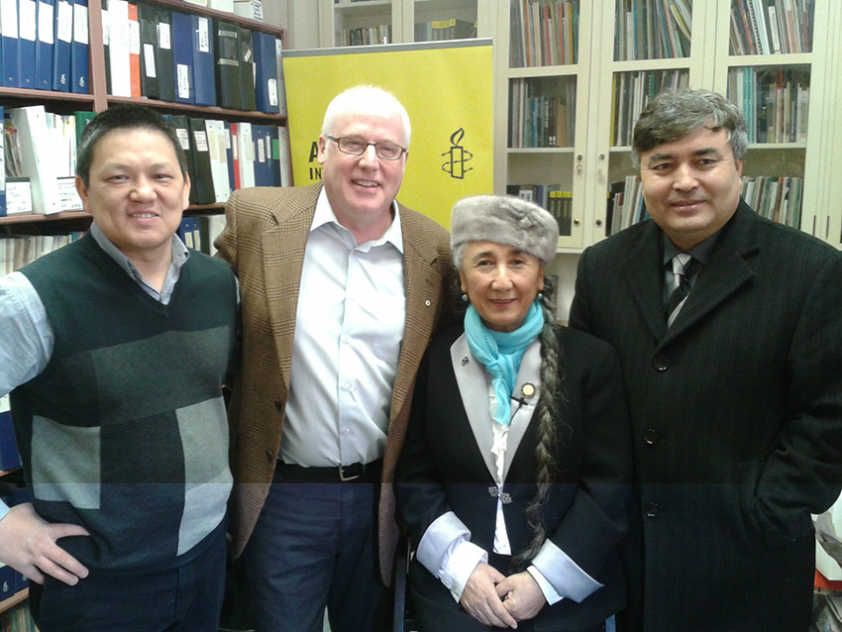 Rebiya Kadeer meeting with Alex Neve of Amnesty International and Kayum Masimov and Mehmet Tohti of the Uyghur Canadian Society in Ottawa, Canada.
15
Mar


2014
Fighting for Chinese Uyghur Rights in Ottawa
Written by Chelby Daigle
Early this month, Rebiya Kadeer, Chinese Uyghur human rights activist and President of the World Uyghur Congress, visited Ottawa to testify before the Parliament Sub-Committee on Human Rights on the situation of Uyghur Muslims in China. While in the city, she also spoke at Carleton University's Institute of European, Russian and Eurasian Studies (EURUS) and met with staff at the Canadian Office of Religious Freedom and the Ministry of Foreign Affairs. Despite her hectic schedule, the Washington D.C. based activist made time to meet with Muslim Link as she hopes that Canadian Muslims will become more aware and more vocal about the plight of the Uyghur. In particular, she hopes to gain more support to address the situation of Huseyin Celil, a Canadian citizen of Uyghur origin who is currently in prison in China.
Kayum Masimov, President of the Uyghur Canadian Society, accompanied Mrs. Kadeer during her visit and acted as her translator. Rebiya Kadeer only speaks Uyghur, a Turkic language, and Mandarin Chinese. However, the force of her personality translates across the language barrier.  "I hope that the Canadian government will take the Uyghur issue seriously and build it into their human rights policies in relation to China," Mrs. Kadeer explained, "I believe strongly that Canadians, particularly Muslim Canadians, should know about the plight of Uyghurs, particularly the religious oppression of Uyghurs in China. The Chinese government is saying that we are terrorists and extremists just because of the mere association of us being Muslim."
Human Rights Watch has compiled an extensive report on the various forms this religious oppression is taking in China. "One of our main grievances is that our religious identity is under constant threat," Mr. Masimov explained, "We are facing oppression on a large scale and it is directed at our souls, targeting our religion, our identity, our nation, our language, and our cultural heritage." Mr. Masimov, an ethnic Uyghur from Uzbekistan who came to Canada as a political refugee in 2001, currently calls Montreal home. He hopes that the issue of Uyghur rights in China's Xinjiang Province becomes as widely known as those of Buddhists in Tibet.
Mr. Masimov would like to see more concrete action from the Canadian Office of Religious Freedom in terms of addressing this situation with China, which is a major trading partner with Canada. However, he does feel that China's Uyghurs have a strong advocate in Canada's Minister of Multiculturalism Jason Kenney, who Mrs. Kadeer also met with during her visit to Ottawa. "In Jason Kenney, I personally feel, we have a really staunch ally pressing for human rights vis a vis China and Canada," Mr. Masimov shared, "I have been speaking with Jason Kenney since 2006 and I feel that he is very engaged with activists on this issue and I feel real sympathy from him towards the plight of the Uyghurs."
Canadian Huseyin Celil, who was born in China and was active in campaigning for Uyghur rights, was arrested during a family trip to Uzbekistan in 2006 and deported to China. He had come to Canada in 2001 as a political refugee and settled in Burlington, Ontario with his wife and four children. He was granted citizenship in 2005, however China refuses to recognize this citizenship and have accused him of terrorist activities and sentenced him to life imprisonment. According to Mrs. Kadeer "His only crime is that he is a good teacher and a good orator. He was giving speeches and teaching people on Islam. He's a peace-loving man. We have to put pressure on the Canadian government to get him released from China and Muslim Canadians should be demanding this." Amnesty International also feels that Mr. Celil is a political prisoner because of his activism on Uyghur rights. Prime Minister Stephan Harper raised concern over Mr. Celil's situation during his visit to China in 2012. There is serious concern about his physical health and he is currently held in solidarity confinement.
Mrs. Kadeer and Mr. Masimov feel that advocating for the safe return to Canada of Huseyin Celil is the most concrete demand Canadians can make of their government and encourage Canadians to raise this issue with their Members of Parliament.
Mrs. Kadeer ended our interview by saying Assalaamu Alaikum (peace be upon you) to all Muslims in Canada.
To learn more about Rebiya Kadeer read her memoir Dragon Fighter: One Woman's Epic Struggle for Peace with China or watch the recent documentary about her life, The 10 Conditions of Love.
This article was produced exclusively for Muslim Link and should not be copied without prior permission from the site. For permission, please write to info@muslimlink.ca.