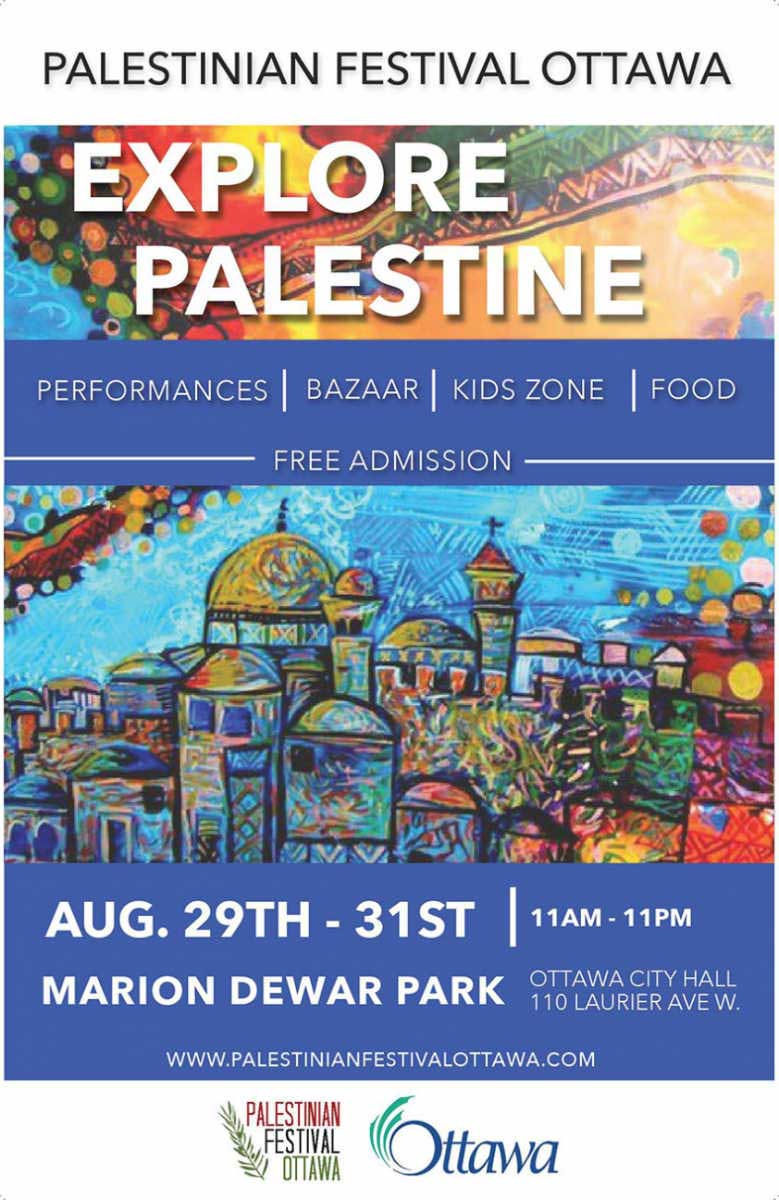 27
August


2014
Festival Brings Palestine & Fair Trade to the Heart of Ottawa
Written by Chelby Daigle
When Marwan Abdalla began planning the first Palestinian Festival in Ottawa, there was one thing he was certain of, "We are having it at City Hall!" Fortunately, the city was receptive and the festival will be taking place in Marion Dewar Park, adjacent to City Hall, from August 29th to 31st. Mayor Jim Watson will even be opening the event with an inaugural speech.
According to Mr. Abdalla, the Palestinian community has been in Canada for at least 35 years, with the biggest migration coming during the Gulf War, when tens of thousands of Palestinians had to flee Kuwait, where many of them had made their home since 1948. He estimates that there are about sixty thousand Palestinians living in Canada with roughly six and a half thousand living in Ottawa.
Like many immigrants to Canada, Palestinians came with education, skills, and wealth to invest in the country. Many, like Mr. Abdalla, opened up small businesses or bought franchises. "Palestinians played an important role in helping the city weather the economic downturn," Mr. Abdalla stated matter of factly,"And did you know that Ottawa's only Basketball team is owned by a Palestinian?"
Mr. Abdalla sees the festival as being key in changing the image of who Palestinians really are, particularly in a Canadian context. "We want people to see us as we see ourselves," he explained, "not just what you see in the media."
The festival is run by a group of over twenty volunteers, independent of any organization. Mais Al Ahmad volunteers as the Festival's Bazaar Coordinator. Her vision for the bazaar is to "make you feel like you are in the Old City of Jerusalem". Like many other cultural festivals which take place in the city, the Palestinian Festival offers dancing, music, and food, however, Ms. Al Ahmad believes that the Bazaar will distinguish this festival from the rest.
"We wanted to exhibit the fundamentals of culture beyond dancing and food," Ms. Al Ahmad explained, "The best way we thought we could do that was through art and literature." "Our music is wonderful because the songs are about the history and the land," she added, "but what if you don't understand Arabic? That's why it is good to have books available."
Ms. Al Ahmad's sister Lima connected with Interlink Publishers which specializing in Middle East Literature. They sent several titles ranging from Palestinian folklore, cookbooks, walking guides, photography, memoirs as well as books exploring the impact of the occupation on the lives of Palestinians. Ms. Al Ahmad is looking forward to reading the collection of fables Abu Jmeel's Daughter "I'm going to buy it to read it myself to see if I can recognize any of the stories my mother told me when I was younger," she stated.
The Palestinian art which will be on display throughout the Festival was sourced from local Palestinians across the city. "We've collected paintings, knit work, carpets and many pieces of fine stitched embroidery," she stated. Palestinian embroidery is famous in the Middle East and each town in Palestine has its own distinct style. "We are working on writing something for the Festival about what type of embroidery you would see from different regions and cities," she said. The embroidery will also be on display on the dresses worn by volunteer coordinators at the festival.
Traditional handicrafts will be on sale at the Bazaar. Christmas ornaments and Nativity scenes made of olive wood and sourced directly from Bethlehem will not only showcase the talent of Palestinian artisans but also highlight the religious diversity of Ottawa's Palestinian community. "The organizers are Muslim and Christian," Ms. Al Ahmad explained, "We all came together to pool our efforts because we are proud of our shared culture and history and we want to share this with Ottawa."
Another important aspect of the bazaar will be that fair trade food products from the West Bank will be on sale. "We have been working with fair trade organizations in order to get products from Palestinian farmers who often don't have access to the world market," she explained, "We are working with Canaan Fair Trade which works with farmers' cooperatives in the West Bank."
People attending the festival will also have an opportunity to support the rebuilding of the West Bank's economy by donating to the Trees for Life program which provides olive and almond tree saplings to Palestinian farmers. The program is run by the Palestinian Fair Trade Association, and priority for the saplings is given to small farmers, young farmers, women interested in farming and farmers who have lost trees due to the occupation.
Humanitarian organizations currently serving the people of Gaza, such as Human Concern International and Medical Aid for Palestine will also be present at the Festival and local Palestinian Canadian photographer Nour Ahram will be selling T-Shirts with original designs with proceeds going to Islamic Relief Canada's mission in Gaza.
Both Mr. Abdalla and Ms. Al Ahmad are incredibly grateful for the support of Palestinian Canadian small business owners who have sponsored the festival. "We also go a lot of support from other ethnic communities and that has given us such a boost in what we have been trying to do," Mr. Abdalla stated. He has been particularly grateful for the advice given by the Greek, Lebanese and Egyptian communities which regularly organize similar type festivals. "They extended their hand and it is really appreciated," Mr. Abdalla stated.
The Palestinian Festival will run from August 29th to 31st from 11am to 11pm in Marion Dewar Park. Admission is free. To see the Festival scheduale, which changes daily visit the website.
This article was produced exclusively for Muslim Link and should not be copied without prior permission from the site. For permission, please write to info@muslimlink.ca.