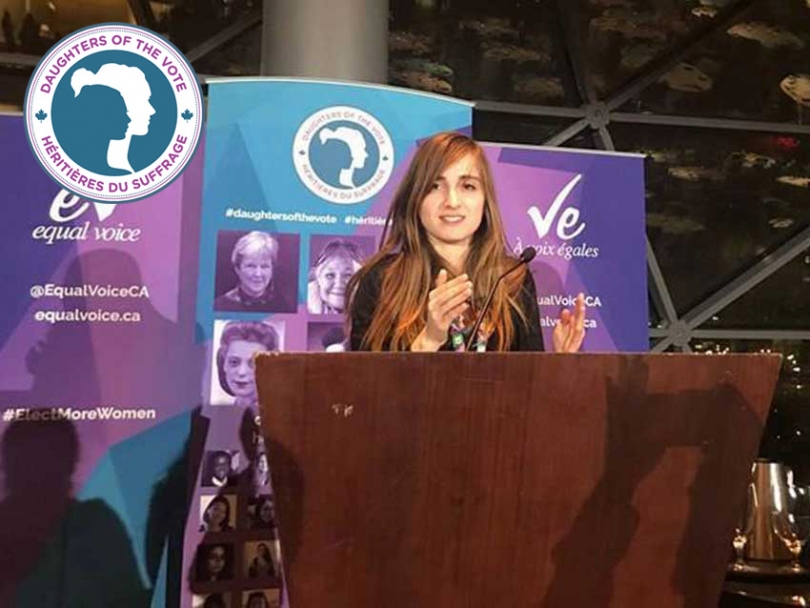 Rabia Abdeddaim represented the riding of Quebec at the Daughters of the Vote gathering in March.
02
April


2017
Rabia Abdeddaim: "Events Like Daughters of the Vote must be organized by Muslim organizations, like MSAs, mosques, etc"
Written by Rabia Abdeddaim
Rabia Abdeddaim represented the riding of Quebec, Quebec at Equal Voice's Daughters of the Vote gathering in March, which brought together 338 young women between the ages of 18 and 23, representing each Canadian riding. Muslim Link had the opportunity to interview several of the young Muslim Canadian women who were selected to participate in this historic event, including Rabia.
Coinciding with International Women's Day on March 8, Daughters of the Vote was aimed at encouraging more young women to become involved in Canadian politics, a space where there are still challenges to gender equity. The young women spent a week in Ottawa on Parliament Hill where they had the opportunity to meet the Prime Minister, past and present Members of Parliament, and women leaders in the fields of politics, law, and technology.
Arab Canadian Rabia Abdeddaim is studying education at the University of Ottawa. She is passionate about teaching and linguistic rights in Canada.
What was it like to represent your riding?
I represented the riding of Quebec City. I had the opportunity to meet Jean-Yves Duclos, whose seat I took on March 8th. He is the Minister of Families, Children and Social Development. We had the opportunity to have a discussion on the theme of the event and projects he is working on. 
What were some highlights for you from the event?
The highlights from the event for me were the speeches given by female leaders from different backgrounds, and of course, the statements made in the House of Commons by delegates from minority groups. There were Indigeneous and Muslim women that were particularly inspiring.
Some of the female leaders told us about the hardships that they've been through in life before stepping into a position of leadership. And it also became apparent from their testimony that, as a woman in an important position, they still face unfair challenges. But the main message these women gave us was that we must build bridges ourselves as young women and be allies to each other in our projects. 
The Muslim delegates' messages were passionate and powerful. They talked about islamophobia and about what it is like to be a minority, and took the opportunity to express their gratitude to our country, Canada, and to Equal Voice for giving them the opportunity to make their voices heard.
Sitting in the House of Commons was also a highlight for us as there were more women seated as delegates (338) then had ever been elected to the House of Commons in the history of Canada (only 318). We could have made our own political party.
How would you like to see the voices of young Muslim women leaders been incorporated in both Canadian life but also in Muslim Canadian life (ie. Muslim organizations, mosques, etc.)?
Women's voices are important. And as such they should be heard as much as men's voices are. One role that Muslim women can play is to encourage an open dialogue inside our community and to take a stand up against sectarianism which is always a threat to any community. We must enter into dialogue without being presumptous, by accepting that we can learn from others and that others can learn from us. The issues that are now discussed in the Canadian public space should also be discussed within our community – issues such as racism and women's rights. As citizens wanting to improve our society, we often take a stand against racism and sexism, but we must not think that our community is immune to it. We are comfortable carrying such dialogue with non-Muslims; we must be just as comfortable doing the same within our community. That is why we have to listen to the voices of young Muslim women so that one day they can become leaders within our community but also in Canada.
Events like Daughters of the Voice give the opportunity to young Muslim women to raise awereness about issues minorities and women face but also to show how strong their voices are. For example, if we want to listen more to the voice of young Muslim women, we could make a place for them on mosque boards and at the meetings of Muslim organizations. As our prime minister says, diversity is our strength and young Muslim women have so much to offer to make our society progress. Events that encourage these discussions – even if they are at a much smaller scale than this one – must be organized by Muslim organizations, like MSAs, mosques, etc. This will enable us to flourish as a community and to fully contribute to Canadian society.
This article was produced exclusively for Muslim Link and should not be copied without prior permission from the site. For permission, please write to info@muslimlink.ca.