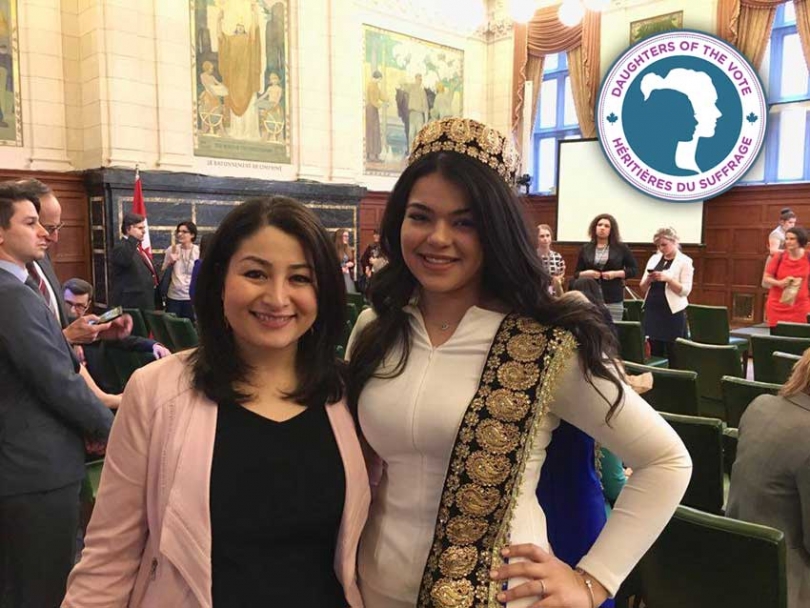 Neelofer Mansuri with fellow Afghan Canadian Maryam Monsef during Daughters of the Vote on Parliament Hill in March 2017.
Courtesy of Neelofer Mansuri
29
April


2017
Neelofer Mansuri: "The older generation needs our help because of the barriers that they face in this country, and the younger generation needs us as mentors..."
Written by Neelofer Mansuri
Neelofer Mansuri represented the riding of Vaughan-Woodbridge, Ontario at Equal Voice's Daughters of the Vote gathering in March, which brought together 338 young women between the ages of 18 and 23, representing each Canadian riding. Muslim Link had the opportunity to interview several of the young Muslim Canadian women who were selected to participate in this historic event, including Neelofer Mansuri.
Coinciding with International Women's Day on March 8, Daughters of the Vote was aimed at encouraging more young women to become involved in Canadian politics, a space where there are still challenges to gender equity. The young women spent a week in Ottawa on Parliament Hill where they had the opportunity to meet the Prime Minister, past and present Members of Parliament, and women leaders in the fields of politics, law, and technology.
Afghan Canadian Neelofer Mansuri is a student at York University pursuing a double major in Political Science and Philosophy, while also working full time on Parliament Hill. The daughter of Afghan-Canadian immigrants, she is dedicated to serving newcomers and refugees through her volunteer efforts with a specific focus on empowering women and youth. Neelofer is the Founder of Vitality Sports, a non-profit organization dedicated to aiding youth to pursue healthy and active lifestyles, while raising funds for various charitable organizations in Canada and around the world.
What was it like to represent your city at this event?
I grew up in Vaughan-Woodbridge and have been living here with my family since I was 5 years old, so for me, representing the city that I grew up in and have known so well was truly comforting and motivating. I went to elementary school and high school in my riding and made wonderful connections with my peers and teachers growing up. From a young age I participated in Woodbridge athletics and teams, volunteered with different organizations, and took part in community activities. I now work for my Member of Parliament, Francesco Sorbara, who has been a great mentor in my life and has opened my network up to new families, businesses and stakeholders within the society. Needless to say, being selected as a Daughter of the Vote delegate for my riding was a proud moment for me, but I was even more proud to represent my community on the national stage. 
What were some highlights for you from the event? 
The biggest highlight of this event for me was seeing the outpour of support and unity amongst all the young women participating. The encouragement and motivation shown by every woman who was present was so empowering and uplifting. Yes, we all had our differences, but we came together for a common goal and purpose. I was also inspired and grateful for the opportunity that some of my fellow delegates received in presenting their statements and thoughts on issues that mattered to them. What's more is that each woman was able to speak on behalf of the community she represented, and the issues that she faced. Too often in politics we see people speaking on behalf of issues that they have no experience or real understanding of. It was a breath of fresh air to see women speaking on behalf of themselves, and on a variety of complex issues. Diversity amongst the Daughters of the Vote was valued without a doubt, and I commend the Equal Voice team for illustrating acceptance of all women through this historic initiative.
How would you like to see the voices of young Muslim women leaders better incorporated into both Canadian life but also Muslim Canadian life (ie Muslim organizations, mosques, etc)?
We need more Muslim women in politics, and in positions of leadership. Our voices need to be heard. We have to dismantle the ideas that have been surrounding Muslim Women and we have to stop letting others speak on our behalf, it is not their right. People do not have the right to point at us and determine whether or not we are oppressed because of what we wear or because of their personal opinions and assumptions about our religion. However, we must also realize that the only reason others are stepping forward is because we are not. The only way to make this stop is for us to stand up and raise our voices together, as one united force. Within Canadian life, it should be our goal to flourish and continue moving forward, to represent ourselves and to be heard. Within the Muslim-Canadian life, we should make it our duty to be there for our fellow brothers and sisters; we need to support each other. The older generation needs our help because of the barriers that they face in this country, and the younger generation needs us as mentors and good examples. I want to see my Muslim sisters as CEO's, as doctors and lawyers, President's and politicians (InshAllah). I want to see them furthering their education, volunteering and getting recognized. I want all of us to unleash our potential.
What role of importance did your ethno-cultural background have in the event?
My parents fled Afghanistan many years ago, and sacrificed their lives and their education to start a life here in Canada, where they hoped to find safety and security to start a family. Growing up, I was always influenced positively by my parents to work hard and to do the best that I can do. As a young Afghan woman however, there were many barriers I had to face, and many stereotypes that stood in my way. I made it my mission to break down those barriers, and to prove that those stereotypes are wrong. Knowing that this can't be done alone, I have dedicated my efforts to empowering young Afghan women in hopes that they too will do the same. My cultural background is very important to me, and I made sure it didn't go unnoticed during the delegation. Seeing an Afghan woman in politics is rare. Maryam Monsef was not only the first Afghan-Canadian Member of Parliament in Canada, but she was also the very first Afghan Minister in Cabinet. I will make sure that she isn't the last, and being selected as a Daughter of the Vote made me positive that there are even more of us coming. 
Follow Neelofer Mansuri on Twitter here
This article was produced exclusively for Muslim Link and should not be copied without prior permission from the site. For permission, please write to info@muslimlink.ca.