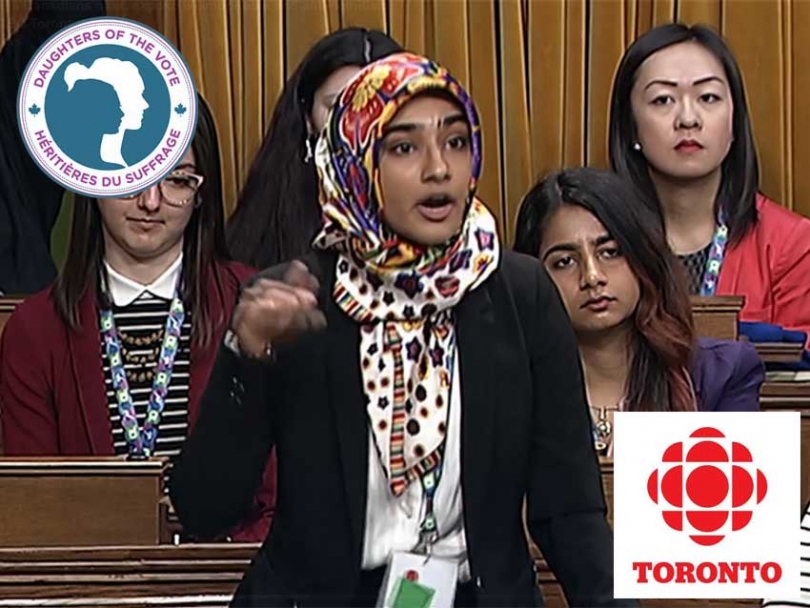 Khadija Waseem addressing Prime Minister Justin Trudeau in the House of Commons about Islamophobia and supports for mental health within indigenous communities
Courtesy of CBC Toronto
02
April


2017
Khadija Waseem: "It's time for Muslim women to stop being apologetic for what we are not and begin embracing what we are"
Written by Khadija Waseem
Khadija Waseem represented the riding of Don Valley North, Ontario at Equal Voice's Daughters of the Vote gathering in March, which brought together 338 young women between the ages of 18 and 23, representing each Canadian riding. She addressed Prime Minister Justin Trudeau in Parliament about Islamophobia and supports for the mental health of indigenous communities (see video on CBC here).
Muslim Link had the opportunity to interview several of the young Muslim Canadian women who were selected to participate in this historic event, including Khadija.
Coinciding with International Women's Day on March 8, Daughters of the Vote was aimed at encouraging more young women to become involved in Canadian politics, a space where there are still challenges to gender equity. The young women spent a week in Ottawa on Parliament Hill where they had the opportunity to meet the Prime Minister, past and present Members of Parliament, and women leaders in the fields of politics, law, and technology.
Pakistani Canadian Khadija Waseem is a student at the Rotman School of Business at the University of Toronto. She has a passion for socio-economic development in marginalized communities all across Canada. She is a champion of many social justice causes particularly the empowerment of minorities, at-risk/marginalized youth, and women. She finds great joy in empowering others, as well as assisting in their personal development allows her to advance in her own. Khadija believes passion exhibited through education is infectious — it empowers individuals. The light of empowerment never fades away — it transfers from person to person until it illuminates the entire world.
What was it like to represent your city at this event?
It was a beautiful and surreal experience representing a riding which is as diverse and colourful as the City of Toronto itself. It was an experience for which I was so grateful to Allah. At the conference, I was able to connect the context of Toronto with the knowledge of communities from coast to coast, from indigenous reserves to rural Canada, from the Maritimes to the Prairies. This knowledge will help us to make our communities more vibrant and stronger than ever before.
2. What were some highlights for you from the event?
The highlight for me was to ask Prime Minister my question on Islamophobia and the mental health of indigenous communities. Hearing Minister Monsef say my name from the gallery and give me a wave grounded me and gave me the encouragement I needed to continue on. The experience of sitting in the House of Commons tops it though, the feeling of sitting and standing in solidarity with 337 women who are strong, capable and so inspiring. It was an experience of sheer awe and inspiration- being present in the moment and soaking in the strength and support we provided each other is a feeling I will hold dear to my heart.
3. How would you like to see the voices of young Muslim women leaders better incorporated into both Canadian life but also Muslim Canadian life (ie Muslim organizations, mosques, etc).?
I think it is time that all women, and especially Muslim women stop being apologetic for what we are not and begin embracing what we are. Time for us to be proactive in the face of adversity as opposed to passive-- if we have needs in our communities it is up to us to fulfill them. If we want programs which fit our needs then we step up and create them alongside our allies in our communities. There are many allies that would be more than willing to help and so we must utilize them to create spaces we can grow in. It is time for women to understand they are assertive, they are strong, they are passionate, they can be emotional and so much more. It is this empowerment of taking positivity in our strengths, the empowerment of remembering we are intelligent. We can be anything we truly want to be. 
Follow Khadija Waseem on Twitter here
This article was produced exclusively for Muslim Link and should not be copied without prior permission from the site. For permission, please write to info@muslimlink.ca.