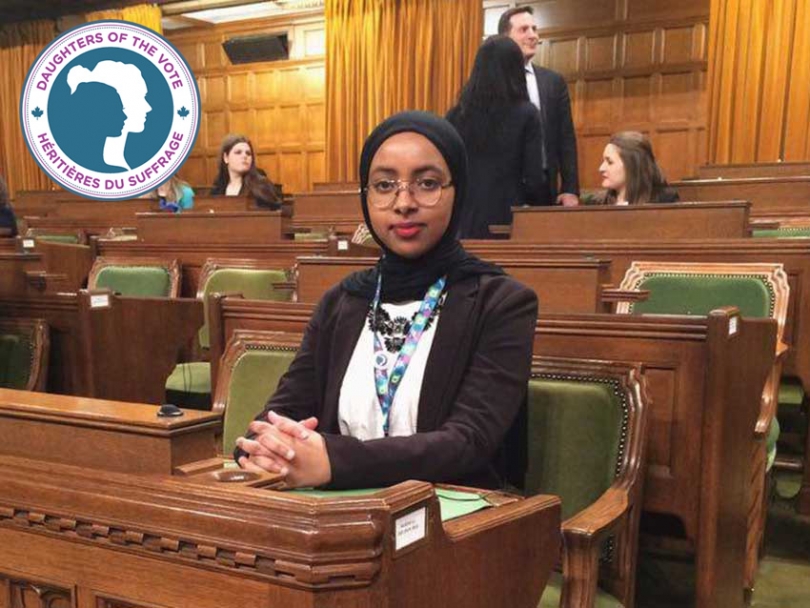 Hafsa Madar represented the riding of Edmonton-Mill Woods, Alberta at Equal Voice's Daughters of the Vote gathering in March.
31
Mar


2017
Hafsa Madar: "I'm here to tell you your voices are valued and we need to hear from more young Muslim women"
Written by Hafsa Madar
Hafsa Madar represented the riding of Edmonton-Mill Woods, Alberta at Equal Voice's Daughters of the Vote gathering in March, which brought together 338 young women between the ages of 18 and 23, representing each Canadian riding. Muslim Link had the opportunity to interview several of the young Muslim Canadian women who were selected to participate in this historic event, including Hafsa.
Coinciding with International Women's Day on March 8, Daughters of the Vote was aimed at encouraging more young women to become involved in Canadian politics, a space where there are still challenges to gender equity. The young women spent a week in Ottawa on Parliament Hill where they had the opportunity to meet the Prime Minister, past and present Members of Parliament, and women leaders in the fields of politics, law, and technology.
Somali Canadian Hafsa Madar spends her time volunteering in hospitals, the Boys and Girls club as well as the Islamic Family Social Services Association of Edmonton. She was the recipient of the 2014 Rotary scholarship and served as a youth representative on the Primary Care Network team. During her time on the team she discussed the mental health issues revolving the youth in her community. Hafsa is passionate about empowering women, especially Muslim women in lending a powerful and purposeful voice within their communities. She hopes to pursue a career in health care, and her dream is to work with the United Nations to promote health care in developing countries; primarily with women and children.
What was it like to represent your city at this event?
I come from a large, ethnically diverse riding on the south side of the city of Edmonton, called Edmonton- Mill Woods. I spent the last six years in this area, and I was very privileged to be chosen to represent my riding in Ottawa for the National Women's Leadership Conference. I am quite familiar with my constituency and also the current Member of Parliament Amarjeet Sohi, so being able to represent my community in Ottawa was a great experience, one that I am extremely proud of.
What were some highlights for you from the event?
Being able to meet 337 other women from across Canada who were there moreover for the same goal as me was my favourite highlight. I think it's safe to say that I met 85% of the women who attended and every conversation I had with them was inspiring. What I remain amazed about is how each woman I met aspires to create change within their communities some way and somehow, we were like-minded but also vitally different. Having the opportunity to learn about each other and our diverse backgrounds was enriching and I came back home with not only 337 new Instagram followers, but also 337 sisters at heart.
Another one of my unforgettable highlights was in the moment we sat in the House Of Commons, in our appointed seats and listened to some of the delegates passionately speak on issues that mattered to them. The one that resonated with me the most was the speech on Islamophobia, by my fellow Edmontonian delegate Srosh Hassan. I took a quick moment and scanned the house filled with the leaders of tomorrow and emotions were high, her eloquent speech rocked the house and was of a substance that many of us Muslims know too well.
Truthfully speaking, there are way too many "highlights" but those were at the top of my list.
How would you like to see the voices of young Muslim women leaders better incorporated into both Canadian life but also Muslim Canadian life (ie Muslim organizations, mosques, etc).?
Growing up I always felt like I didn't belong at the "big table" i.e the political table, the community table, the leadership table. I can rarely remember times where I felt I could fulfill those roles or even play a minor part in my community as well as maintaining my identity as a Young Canadian Muslim Woman. I felt discouraged because I was underrepresented in those areas when it came to "Canadian life"; it's not very often you see people that look like me in those positions.
However, there came a time where I stopped waiting for others to show up for me and be my role model, I got up and did it myself! You cannot always rely on someone to pave the way for you, it is important to motivate and empower yourself especially if you're like me and social issues and public policy is your passion. It could just be that you will inspire other young girls to pursue their passions and maybe you've paved the way for them. I like to think I have established a balance for myself, whenever I felt that something like an issue or an event would go against my moral beliefs I would simply not pursue it. I find that amongst the Muslim Youth today we are hesitant to get going with our goals and aspirations because we may have some doubts or believe that it doesn't fit with our "Muslim Life". Coming from that experience, my advice now is to seek knowledge from someone who has it and consult with him or her first.
I myself am still in the learning process of having two identities that I feel don't always exactly mix however, I don't see that as a hindrance instead I see it as an advantage because now I have the perspectives of two different views and that is something unique I could always bring to the table. My hope is to see many young Muslims, especially women, take on leadership roles within their communities even if that means starting at your high school student union, as I did. Too often we feel our voices are not valuable. I'm here to tell you your voices are valued and we need to hear from more young Muslim Women.
This article was produced exclusively for Muslim Link and should not be copied without prior permission from the site. For permission, please write to info@muslimlink.ca.