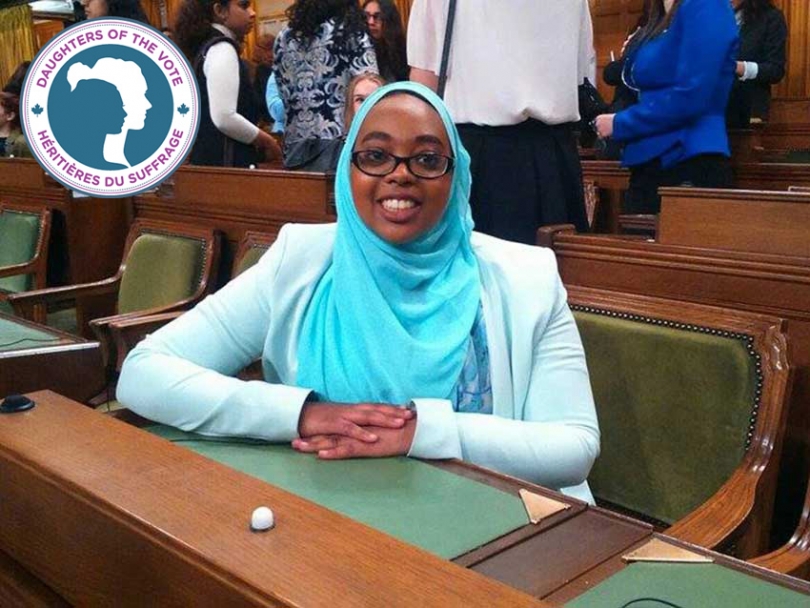 Aisha Mohamed represented the riding of Edmonton Manning at Equal Voice's Daughters of the Vote gathering on Parliament Hill in March.
22
March


2017
Aisha Mohamed: "This event showed me how resilient we all are as young women"
Written by Aisha Mohamed
Aisha Mohamed represented the riding of Edmonton Manning, Alberta at Equal Voice's Daughters of the Vote gathering in March, which brought together 338 young women between the ages of 18 and 23, representing each Canadian riding. Muslim Link had the opportunity to interview several of the young Muslim Canadian women who were selected to participate in this historic event, including Aisha.
Coinciding with International Women's Day on March 8, Daughters of the Vote was aimed at encouraging more young women to become involved in Canadian politics, a space where there are still challenges to gender equity. The young women spent a week in Ottawa on Parliament Hill where they had the opportunity to meet the Prime Minister, past and present Members of Parliament, and women leaders in the fields of politics, law, and technology.
Somali Canadian Aisha Mohamed is aiming to get a Bachelor of Science degree in Psychology and Mathematics at the University of Alberta. She also wants to do research in Public Health. She is currently involved in many social groups and organizations such as  A Plus Tutor , Edmonton Refugees , and L.O.V.E., a student group that give encouragement to junior high and high-school students that have mental/ physical disabilities. L.O.V.E. focuses on helping these students realize their potential.
What was it like to represent your city at this event?
It was exciting to be able to represent my riding Edmonton Manning. It's rare that you see women, especially women of colour, being represented in Parliament. This experience has allowed me the opportunity to provide others with a different perspective on veiled Muslim immigrant women: that the outward appearance and personal beliefs do not completely define the individual as a whole. To be representing a city that is surrounded by diversity is incredible and I am super thankful for this opportunity.
Throughout the entire week I had the chance to listen to members of Parliament speak on their experiences with discrimination; specifically women discussing how they dealt with criticism, misogyny, racism and xenophobia, and what it took to overcome these obstacles and hardships. The narrative that the media constantly tries to feed to us is that of a middle-aged, heterosexual, White man. And, unfortunately, the vast majority of us do not fit this narrative. So it definitely was refreshing to see so many passionate young women from a variety of different backgrounds have a chance to voice their opinions on issues that affect all of us.
What were some highlights for you from the event?
Being Black is hard because people judge me based on my skin-tone without getting to know me which I have had to just learn to just accept. And then adding on the fact that I'm Muslim it gets even harder because of what the news spews 24-7 about terrorism. But this event, no one judged me based on my skin tone or the fact I was Muslim, these young women were welcoming with open arms. Also I felt so comfortable with sharing my experience with racism and reflecting on what is occurring in the world.
The last night before we went back to our hometowns, we went around the room and each person talked about what they went through. That was the moment where I was able to connect with these young women even more, the fact that we are all vulnerable, but held onto each other and supported each other. This event showed me how resilient we all are as young women are and that no matter what situation we are in we have to rise above because that's the only option we have.
How would you like to see the voices of young Muslim women leaders better incorporated into both Canadian life but also Muslim Canadian life (ie Muslim organizations, mosques, etc).?
As a minority myself, I've come across so many minority groups seeking change within their own communities. However, this will take time, so an effective way in bringing more minority women into Parliament would be to implement programs into mosques that aim to engage and empower the average Muslim woman, and to subsequently give these women an outlet to voice their opinions on issues that have personally impacted them.
I also suggest providing more volunteer opportunities for students to work and shadow Members of Parliament, providing them better insight on the workings of the Federal government.
I genuinely believe that if the community is focused on working together and are committed to making effective changes, that these changes will reflect positively on the diversity of the House of Commons.
This article was produced exclusively for Muslim Link and should not be copied without prior permission from the site. For permission, please write to info@muslimlink.ca.