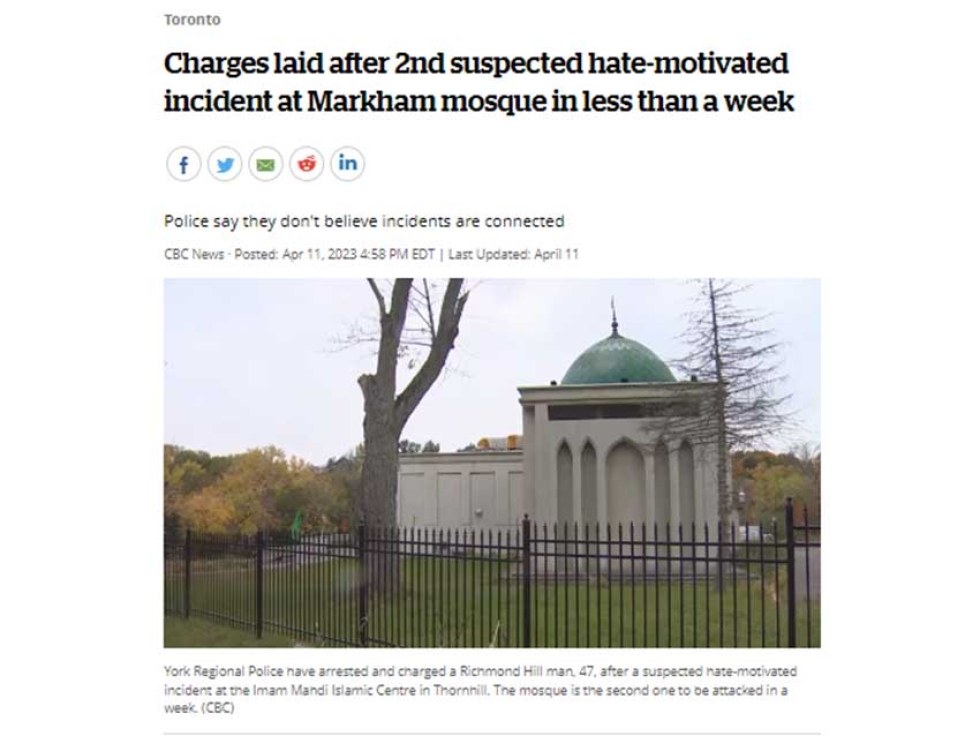 Image take from coverage of the incident on CBC NEWS
CBC NEWS
13
Apr


2023
Charges Laid After Suspected Hate Motivated Incident at Imam Mahdi Islamic Centre in Markham
Written by Making Headlines
On April 11, 2023, York Regional Police charged a suspect with Assault and Mischief after a suspected hate-motivated incident at Imam Mahdi Islamic Centre in the City of Markham.
According to York Regional Police, "Witnesses reported that on Sunday, April 9, 2023, at 8:20 p.m., a male suspect blocked the entrance to the mosque, exited the vehicle and yelled derogatory slurs at worshippers. A crowd formed outside the mosque and the suspect assaulted several people before driving away."
Mohssen Bayani, 47, of Richmond Hill was arrested shortly after 8 p.m. on April 10, 2023.
York Regional Police "[i]nvestigators believe there are additional victims in this incident who have not yet come forward and they are being urged to contact police." Click here for details on how to contact the investigators.
This is the second suspected Islamophobic attack on a mosque in Markham in less than a week after another attack at the Islamic Society of Markham on April 6th.
York Regional Police charged Sharan Karunakaran, 28, of Toronto, in that incident after he allegedly "drove directly at one of the worshippers and yelled threats and religious slurs."
York Regional Police do not believe the two incidents are connected.
However, it is clear that Muslims are being targeted at their places of worship during Ramadan, a time when mosques have higher that average attendance.
This is also not the first time Imam Mahdi Islamic Centre was the target of hate. Back in October 2022, the mosque was targeted with vandalism and bomb threats. This was in the wake of protests in Iran. The mosque is attended in large part by members of the Iranian Canadian community so it was alleged that it was somehow connected with the government of Iran, an accusation the mosque denies.
The City of Markham make the following statements were their social media:
"We strongly condemn #Islamophobia. We are saddened to learn about a second hate-motivated incident at another Markham mosque, the Imam Mahdi Islamic Centre. Ramadan is a sacred month for all Muslims, a time for prayer, reflection, and community. There is no place for hatred in our city at this time, or any time.
We stand in solidarity with the Markham Muslim community."
The National Council of Canadian Muslims (NCCM) stated on their social media: "It is disheartening to see this string of #Islamophobic attacks during a time when #Muslims are gathered in spiritual community. This violence needs to stop. It is up to us to unite against hate."