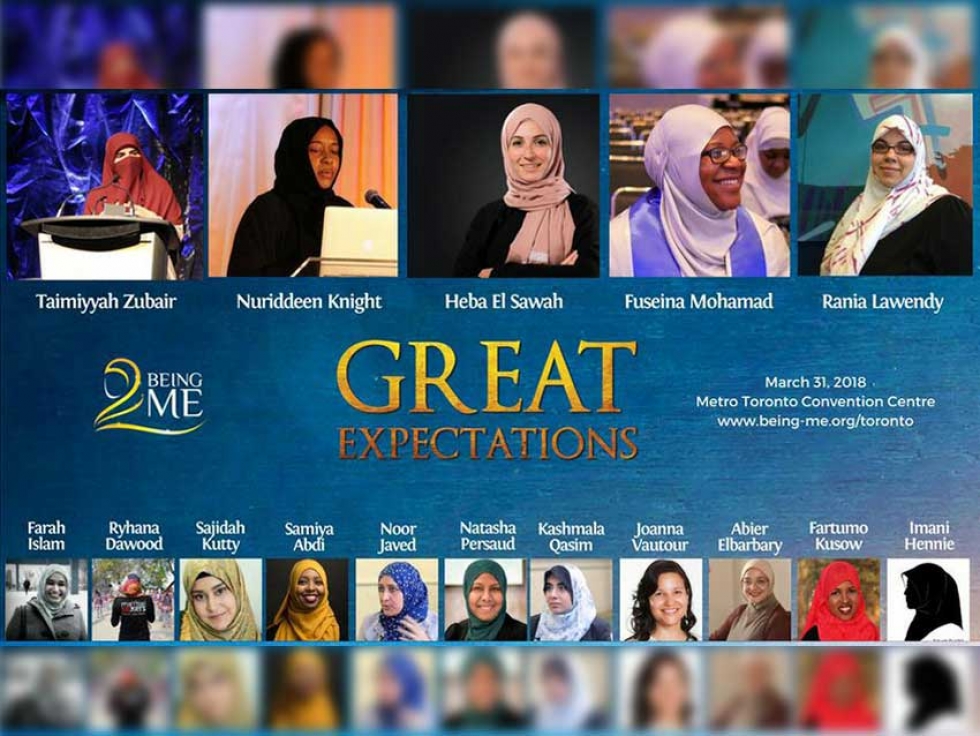 Being ME Toronto has a diverse lineup of speakers. Check it out this Saturday, March 31st
27
Mar


2018
Being ME Toronto Aims To Bring Together Muslim Women from Across Ontario This Saturday
Written by Chelby Daigle
Being ME Toronto is an annual conference for Muslim women. This year the conference takes place on Saturday, March 31st. Being ME Toronto is trying to gather Muslim women from across Southern Ontario by organizing buses to the conference in several cities. 
Muslim Link interviewed the team behind Being ME Toronto about this year's conference. 
1. Tell us about the origin of Being ME Toronto
Being ME (Muslimah Empowered) started as a project of Mercy Mission Canada in 2011. The motivation behind founding the conference was to provide a platform to highlight Muslimah religious scholarship, artistry, entrepreneurship, and other accomplishments which was often ignored in both mainstream Canadian society and also unfortunately in many Muslim religious conferences that tend to have mostly just male speakers.
We were also cognizant of the differing opinions that are part of our religious tradition and wanted to create a safe space where a diversity of our sisters could express themselves in ways they felt comfortable. Since its inception, the Being ME model has been adapted to 5 other countries and Being ME conferences has been organized on 3 other Canadian cities to date, including another conference coming up in May in Calgary.
2. How do you build your team of volunteers?
Our conferences are organized by a team of volunteers who believe in the cause. A group of sisters work on Being ME throughout the year through organizing smaller projects. Closer to the conference, an Human Resources call is made to start preparing new and returning volunteers. We usually have a 60% retention rate year to year of our volunteers. Often life happens and our volunteers may return after taking a year break. We do have individuals who have been with us for 7 years. Our volunteer call out targets both previous and new recruits. Over the years we have developed standardized processes and models to help our new volunteers integrate with our existing teams.
3. Explain the process by which the Being ME Toronto Team consults with local communities to get ideas for the conference.
Being ME consults with the community at a grassroots level. We offer several programs and workshops throughout the year where we are able to meet with the community and learn about their most pressing issues. We also use social media as a tool to keep engaged so that we are always aware of what issues are being identified by community members.
4. How do you ensure a diversity of speakers at the conference each year?
Being ME prides itself on its diversity and we make sure that this is reflected in our choice of speakers. After each Being ME conference comes to an end, we begin the process of preparing for the next event. Central to this process is choosing the right presenters, and to ensure diversity we have a rigorous process of assessing which speakers meet our criteria for professionalism, leadership, community engagement, and expertise in their respective fields. 
Learn more about this year's speakers here
5. Tell us about some of the workshop topics you think are most interesting this year?
We have exciting panel on Entrepreneurship that will include Reem Ahmed from MasterChef Canada!
We have workshops that deal with staying fit and flexible and eating healthy.
One interesting presentation this year revolves around the Muslim community's responsibility, as part of the wider Canadian society, to address and aid the Indigenous communities in their struggle for self determination.
We have another workshop on intimacy in marriage delivered in both English and then Arabic. This seems to be a topic often swept under the rug in most Muslim conferences, even though it is important for a healthy and long-lasting marriage, women may feel more comfortable exploring this topic with a female expert.
We also have a workshop delivered by a Muslimah lawyer about how to deal with harassment at school, in the workplace and in public spaces, any type of harassment from the Islamophobic harassment to sexual harassment.
We also have a workshop for Muslimah writers presented by two published Muslimah Canadian authors whose work has been critically acclaimed. 
And as always, we have presentations by female Muslim scholars on how to live up to the ideals of our faith in our daily lives.
Learn more about this year's workshops here
6. Why is it important to have women only conferences in the Muslim community?
It's important women's only conferences in every community, not just the Muslim community. These types of events are empowering for women not only because they build leadership skills and present women with presentations and workshops tailored specially for them, but because of the sisterhood that ensues through this, and which ultimately has a very pronounced impact on the individual, as well as the community, as people met and build new relationships.
7. For people coming from Ottawa and Kingston, do they have options to get to the conference.
We have organized buses to Being ME Toronto from the following cities:
Ottawa, Kingston, London, Hamilton, Guelph, Kitchener, Waterloo, Milton, Mississauga, Brampton, Newmarket, North York, Etobicoke, Scarborough, and Toronto (Thorncliffe).
To purchase tickets to Being ME Toronto, click here
This article was produced exclusively for Muslim Link and should not be copied without prior permission from the site. For permission, please write to info@muslimlink.ca.