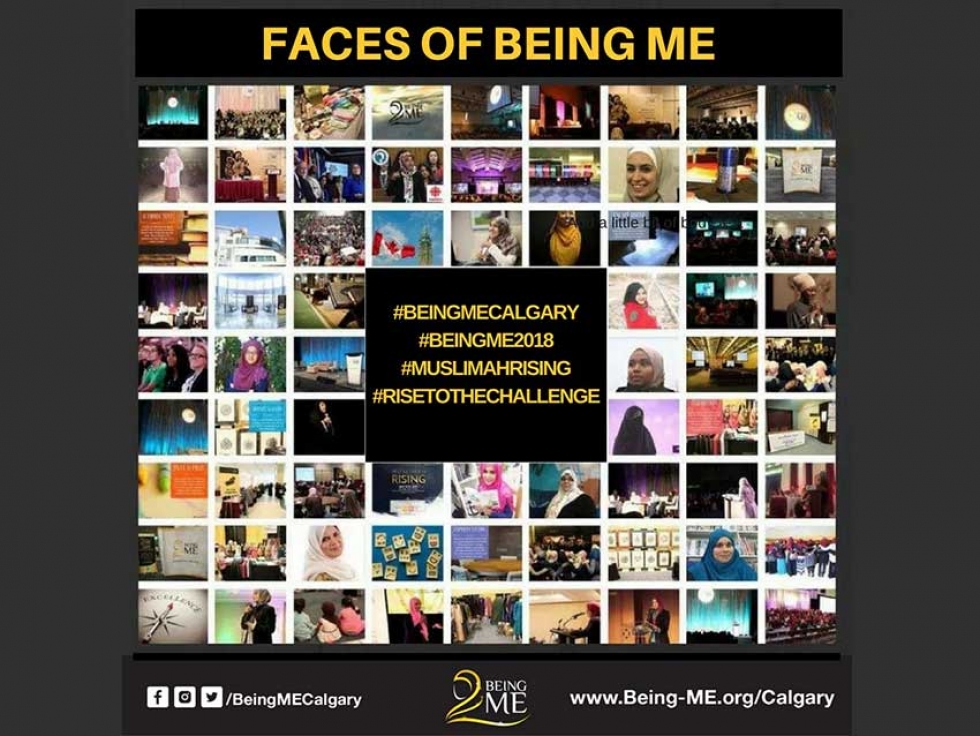 Being ME (Muslimah Empowered) Conference will be taking place on Saturday, May 5th at the Telus Convention Centre.
30
Apr


2018
Being ME Muslimah Empowered Conference will bring together women in Calgary and Edmonton on May 5
Written by Memoona Zafar
Tell us how Being ME started in Calgary.
Some of the sisters in our city had attended the Being ME conference in Toronto and felt it was a much needed and beneficial initiative. We got a group of girls together and worked with Mercy Mission Canada to introduce the conference in town. This was in 2014. It was a phenomenal success and now we are in Year 4.
How do you build your team of volunteers?
We use online applications, as well as leveraging personal connections. We do have a very diverse community here and our team is representative of that.
Explain the process by which the Being ME Calgary team consults with local communities to get ideas for the conference.
We engage the community through our team members and volunteers – through conversations we have with members of our community. We use feedback from previous conferences to improve the next one.
How do you ensure a diversity of speakers at the conference each year?
From what I've experienced while on the team, we just make the conscious decision to reach out to to a diverse group of speakers, based on what they can bring to the conference.
Tell us about the theme of this year's Being ME conference.
The theme of the conference is "Muslimah Rising". We chose Rise to the Challenge as our catch phrase/hashtag because it's a call to action that encapsulates what the theme means to us. Muslimah Rising is all about doing what it takes to strive for excellence in order to please Allah. Our ultimate challenge is to please Allah – when we say "rise to the challenge" this is what we're referring to. Part of pleasing Allah is being the best that you can be in everything that you do. Within this theme, we want to capture how we can improve on every element of our lives: personal life, spiritual life, and professional life, because they all contribute to our overall quest for excellence to please Allah.
Tell us about the workshop topics that you think are most interesting this year.
These are some of our most interesting workshop topics:
Healthy Healing After Divorce: This workshop is meant to empower divorced women to rediscover themselves and rebuild their lives. It's designed to give them practical tips and techniques that they can apply in their lives. I actually suggested this topic because of a conversation I had with a previous team member who had been through divorce. She told me about how alienated she was by her community after divorce and how difficult that was. We have a lot of stigma in our communities against divorced women that only makes a difficult situation harder, so we wanted to create a safe space where they could get help without feeling judged.
Marketing Yourself as a Muslimah: This workshop teaches Muslim women how to market themselves and build a strong personal brand while staying true to who they are. It tackles the issue of feeling like you stand out because you're a Muslim. This is interesting because it's a struggle a lot of Muslimahs face (especially young girls) but can be difficult to find help overcoming. It's cool because it encourages Muslim women to focus on their professional selves as well. We have a lot of competing responsibilities and are often made to feel like our careers should be put last – we're challenging that perception. This is a similar concept to the "Channelling Your Inner Creativity" workshop – we're giving women the tools and the empowerment they might need to explore a different side of themselves and their lives.
Breast Health 101: This is a very relevant workshop. A lot of Muslim women, depending on their communities and home environments, aren't completely aware of breast health. There's a weird stigma or shame around openly discussing this matter, so providing a safe, all-women space for women to learn about this is extremely important.
Putting Your Trust in the Best of Planners: This workshop is geared at helping people overcome indecisiveness and uncertainty by learning how to use the skills Allah gave them, learning how to live in the present, and trusting Allah's plan for us. This is a particularly good one because it really brings together the challenges of your personal, professional and spiritual lives. Everyone struggles with uncertainty and this workshop teaches women how to overcome it.
Why is it important to have Muslim women only conferences in Calgary?
There are a lot of challenges that are unique to Muslim women, and this conference provides a place for them to come for answers, support, sisterhood, and empowerment. There is truly no equivalent to an event like this. Female speakers provide a different insight into our issues than male speakers (who dominate other events) can bring. There is a level of understanding that can't be found anywhere else. A conference like Being ME tackles challenges that are both universal, and specific to Muslim women. Beyond that, the feeling of sisterhood and importance that it gives attendees is irreplaceable. A woman commended on our Facebook page stating that sisters in our community had started to feel disconnected from Islam because they feel that over time the message of Islam has been diluted and hijacked. A conference like Being ME is an opportunity to reclaim Islam, and reconnect with our faith and Allah.
Do people coming from Edmonton have options to get to the conference?
Yes. A lot of women make it into a road trip with their families or even an overnight weekend trip. Some women carpool with friends and other attendees. But for those who don't or can't do that, we've always had a roundtrip bus available. They may puchase a bus ticket online here
This article was produced exclusively for Muslim Link and should not be copied without prior permission from the site. For permission, please write to info@muslimlink.ca.