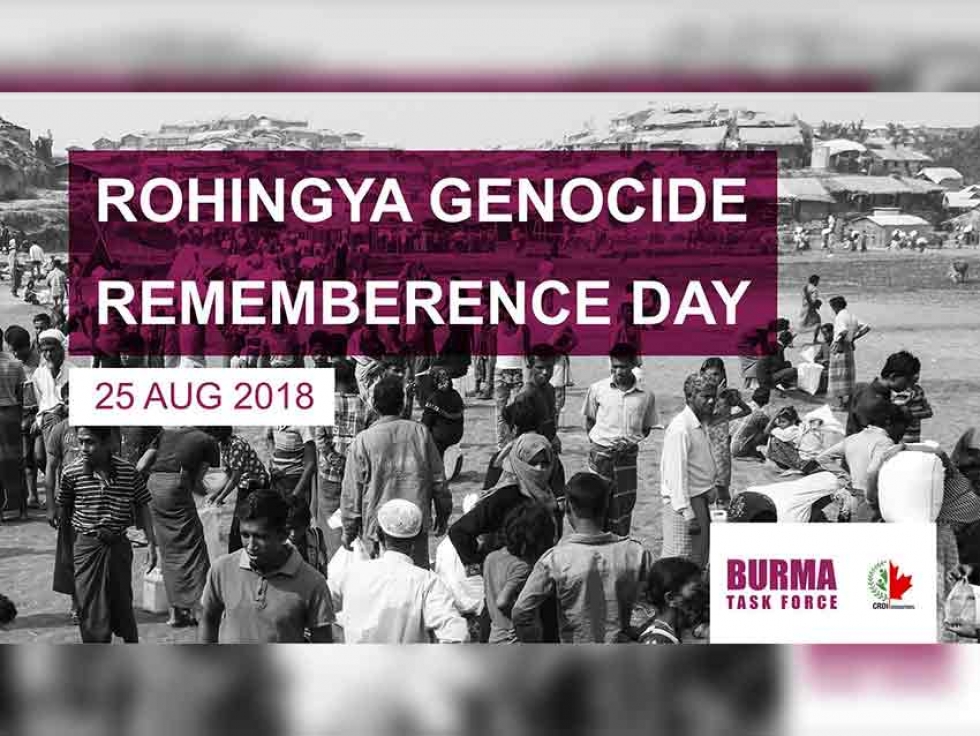 August 25 Marks Rohingya Genocide Remembrance Day Across Canada
09
August


2018
In a united, worldwide day of action, education and empowerment, these organizations will be hosting their largest event in Canada to mark the beginning of Rohingya expulsion by the oppressive Burmese government and its brutal military regime. 

The event will take place on Aug. 25, 2018, at 2:00 p.m. at Queen's Park, in front of the Legislative Assembly of Ontario.
All Canadians are invited to attend and participate in the event regardless of their race, creed or faith. Conscientious organizations who recognize the plight of the Rohingya minority are also encouraged to stand in solidarity with the Rohingya and join the event at Queen's Park. The event will host prominent speakers, artists, and activists and will also display a live exhibition to enhance the audiences' understanding of the experiences faced by the Rohingya people, the world's most persecuted minority.
 
Ahmed Ramadan, the acting executive director of BTF, stated, "The Canadian government has taken extensive action in support of the Rohingya people and we are greatly appreciative of their efforts. However, the 40 year genocide and suffering in Burma continues to progress. Success will only truly be achieved when the Rohingya have their citizenship, peace and freedom restored and the perpetrators of such heinous crimes are held accountable."
 
In the past, Canadians have shown overwhelming support for the Rohingya cause. The government of Canada has also taken a humanitarian approach to the crisis, after Canadian citizens spoke out against the immense brutalities taking place in Myanmar/Burma. 
 
"We appreciate the support from Canada and Canadians towards our cause. However, the genocide is still continuing and the international community has not only failed to take appropriate action but also refused to call it what it is — a genocide," said Saifullah Muhammad, co-founder of CRDI. "It is vital for Canadians to continue to call for action against the oppression and to show the international community that Canadians have not forgotten the Rohingya."
BTF and CRDI welcome all Canadians, NGOs, human rights organizations and activists and media to attend the largest event in Toronto to commemorate the Rohingya Genocide Remembrance Day, and stand in solidarity with Rohingya people. 
There will also be events hosted across Canada's major cities in recognition of the Rohingya genocide. BTF and CRDI would like to offer full cooperation and complete support to any person or organization participating in this day of solidarity.
Burma Task Force
Burma Task Force (BTF), the leading organization for the Rohingya cause, is a coalition of Canadian and American organizations dedicated to stopping the Rohingya genocide, restoring their citizenship, holding perpetrators accountable, and making sure Rohingya are compensated for their losses.
 
Canadian Rohingya Development Initiative 
Canadian Rohingya Development Initiative (CRDI) is a registered non-profit organization established by the members of Rohingya community. CRDI proudly represents the diverse voice of the Canadian Rohingya communities. CRDI works with prominent Canadians from different communities and organizations to advocate for the cause of Rohingya in Canada and abroad. 
Press Contacts: Ahmed Ramadan, Burma Task Force, This email address is being protected from spambots. You need JavaScript enabled to view it., +1-416-402-3008 or Saifullah Muhammad, Canadian Rohingya Development Initiative, 519- 588- 7747, This email address is being protected from spambots. You need JavaScript enabled to view it.
Other Rohingya Genocide Remembrance Day Events Across the Country
Halifax: Rohingya Genocide Remembrance Day on Halifax Common
Montreal: Rohingya Genocide Remembrance Day at Norman Bethune Square
Ottawa: Rohingya Genocide Remembrance Day on Parliament Hill
Toronto: Rohingya Genocide Remembrance Day in Queen's Park
Winnipeg: Rohingya Genocide Remembrance Day at the Manitoba Legislative Building
Calgary: Rohingya Genocide Remembrance Day at Calgary City Hall
Vancouver: Rohingya Genocide Remembrance Day at Vancouver Public Library