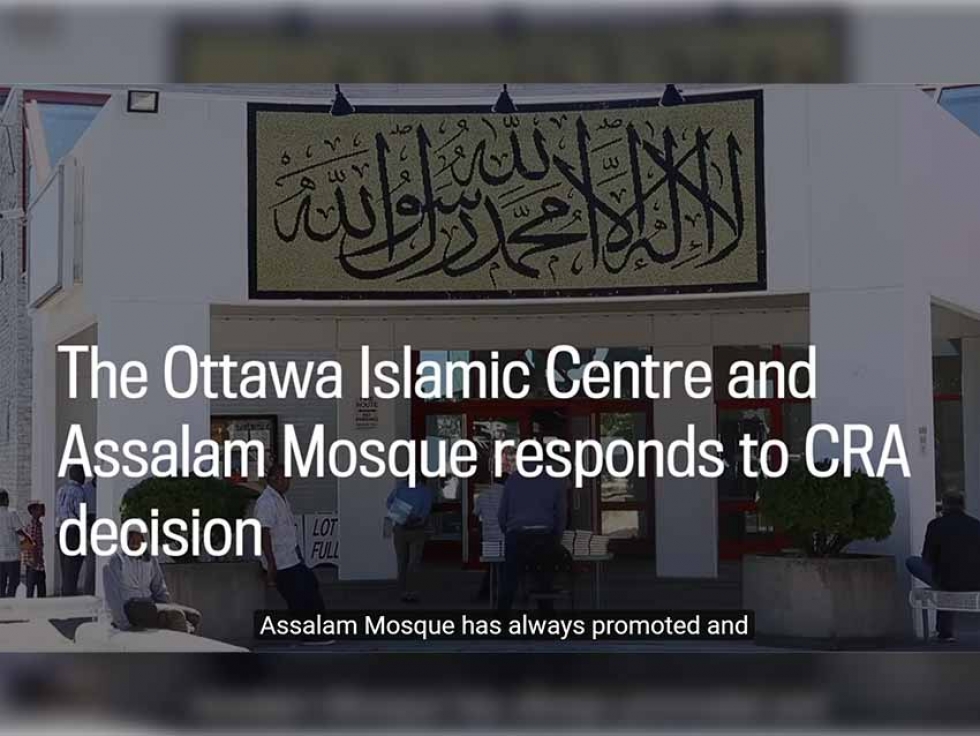 Assalam Mosque, also known as the Ottawa Islamic Centre, has had its charitiable status revoked by the Canada Revenue Agency (CRA).
19
Aug


2018
Why Did CRA and Canadian Media Repeatedly Misspell Imam's Name In Wake of Ottawa Mosque Losing Charitable Status?
Written by Chelby Daigle
Assalam Mosque, also known as the Ottawa Islamic Centre, has had its charitiable status revoked by the Canada Revenue Agency (CRA).
According to CBC, "the CRA said the organization failed to devote all its resources to charity and 'allowed its resources to be used for activities that promote hate and intolerance,' causing it to fail the CRA's public benefit test. The tax agency also identified problems with the organization's books and its failure to file an information return. Within a year, the mosque must transfer all of its charity's remaining assets to an eligible donee or pay a revocation tax equal to 100 per cent of the value of all remaining assets, once it has paid any debts, the CRA said. The charity's name and the reason for its revocation are also published in the CRA's list of charities."
However, the CRA is basing the belief that these speakers were promoting hate and intolerance based on questionable evidence.
Based on the CRA's own report, which journalist Stewart Bell has made available here on Global News, the CRA doesn't even spell the name of one of these controverial speakers correctly.
The CRA repeatedly refers to a speaker by the name of 'Abdullah Hakkeem Quick', who both media and the CRA describe as "an American preacher who was cited for his references to the "filth" of yahud (Jews) and kafirun (unbelievers), and for saying that the Islamic answer to homosexuality is death."
But if they are referring to popular Toronto-based Imam Abdullah Hakim Quick, then it seems both the CRA and media missed more recent media coverage of Quick, who is a Canadian citizen.
For example, in the wake of controversy over concerns about violently homophobic comments he made outside of Canada over 15 years ago, Quick made a statement to CBC in 2016, that ""Many years ago I made hurtful comments against homosexuals for which I have apologized. My views have evolved over the years. I am fully committed to peaceful coexistence and respect among all people. The video was made in 2000 and is totally unrepresentative of my present position."
Abdullah Hakim Quick was even one of many imams who signed a statement condemning the shooting at Pulse Nighclub in Orlando, a homophobic hate crime committed by Omar Mateen, who comes from a Muslim background.
The Globe and Mail even did a profile of Abdullah Hakim Quick in 2016 after he was put on ISIS's hit list. The Globe and Mail states, "Mr. Quick isn't just any imam. The 66-year-old is followed on social media by thousands of young Muslims. He has close to 2,300 Twitter followers, more than 800,000 likes on Facebook, 12,000 fans on Instagram. He received the Queen Elizabeth II Diamond Jubilee Medal for his contribution to Canada. He is adored by his followers for his positive teachings about Islam."
The CRA report about Quick doesn't mention any of this, and subsequent media reports have also shown a lack of due diligence to even just correct the spelling of Quick's name.
Why?
Muslim organizations need to do a better job at making sure that the speakers they invite to speak are not preaching hatred, intolerance or even misinformation thus negatively impacting the ability of our communities to live in harmony with our diverse neighbours. The reality is that the controversies associated with speakers is often easy enough to find on the first page of a Google Search so it is not hard to find this information.
However, the CRA and Canadian media needs to also make sure they do their due diligence to check their sources, to make sure they are not inadvertently pitting marginalized communities within our societies against one another. This updated information about Abdullah Hakim Quick was also easy to find in a simple Google search, even with his name misspelled. But they didn't find or possibly even look for this updated information. So the CRA and Canadian media expect Canadian mosque boards to be more diligent when researching speakers than their own organizations? Interesting.
Personally, I think all institutions that can seriously impact public perceptions of marginalized communities in our country, including organizations like mosque boards, the CRA, and Canadian media, should do their due diligence when speaking and writing about such communities or when engaging with guest speakers and subject matter "experts".
My former colleague when I worked with the Ottawa Police Service, Luke Smith, who is a LGBTQ rights activist and podcasts about issues facing Canadian LGBTQ communities, reached out to me in the wake of this controversy as he worried that these media reports were fueling Islamophobia and xenophobia within Canada's LGBTQ communities and he himself questioned whether the CRA was being consistent in how it was treating this mosque versus other religious institutions in Canada that have promoted intolerance of LGBTQ communities.
In an interview this month on his podcast, I spoke about the traditional view you will find held by many Muslim community educators regarding homosexuality and how to better ensure that the fears of members of the LGBTQ communities, many of whom have faced violent hate crimes in Canada and in some of their homelands, and some of whom come from Muslim backgrounds where they may have experienced violence and ostracism from their families and communities, are understood by religious communities who hold traditional views around sexuality grounded in their understanding of their religion, so that our communities are not pitted against one another in the wake of such controversies. You can listen to this interview online here; it starts at 17:00 min.
Assalaam Mosque intends to fight the CRA's decision in court.
This article was produced exclusively for Muslim Link and should not be copied without prior permission from the site. For permission, please write to info@muslimlink.ca.