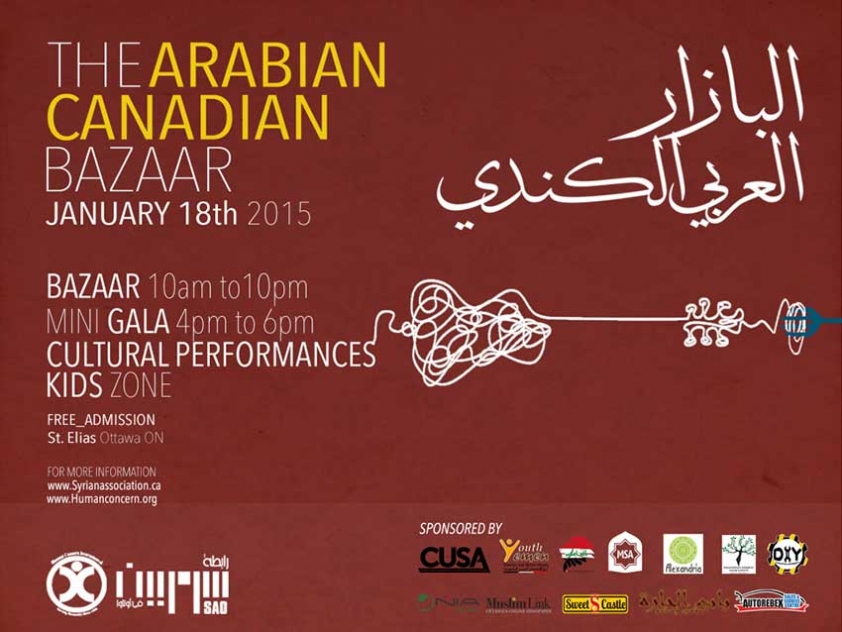 16
January


2015
Why You Should Go To the Arabian Canadian Bazaar on January 18
Written by Chelby Daigle
People who attend the event will get a chance to explore the diversity Arab cultures in Ottawa through dance, music, poetry, and of course FOOD! There will also be henna by artist Sana Khan and activities for the little ones like a bouncy castle. Artwork, crafts, clothing and jewellery will also be on sale.
This is very much a youth driven initiative and a number of clubs and societies at Carleton University have taken the lead in organizing and marketing the event.
Muslim Link was able to connect with Raghad Issa, the Vice-President of the Palestinian Students' Association at Carelton, to discuss why PSA is support the Bazaar.
Tell us about your club
We are the Palestinian Students' Association (PSA) of Carleton University. Our aim is mainly educational and we strive to raise awareness and spread the word with our current generation in order to enable the growth of our next upcoming generations.
Why is PSA supporting the Bazaar?
Well, first of all it is an Arabian Canadian Bazaar and it is our obligation as students to make sure that Palestine is always present as an Arab country of its own - especially within the Canadian context. Secondly, one of PSA's principle strategies constitutes supporting other associations with their events and giving out a helping hand while also sharing great moments with them.
Why is such an event important for university students to attend?
What is more beautiful and humane than helping and supporting brothers and sisters of ours? The Bazaar is mainly a charity event and students must be more open and excited to the idea of being involved with such a noble event.
What are you looking forward to at the event?
As mentioned earlier, giving out a helping hand is almost counted, as a pillar in humanity's unspoken rules, and doing that in the name of PSA must show a lot. As PSA, we are looking forward to seeing as many faces as possible and interacting with our beloved visitors. We aim to spread awareness but also love - which is no easy task. Thus, we are looking for a successful event that is aiming to an honorable deed.
Be sure to check out the Arabian Canadian Bazaar and drop by Muslim Link's table when you do!
This article was produced exclusively for Muslim Link and should not be copied without prior permission from the site. For permission, please write to info@muslimlink.ca.