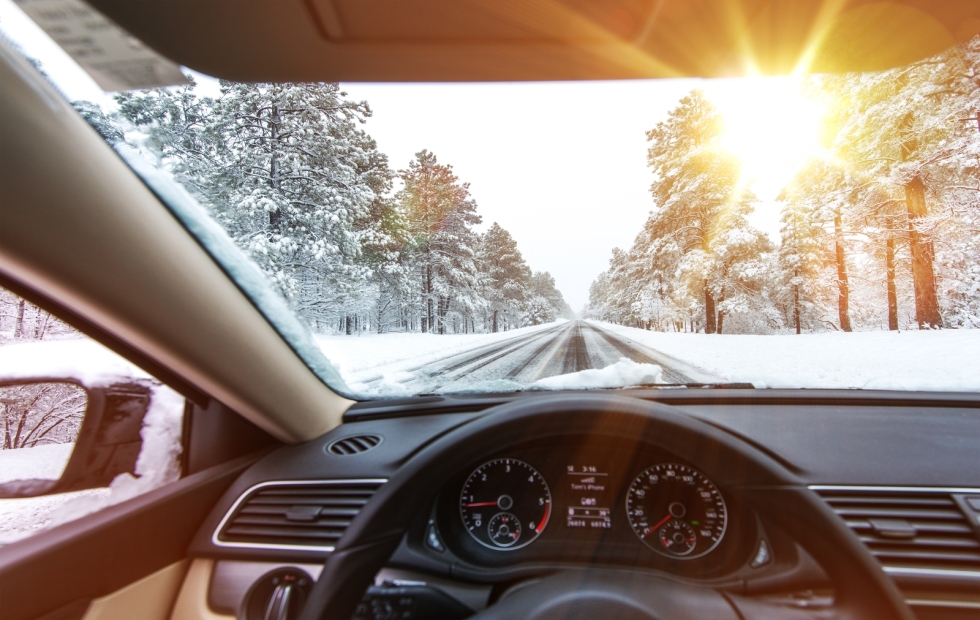 30
Jul


2023
8 Tips for Safe Winter Driving in Canada - From Experts
Written by Ahmad Akhtar
When winter's icy grip seizes Canada, it introduces an entirely new set of challenges for drivers. On average, the country endures over 100 days of snowfall per year. Some northern regions experience snowfall for up to 170 days. In fact, data from Transport Canada reveals that nearly 24% of all car accidents in the country occur on snowy or icy roads.
Understanding the importance of safe winter driving is the first step toward navigating these frosty conditions confidently. Being prepared and informed can make all the difference in preventing accidents. It ensures your safety, and the well-being of others on the road.
We have compiled 8 expert tips to help you navigate Canadian roads during winter safely and effectively. These tips will serve as your roadmap and provide the essential guidance to ensure a safer journey, no matter how intense the Canadian winter may be.
Winter Weather in Canada
Winter in Canada can be breathtakingly beautiful. But it also brings bad weather conditions that can challenge even the most seasoned drivers. From British Columbia's heavy snowfalls to Nova Scotia's winter storms, each region presents unique driving obstacles during the winter season.
In Canada temperatures often drop below -20 degrees Celsius. GLISA reports that the country receives an average annual snowfall of over 200 cm. In some areas, like the snowbelt region of Southern Ontario, it can exceed 300 cm.
This extreme weather significantly impacts road conditions and makes driving a potential hazard if not properly prepared. We will guide you through expert-proven strategies to safely tackle these icy roads and freezing temperatures.
The Importance of Being Prepared for Winter Driving
Your winter driving preparations will significantly determine your ability to navigate Canada's icy roads safely. Unpredictable weather and rapidly changing road conditions can present significant challenges. However, taking the time to adequately prepare can greatly enhance your safety and ease of travel.
Take preventive measures: It's always better to prevent issues rather than addressing them once they occur. This is particularly true in winter driving where the consequences can be severe. Proper preparation can help avoid accidents, vehicle breakdowns, and other potential hazards.

Lookout for rapid weather changes: In Canada, winter weather can change quickly. Sunny skies can give way to heavy snowfall within hours. Being already prepared can help you adapt more easily to these unexpected changes.

Prioritize personal Safety: Preparations ensure not only safe driving but also personal well-being in case of emergencies or vehicle breakdowns.

Peace of mind: Being prepared contributes to peace of mind, which leads to more confidence and less stress on the road, making the driving experience safer and more enjoyable.
Winter Driving Tip 1: Proper Winter Tires are a Must
Navigating Canada's winter roads without the right tires is akin to walking on ice in summer shoes – risky and potentially dangerous. This is why the first tip from our experts is straightforward and uncompromising: winter tires are a must.
Winter tires are specifically designed for cold, icy, and snowy winter driving conditions. Unlike all-season tires, they remain flexible even at very low temperatures. This feature provides better grip and stopping power. MPI Study reports that vehicles equipped with winter tires are involved in fewer accidents than those without them during the winter season.
As for recommended brands, Michelin X-Ice Xi3 and Bridgestone Blizzak WS90 often top the charts in consumer reviews for their exceptional traction and durability in harsh conditions.
For budget-conscious drivers, the General Tire Altimax Arctic 12 offers a more affordable option without compromising on safety and performance.
Tip 2: Keep Your Vehicle Well-Maintained (Oil, Brakes, Battery)
Maintaining your vehicle is akin to maintaining your health. Regular check-ups are essential to ensure everything is functioning optimally, especially when facing the extreme conditions of a Canadian winter.
Before winter hits in full swing, take your vehicle for a thorough inspection. A well-maintained car is not only more reliable but also safer. Here are key areas to focus on:
Battery: Cold weather is tough on car batteries. Ensure yours is in good health, with clean terminals and a full charge.
Antifreeze: This is your engine's protection against freezing temperatures. Make sure the coolant is topped up and the antifreeze concentration is adequate.
Brakes: Reliable brakes are crucial for safe winter driving. Have them inspected for wear and replace brake fluid if necessary.
Heater and Defroster: You'll need these to keep the interior comfortable and the windshield clear. Check their operation before winter starts.
Tire Pressure: Cold temperatures decrease tire pressure. Regularly check your tires to ensure they're properly inflated according to the manufacturer's recommendation.
Tip 3: Learn How to Control Skids
Controlling skids on icy roads is a vital skill for being safe during the winter driving in Canada. When your vehicle begins to skid, it's essential to stay safe and calm and follow these expert-approved steps:
Don't panic: Keep a clear mind. Rapid decisions often lead to overcorrections, which can worsen the skid.
Steer into the skid: It's an instinct to steer away from the skid. But you should do the opposite. If your rear tires are sliding left, steer left. If they're sliding right, steer right.
Avoid abrupt movements: Rapid acceleration, braking, or steering changes can further destabilize the vehicle. Be gentle and gradual in your inputs.
Don't slam on the brakes: If you're in a skid, aggressive braking can make it worse. If you have anti-lock brakes (ABS), apply steady pressure. If you don't have ABS, pump the brakes lightly and release the brake pedal when the vehicle starts to skid.
Understanding how to control a skid could be the difference between a close call and a collision. Consider taking a winter driving course, where you can practice these skills in a safe and controlled environment.
Tip 4: Pack an Emergency Kit Before Driving in Winter
An emergency kit is your lifeline if you ever find yourself stranded in the Canadian winter. Here's what our experts recommend including in your winter car emergency kit:
First-aid kit: This should include band-aids, antiseptic wipes, tweezers, medical tape, and a variety of bandages.
Blankets and warm clothing: If your car breaks down and you're waiting for help, staying warm becomes a priority. Pack some wool blankets and extra winter clothing.
Flashlight and batteries: You might find yourself in a situation after dark. A reliable flashlight can be a lifesaver.
Non-perishable food and water: Include high-energy foods like nuts, dried fruit, and granola bars.
Windshield scraper, shovels, and brush: Essential for clearing ice and snow from your vehicle's windows.
Jumper cables: A dead battery can happen to anyone, especially in the cold. Jumper cables are a must.
Road salt, sand, or kitty litter: These can provide much-needed traction if you're stuck in the snow.
Pack these items in a waterproof container and keep it in your vehicle all winter. This kit, coupled with the previously discussed winter driving tips in Canada, will put you in the best position to tackle Canada's winter roads head-on.
Tip 5: Keep Fuel Tank More Than Half Full
You might wonder why experts recommend keeping your fuel tank at least half full during winter, especially when fuel efficiency tends to decrease in cold weather.
Here are the reasons why:
Avoid fuel line freeze-up: Moisture can form and accumulate in the air void of your fuel tank, especially when it's less than half full. When temperatures drop, this moisture can freeze, potentially blocking your fuel line. Keeping your tank more than half full reduces this risk.

Weight and Traction: A fuller tank means more weight, which can provide better traction in slippery conditions.

Emergency Preparedness: If you get stuck or stranded, you might need to keep your engine running for heat. A fuller tank ensures you'll have enough fuel to stay warm until help arrives.
Fuel management can significantly impact your safety and comfort on the road. As always, a little preparation can go a long way in facing the challenges of driving in Canadian winters.
Tip 6: Keep a Safe Distance from Other Vehicles
One fundamental rule for safe driving intensifies in the winter: always drive slowly and always maintain a safe distance from the vehicle ahead. While this is good practice year-round, it becomes critical when dealing with Canada's icy and snow-covered road conditions.
Here's why:
Increased stopping distance: Slippery roads decrease tire grip. In such scenario, your vehicle takes longer to stop. Stopping on an icy road can require up to 12 times the normal stopping distance.
Unexpected actions: Many drivers may react unpredictably to winter road conditions. Keeping a safe distance gives you more time to respond to sudden stops or maneuvers.
Reduced visibility: Falling snow, spray from other vehicles, or the glare from low winter sun can impair your vision. A greater following distance helps compensate for reduced visibility.
How much distance should you keep? A good winter driving rule of thumb in winter conditions is to triple the "three-second rule." Pick a fixed point ahead. When the car in front of you passes it, count the seconds it takes for you to reach the same point. Aim for a count of at least nine seconds. This practice will contribute significantly to your safety on winter roads.
Tip 7: Clear Ice and Snow from Your Vehicle
Winter's beautiful snowfall can quickly become a hazard when it's layered on your vehicle. Snow and ice accumulation can impair visibility, disrupt vehicle aerodynamics, and pose a danger to other drivers. That's why it's essential to fully clear your vehicle before setting off.
Not clearing ice and snow can lead to dangerous scenarios
Impaired visibility: Snow on your windshield, rear window, or mirrors significantly reduces your field of vision, compromising your ability to spot hazards.
Flying debris: Ice or snow can fly off your vehicle at high speeds, potentially damaging other vehicles or causing accidents.
Decreased vehicle control: Snow buildup can alter your vehicle's weight distribution, affecting its stability and you might lose control of your vehicle.
How to properly clear ice and snow from your vehicle:
Windshield and windows: Use a good quality ice scraper and snow brush. Be gentle to avoid scratching the glass. For stubborn ice, start driving your vehicle and use the defroster to loosen it.
Mirrors and lights: These are critical for visibility and communication with other drivers. Clear them thoroughly.
Roof, hood, and trunk: Clear these areas even though it's often overlooked. The snow can slide onto your windshield or fly onto vehicles behind you.
This practice takes a little extra time, but it's crucial for safe winter driving. Clearing your vehicle thoroughly shows respect for your safety and that of others sharing the winter roads.
Tip 8: Don't Use Cruise Control on Slippery Roads
Cruise control is a handy feature for long highway drives, but it can be a risky companion on winter roads. Using it on icy or snowy surfaces can potentially lead to loss of control.
Delayed reaction time: Cruise control maintains a constant speed, and it can't respond to changes in road conditions like a human driver can. It won't adjust for a slippery patch of ice or fresh snowfall - it simply keeps going at the set speed.
Unintentional acceleration: If your vehicle starts to skid while on cruise control, the system might interpret it as a slowdown and try to accelerate, exacerbating the skid.
In winter driving, maintaining direct control over your vehicle's speed and being able to immediately respond to changing conditions is crucial. Therefore, it's best to steer clear of cruise control when navigating slippery surfaces. Stick to manually controlling your vehicle's speed, and always remember to adjust it according to road conditions.
Frequently Asked Questions About Winter Driving in Canada
Can you drive in winter in Canada?
Yes, you can drive in winter in Canada. However, it's crucial to be adequately prepared due to the country's harsh winter conditions. This includes having winter tires, maintaining your vehicle, and understanding how to drive safely on icy and snowy roads.
How do you drive in winter in Ontario?
Winter driving in Ontario requires a cautious approach. Ensure your vehicle is winter-ready with appropriate tires and regular maintenance. Clear all snow and ice from your vehicle before setting off. Always keep a safe distance from other vehicles, and avoid driving in snow with cruise control on slippery roads. Pack an emergency kit in case you get stranded. Check the weather forecast and road conditions before you travel.
Is it illegal to drive with snow on your car in Canada?
While there's no federal law about driving with snow on your car in Canada, some provinces have regulations. For example, in British Columbia and Quebec, drivers can be fined if their view is obstructed by snow. Regardless of the law, it's always safer and more considerate to other road users to fully clear your vehicle of snow and ice before driving.
Do I need snow tires to drive in Canada?
Winter tires are highly recommended for driving in Canada during the winter months due to the severe weather conditions. They're mandatory during certain months of the year in some provinces, like Quebec. Winter tires provide better traction, handling, and braking in cold, snowy, and icy conditions compared to all-season tires.
What time of year is best to drive through Canada?
The best time to drive through Canada depends on your comfort with different weather conditions. Summer (June to September) provides the most reliable driving conditions and longest daylight hours. However, if you're prepared and comfortable with winter driving, the snowy landscapes from December to March can be breathtakingly beautiful.
Bottom Line
The unpredictability of winter in Canada means that despite your best preparations, there may be times when you'll need to call for help. If such situation arises, find a place to safely pull off the road.
The first line of help in any emergency is 911. Whether you're involved in an accident, stuck in a dangerous location, or experiencing health issues, dialing 911 will connect you with local emergency services.
For less critical situations, such as vehicle breakdowns, a roadside assistance service can be invaluable. If you're a member of an organization like the Canadian Automobile Association (CAA), you can call their 24-hour roadside assistance line. The number for CAA service is 1-800-222-4357 (1-800-CAA-HELP).
Also, don't forget to share your location and status with a trusted friend or family member, especially before embarking on longer journeys. Let them know your intended route and expected arrival time.
This article was produced exclusively for Muslim Link and should not be copied without prior permission from the site. For permission, please write to info@muslimlink.ca.
This article was produced exclusively for Muslim Link as part of a paid advertising package. For more information on how to advertise through Muslim Link and support the running of Canada's Online Hub go here.