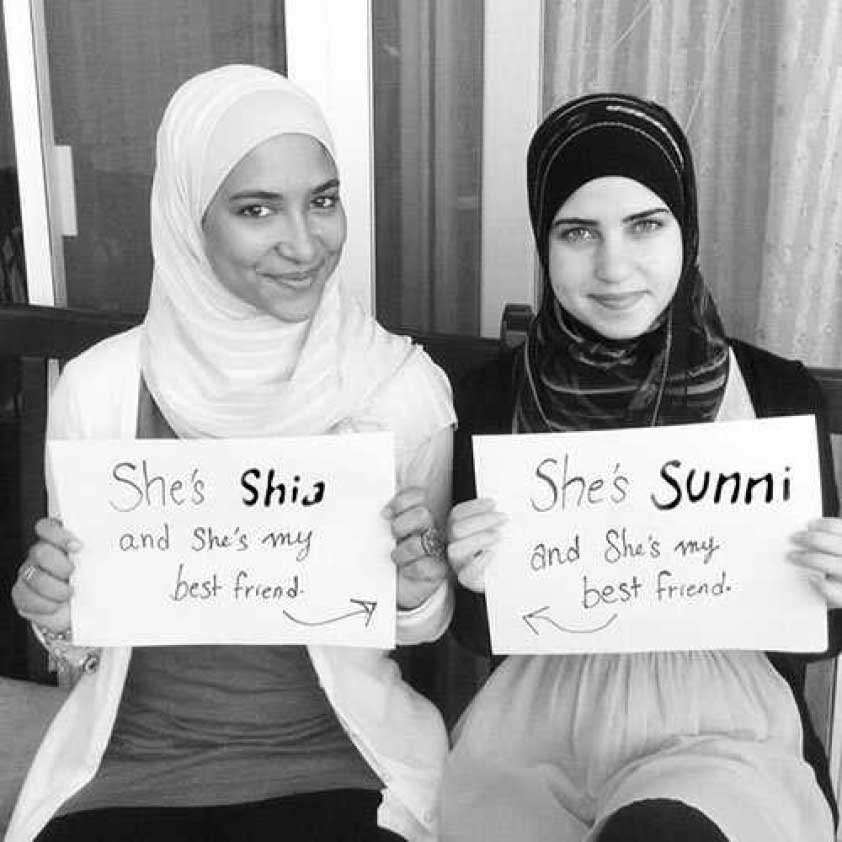 In the wake of growing tensions between Sunni and Shia Muslims in the Middle East, Egyptian teen photographer Hadeia Adel took this photo with her Lebanese friend.
Hadeia Nour Adel (2013)
27
November


2014
Dispatches from the Sunni-Shia Divide
Written by Hoda Mroue
Lebanese Canadian Hoda Mroue reflects on navigating the Sunni-Shia divide, as a student on university campuses.
Here in Ottawa, Sunni and Shia Muslims live peacefully side by side. We are part of the #CanadianMosaic.
But here in Ottawa, we almost do everything in silos. I consider myself someone who has strong relations with both the Sunni and Shia Muslim communities, where I have advanced spiritually and academically from both sides. And so I'm unsatisfied if we are civil when we have the potential to be inclusive through greater unity.
This is my context and experience. Take it or Leave it. #Bismillah
I grew up in Ottawa and have Sunni family in Lebanon that I visit regularly (grandparents, aunts, uncles, cousins – so basically half of my family), friends (and best friends), and role models (Dalia Mogahed and Usama Canon). When it comes to specific practices, theology, and jurisprudence, I follow the Shia Jafari school of thought. However, despite this, during my time at Brookfield High School, I was part of the Brookfield Muslim Association where Sunnis and Shias prayed together in classrooms and corners of the hallway - shoulder to shoulder, hands folded, turbah, and no turbah (a small block of earth that Shias place their heads on during prayer). We organized events together with a united vision to clarify the misconceptions of Islam after 9/11.
My experience thereafter was disappointingly the opposite. #frombothsides
I went to Carleton University between 2005 and 2009. My first exposure to the Sunni-Shia divide was in my first year when I discovered there were two Muslim clubs on campus, one for Sunni Muslims and one for Shia Muslims. So inevitably, all events including Friday prayers were separate. When I asked why the Shia Muslim Club formed, they said it was because of discrimination from Sunni students. I was not convinced of this because prior to joining the group I had attended many Islamic lectures and courses on campus, all of which were organized by the Sunni community and I never experienced any issues.
But while at Carleton, I began to slowly notice the discrimination. Our turbahs in the prayer room would be missing or found in the garbage. We would see our event posters being taken down in the prayer room by Sunni Muslim students who claimed that our events were bid'ah (an innovative practice in Islam). Then some Sunni Muslim students tried, and failed, to formally and informally take ownership of the prayer room so they could control the prayer room and which posters we put up.
The sad reality was that both Muslim Clubs had better relations with other religious groups on campus than with each other. #nounity...And on clubs day, our tables stood across from each other... #howembarassing
Even though I joined the Shia Muslim Club, I continued to participate in Sunni-led initiatives such as taking Classical Arabic courses with Cordova Academy at the University of Ottawa and helping run an all-Muslim women's basketball league with One-Soul Athletics. These experiences were so memorable in elevating me spiritually and exposed me to sisterhood at its finest. I was curious though about why I was often the only Shia in attendance (apart from the basketball league where there were Shia participants, but I was the only Shia on the organizing team). There were times when I was slightly uncomfortable praying with Sunnis because my turbah stood out and I sensed that others around me thought I was praying wrong.
I later discovered that the Shias thought I was Sunni and the Sunnis assumed I was Sunni. #iammuslim
If there is anyone in the world who grounds me, relates to me, and inspires me - it is one of the best friends I made back at Brookfield High School. She makes me a better Muslim and brings me closer to God - and she just so happens to be Sunni. Some of the most memorable and favourite hours of my life were when one of us would drop the other off at home in the late hours of the night. We would end up sitting in the car in the parking lot for an additional hour or so, talking. Talking about Islam, Allah (swt), life, the challenges of being a Muslim in the West, interesting encounters, and inspirational stories. We would also share quotes from the lectures we watched. There were no sectarian bubbles.
But it wasn't easy for me to take my Sunni friends to Shia events.
I never felt like I could invite my Sunni friends to events organized by the Shia Club, but I always felt like I could attend Sunni events because they focused on general aspects of Islam. While the Shia Muslim Club organized events such as Ramadan iftaars, lectures often focused on members of Ahlul Bayt (the Prophet Mohammad (pbuh)'s family) who most Sunni Muslims, unfortunately, aren't that aware of. But of all the Sunni lectures I attended, there was hardly any mention of the members of Ahlul Bayt. I found it bizarre that each side would exclude or greatly limit reference to the central and most significant figures in Islamic History.
Team Aisha (pbuh) versus Team Zainab (pbuh)...But don't we need as many Muslim heroines as we can find? #goteamislam
At Sunni lectures aimed at Muslim women's empowerment, I would hear a lot about the Prophet's wives Khadija (pbuh) and Aisha (pbuh) but nothing about Lady Zainab (pbuh), the Prophet's granddaughter.
If you don't know the story of Lady Zainab (pbuh), know it now. Lady Zainab's courage and style of resistance to oppression makes her one of the most inspiring figures for Muslim women. After losing her brother, her two sons, and her companions at Karbala, Lady Zainab (pbuh), along with the other children and women were taken as prisoners by the forces of Yazid ibn Mu'awiyah and forced to ride unveiled on camels to Kufa and then Damascus.
Both in Kufa and Damascus, the children and women arrived to crowds celebrating the massacre of the Prophet Mohammad (pbuh)'s family. But Lady Zainab (pbuh) delivered an astonishing speech to Ubayd Allah ibn Ziyad (then governor) in Kufa and in Yazid's court (then Caliph) in Damascus. It is narrated that she so eloquently revealed the injustice of the situation using Qur'anic verses and condemned the massacre in Karbala without fearing the consequences that would occur in the face of tyranny and oppression. She openly disgraced Ziyad and Yazid, and shamed all those who came to celebrate to the point that they began to mourn openly. She spoke truth to power.
When I think of Lady Zainab (pbuh), I think she is the woman we all want to be- courageous, fearless, and eloquent in the face of injustice. I want to see her story shared with the wider Muslim community. #beinspired
Despite some of these critical reflections, I cherish so deeply the sisters and brothers, both Sunni and Shia, I met at events organized by both clubs and communities. I still look back and think university was the time that I was the most inspired in my life by the people around me.
But my high school days were still more progressive. #oneclub #mixedprayer #justsaying
At the
, Mehdi Hassan, Political Director of the Huffington Post UK, beautifully addressed the issue of intra-faith unity amongst Muslims in the UK. Everything Hassan says I believe is relevant and possible in Canada.
"The French scholar of Islamic movements, Olivier Roy has written, that today Azerbaijan is probably the only country in the world where there are still mixed mosques and Sunnis and Shia pray regularly together. As British Muslims we should be working in my view to ensure we have such mosques, such joint prayers, such mixed events much more regularly than we do. Remember, we British Muslims, whether we are Sunni or Shia, we face the same challenges and obstacles. We face the same Islamophobia and anti-Muslim bigotry. The same debate over radicalization and extremism. We endure the same attacks on our dress code and the halal meat that we eat...And so we need to stick together. Support one another. Have empathy with one another."
A Shia Muslim mosque in Thornhill was vandalized with anti-Palestinian messages over the summer...Let's face it, those who hate us don't care about the differences.
We are living in an era of Islamophobia and I think we should be working together across our differences to clarify serious misconceptions about Islam particularly around topics like jihad, women's rights, and respect for the religious freedom of non-Muslims.
We need to be comfortable popping our individual sectarian bubbles. We need to understand each other's differences by talking to each other and not just learning the differences from our own community's lectures. We need to leverage our similarities to make holy spaces more inclusive and meaningful for the broader Muslim community.
As I write this Sunni and Shia Muslims from around the world are together in Mecca for Hajj, circling the Kaaba, united in prayer...#eidmubarak
Recommended Reading:
A declaration of mutual respect between Sunni and Shi'a communities in North America
10 Tips to make MSAs more Shi'i-Friendly by a Muslim Chaplain
This article was produced exclusively for Muslim Link and should not be copied without prior permission from the site. For permission, please write to info@muslimlink.ca.