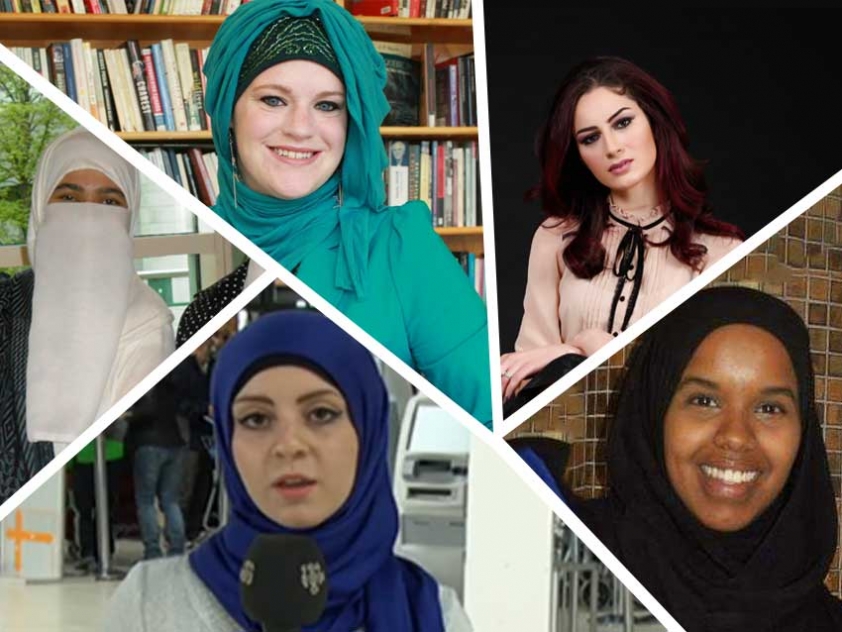 Journalism student Batoul Hreiche, Entrepreneur Mahwash Fatima, Podcaster Stephanie Roy, YouTube Activist Assma Galuta aka Asoomii Jay, and teacher Idil Abdulkadir are among the resource people speaking at CAWI's Feb. 17th Action Forum Walking with our Muslim Sisters.
13
February


2016
February 17th: Walking with Our Muslim Sisters: Let's Say No to Islamophobia Action Forum
Written by Chelby Daigle
Themes explored at the February 17th Action Forum will include the impact of Islamophobia on mental health, the reality of hate crimes against Muslims in Ottawa and across the country, and what Muslim women are doing to further civic engagement and women's empowerment in their own communities and the city at large.
It is hoped at the end of the forum participants will have a better understanding of the complexity of Muslim women's experiences, opinions, and accomplishments and come away with practical ideas on how to address Islamophobia and be allies to Muslim women in Ottawa-Gatineau.
This educational event is then being followed by a "Ottawa Hijab Solidarity Day" reception on Feb 25th, 4:00-6:00 PM in the Councillor's Lounge of the City of Ottawa, where people will have the opportunity to dialogue with Muslim women who wear hijabs about their experiences in Ottawa.
There has been some controversy about Ottawa Hijab Solidarity Day, but CAWI sees the event as a natural extention of their work to make Ottawa a safer and inclusive city for a diversity of women. According to CAWI: "In some countries hijab is viewed as a method of oppression. It is believed that Muslim women who wear the hijab do so only because they are forced to. While this may be the case in some places, the assumption that it applies to all women who wear the hijab is wrong and potentially harmful. Women who wear the hijab can sometimes face discrimination and harassment. When women are discriminated against for wearing a hijab, all women are hurt. Women wearing a hijab or niqab (the face veil) should be safe and free to access services free of discrimination. Women should not be victimized because for what they choose to wear. These are rights enshrined in Canada's Charter of Rights and Freedoms as well as in our Human Rights Codes."
Spoken Word poet Roua Alijed, known for her poetry addressing women's rights issues, such as confronting rape culture, will be performing at Ottawa Hijab Solidarity Day as well.
The following are a list of confirmed resource people for the February 17th Action Forum, they were invited as they represent some of the diversity of how Muslim women express their faith and contribute to the social and civic life of our city.
Hijab/Niqab: The Lived Experience
Mahwash Fatima, business woman who wears niqab
Batoul Hreiche, Carleton University journalism student who wears hijab
Sadia Sial, public school teacher who wears hijab
Resource people will discuss their choice to wear hijab or niqab and the impact this choice has had in their daily life, school, and work in Ottawa.
The Impact of Islamophobia on Mental Health
Haneen Alhassoun is a Spoken Word poet and Carleton University journalism student.
Berak Hussain is the International Students' Counsellor at Carleton University and has spearheaded a mental health public education initiative within Ottawa's Muslim community.
Ayan Yusuf speaks publicly to raise awareness and address stereotypes around mental illness.
Resource people will discuss the impact of Islamophobia on the mental health of Muslims in Canada, with a particular focus on women and youth.
Muslim Women and Civic Engagement
Assma Galuta aka Asoomii Jay is a YouTube activist and fashion model whose Blind Trust Video went viral, drawing attention to the impact of Islamophobia on Muslim Canadians
Sabaah Choudhary is a co-organizer of Election Energized, a project which engaged local Muslims in the 2015 Federal Election.
Resource people will discuss how Muslim women are using various means to raise awareness and increase civic engagement among their fellow Canadians.
Islamophobia: Addressing Hate
Lila Shibley is a police officer who works with the Ottawa Police Service's Diversity and Race Relations Section.
Amira Elghawaby is the Communications Officer for the National Council of Canadian Muslims, which works to uphold the human rights and civil liberties of Muslim Canadians
Resource people will discuss stats on violence against women in Canada motivated by Islamophobia and what the public can do to address it.
Muslim Women and Empowerment
Idil Abdulkadir is a high school teacher, currently doing her Master's in Education, who has developed programming to support and empower Muslim girls in Ottawa.
Ayan Tani is the internal coordinator for the University of Ottawa's Women's Centre where she facilitates a regular discussion group on Muslim Feminisms.
Stephanie Roy is a Muslim feminist, LGBT ally, and podcaster.
Resource people will discuss the work Muslim women are doing to address issues of women's empowerment and feminism on their own terms.
This article was produced exclusively for Muslim Link and should not be copied without prior permission from the site. For permission, please write to info@muslimlink.ca.