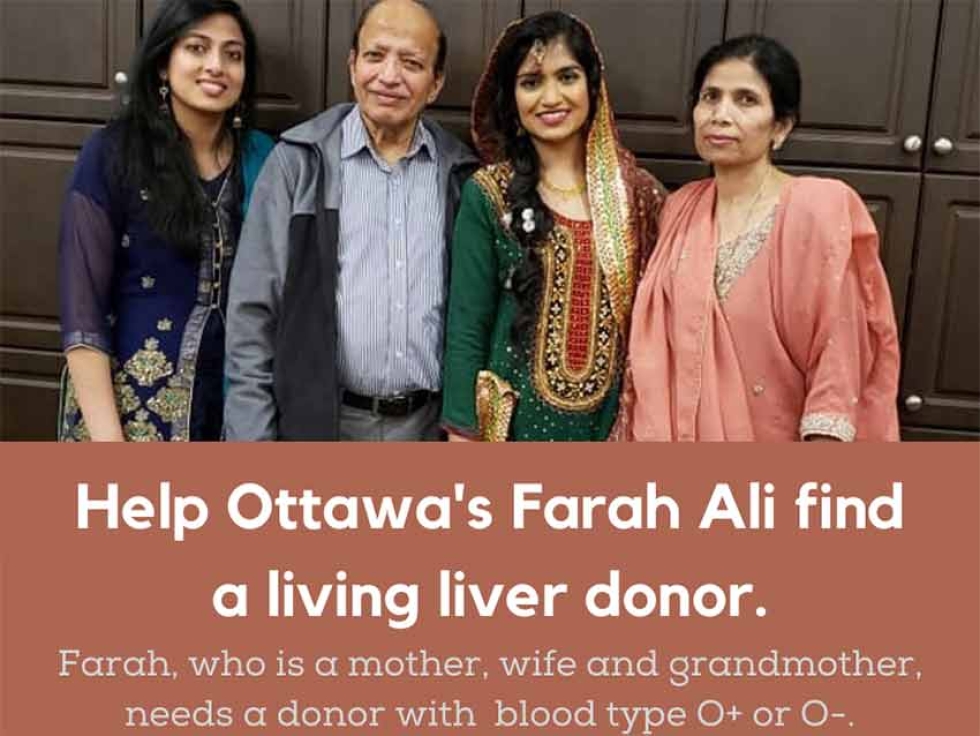 18
Nov


2021
Pakistani Canadian Grandmother in Ottawa Needs Live Liver Donation Urgently
Written by Liver 4 Farah Ali
My name is Sidra Ali-Khan. My mother, Farah Ali, has liver cancer and is in danger of liver failure. Farah is a mother, grandmother and wife. She was put on the transplant list for a deceased donor in June. However, because of the long wait list and limited number of livers available, we are looking for a living liver donor with blood type O+ or O-, to donate.
My mother is eligible for a liver transplant only for as long as the cancer stays within the liver and stays smaller than 6 cm. The biggest risk is the cancer metastasizing outside the liver or growing too big. We need to find a living donor as quickly as possible.
Any healthy person can apply to donate a part of their liver as long as they are between the ages of 18 and 60 years old with the right blood type. The donor does not need to be a relative or the same ethnicity (that matters for stem cells, not organs), just a healthy person with blood type O+ or O-.
The criteria for living organ donors is different than for blood donors. If you are not eligible to donate blood, you may still be able to be a living donor.
The liver is an incredible organ and the donor's will grow back in 2-3 months! This surgery is more common than you might think; more than 1,000 living liver donor surgeries have been performed in Toronto alone. Also, by finding a living donor, my mom will be removed from the deceased donor list and everyone else eagerly waiting for a liver will move up one spot. The living donor will be saving TWO lives!
We've reached out to friends and family members, but so far, no one has met the criteria to be able to donate. In my immediate family, we have my mother, father, sister and myself. I am the wrong blood type to donate. My sister recently gave birth and the surgeon said she would have to wait six months before being tested to be a donor… which may be too late. Both of our husbands are also of the incorrect blood group.
We live in Ottawa, in Bells Corners located in the west end of the city. Mom was diagnosed with liver cancer in June. It was a terrible blow to our close family. My mom, dad & sister immigrated to Canada from Pakistan in 1992. They made a life in Canada and raised us in Montreal, and then moved to Ottawa in 2000.
My mom used to work as a cashier for a few years and then opened her own at-home daycare with an agency until her health began to deteriorate. Before her health issues arose, she used to be an avid seamstress. My dad is a microbiologist by profession and worked in the research department at University of Ottawa before retiring a few years back.
Before COVID-19 struck, our family attended Jami Omar Mosque in the west end often and quite enjoyed our time spent there. My mom keeps herself busy with the few family friends and relatives groups that we have in Ottawa, and she also loves to cook as one of her leisurely activities.
Liver transplants are performed at UHN's Toronto General Hospital.
To learn more about living liver donation and how to apply to be my mother's donor, click here
Potential donors apply by completing the 11-page health history. The form asks for the recipient's full name and date of birth. It's Farah Ali, born on September 17, 1960.
The Living Liver Donor Program will contact applicants about next steps. Donor testing is typically done in Toronto, but with the pandemic, potential donors can do much of the testing at local labs in your hometown. The testing, surgery and hospital stay is covered by Farah's OHIP.
For expenses like travel, food, accommodation and income replacement, there is a reimbursement program through Trillium Gift of Life for up to $5,500.
They will reimburse expenses even if you get part-way through the screening process and change your mind or aren't accepted. You can also submit receipts for reimbursement throughout the process and don't need to wait until after the surgery. To learn more about reimbursement through the Trillium Gift of Life program, click here 
If you'd like to ask the experts questions about becoming a living liver donor, contact the University Health Network Centre for Living Donation in Toronto at This email address is being protected from spambots. You need JavaScript enabled to view it..
The UHN Centre for Living Donation hosts a monthly on-line information session for Potential Living Liver Donors. The next one is on Tuesday, November 23, 12-1 p.m, to register click here.
Please share this with anyone you know who might be willing to help. We will need someone brave and generous to give the gift of life.
Follow Liver 4 Farah Ali on Facebook here