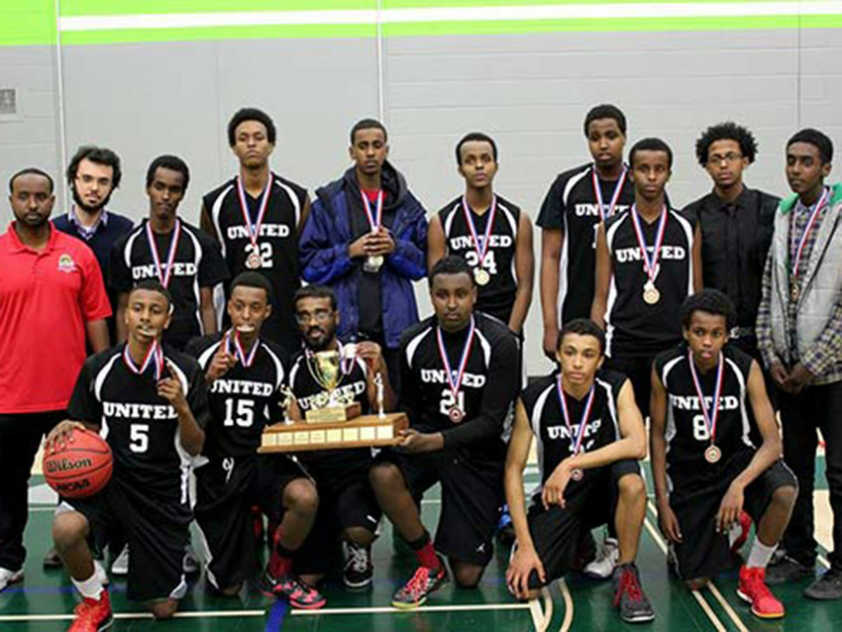 17
March


2014
Ottawa Islamic School wins city-wide championship
Written by Staff Writer
Deriyeh Ahmed is one of three coaches for Ottawa Islamic  School's Senior Boys Basketball Team. Deriyeh, a volunteer coach and Accounting student at the University of Ottawa, worked with the school's gym teacher, Mohamed Barre and English teacher Abdiaziz Toma to prepare the school's basketball team for this year's championship. He spoke with the Muslim Link about the team's success at the OFSAA Senior Boys Basketball Championship for Ottawa at the end of February.
ML: Explain how OIS got involved with this championship.
The OIS basketball team has been playing against some of the top teams in Ottawa all season, culminating in a convincing win against our single-A-team rival Deslauriers. This led to our qualification for the Ontario Federation of School Athletic Associations (OFSAA).
ML: What teams were OIS competing against?
In Ottawa, we played against much larger AA, AAA, and AAAA teams. Though the competition was tough, we had many close games and wins against other top schools like Merivale, Immaculata, and Gloucester High Schools.
ML: How often does the OIS team practice?
We practice twice a week minimum, though we don't have our own gym. We rent gyms from other schools.
ML: Are OIS team members involved in other teams in the city/province?
Most of our players play for local teams and the Muslim Basketball Association (MBA), as well as in the House League, presented by the Somali Centre for Family Services.
ML: Do you feel that certain Islamic values help to make good basketball players?
Brotherhood and team chemistry are what bring us success. The players are very honest with each other and the coaching staff, and hold one another accountable for their actions on and off the court. Our players and coaches are more than just teammates, but friends, mentors, teachers, parents, and brothers. This is something that we feel sets us apart.
ML: Tell us about some of the team's MVPs (most valuable players).
Mahdi Elmi is our point guard and the coolest head on the court. He is a Grade 12 student who keeps the rest of the guys in check. Emran Ishak, a Grade 11 student, is all smiles off the court, but on the court he's the big guy who keeps the whole team accountable. He runs our defense, and often enough is our go-to guy for his exceptional effort. Ali Sow, a Grade 10 student, shines through his athleticism and hustle. A fierce competitor, he doesn't stop until the last second has ticked off the clock.
ML: What does winning this championship mean for OIS?
OIS has had good basketball teams in the past, but this year is special. We have a group of students and coaches who really want to succeed on and off the court. Getting region-wide recognition for our immense effort is a dream come true for many of us. We see this as an opportunity to show everyone what a Muslim education can produce far beyond basketball.
ML: What would you want readers to know about Ottawa Islamic School (OIS)?
It is a small Muslim community school with students and teachers from a variety of ethnic and cultural backgrounds coming together to instill Muslim ideals with a solid academic and university-bound education. The school strives to create not only good students, but community ambassadors who are role models for youth as well as outstanding Canadian citizens.
To learn more about Ottawa Islamic School visit www.ottawaislamicschool.org
This article was produced exclusively for Muslim Link and should not be copied without prior permission from the site. For permission, please write to info@muslimlink.ca.