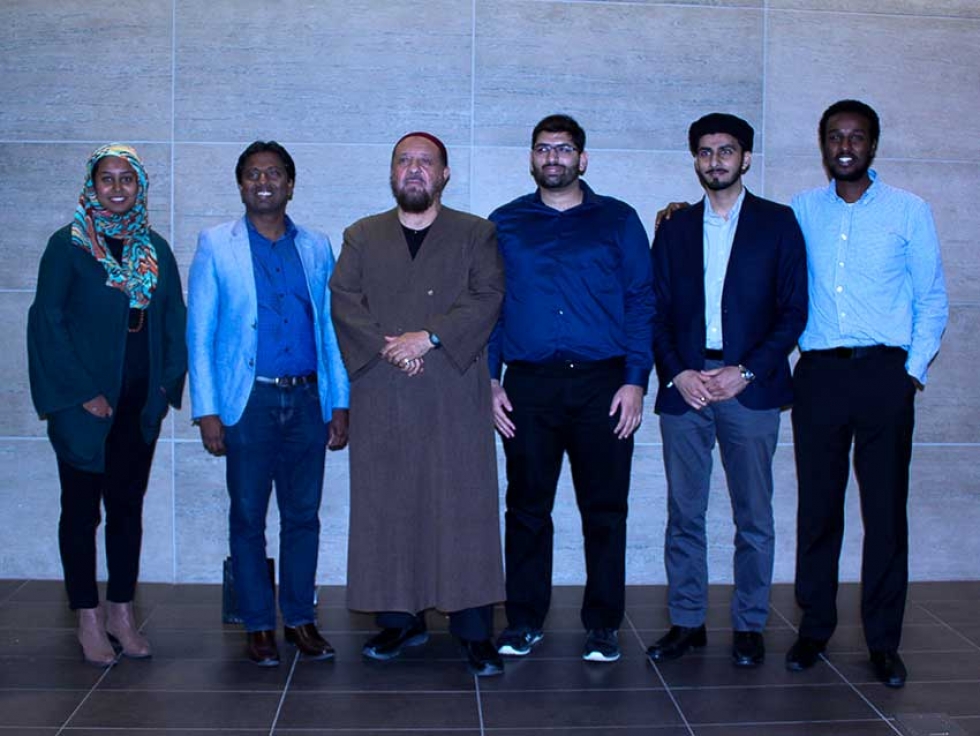 Muslim Students Association Organizes Ground-breaking Panel Exploring Underrepresented Voices During Islamic Heritage Month
10
November


2017
Muslim Students Association Organizes Ground-breaking Panel Exploring Underrepresented Voices During Islamic Heritage Month
Written by Chelby Daigle
During Ontario's Islamic Heritage Month (IHM) in October, the University of Toronto-Scarborough Muslim Students Association (UTSC MSA) organized the "Standing on the Shoulders of Giants" event exploring contributions to Islamic Civilization that are often under-represented during discussions about Muslim history. City Councillor Neethan Shan, whose office organized several for IHM this year, also spoke on the panel as an ally to the Muslim community of Scarborough.
Muslim Link interviewed Osman Ali Haybe, the president of UTSC MSA, about the significance of this panel discussion.
What was your role in putting this panel together?
This panel was something that the 2017-2018 UTSC MSA Executive team had in mind for some time now. I was responsible for spearheading the event in conjunction with all the groups and organizations we collaborated with. This event was done in collaboration with Councillor Neethan Shan's office, the Ahmadi Muslim Students' Association (AMSA UTSC), the Scarborough Campus Ismaili Students' Association (SISA), and the Scarborough Campus Students' Union (SCSU).
Why was there a focus on the contributions of Muslim Women and Black Muslims on this panel?
From my very simple reading and exposure to Islamic history, there are so many different angles and perspectives that an organizer can take. The role of Muslim women and that of Black Muslims are not discussed as often as they should be in the community and when we do discuss them, these topics from my experience, are usually tokenized and reserved for the "Women in Islam" panels or Black History Month lectures. Considering that, we felt that it was much needed to highlight the diverse heritage of Islam and the legacy of our heroes and their contributions at our "Standing on the Shoulders' of Giants" panel.
The panel included imams from both the Sunni tradition and the Ahmadiyya tradition. That very seldom ever happens frankly anywhere. Why was it important to recognize this minority and often marginalized Muslim community?
The initial plan for the event was to have each Muslim campus group reach out to their respective communities to find panelists for the discussion. Unfortunately, the Thaqalayn Muslim Association (TMA) and SISA were unable to find panelists who were available for that specific day. AMSA UTSC managed to bring Imam Hanan Sobhi who is a local Ahmadi Imam and is someone whom I've had the pleasure of knowing for almost a year now personally.
I think it is critical to work together especially when the discussion is on history and heritage as one theological group or sect cannot have sole rights to the entire cultural milieu of an entire civilization. Some of the well-known historical Muslim scientists philosophers and thinkers came from various sects, so it made no sense to us to have a panel of one theological perspective to discuss the topic of Islamic history.
City Councillor Neethan Shan was also part of the panel. Why?
Councillor Neethan Shan reached out to both the MSA and SCSU to provide help and outreach for any events planned for Islamic Heritage Month. We were thrilled to have his support for this event as he is no stranger to the wider Muslim community. The Councillor has taken on Islamic Heritage Month this year as a pilot project for other City Councillors and Wards to follow in the coming years, in terms of celebrating Canadian Muslim contributions and achievements and normalizing October as Islamic Heritage Month. This month he has collaborated with various Muslim organizations and masajid (mosques) such as the Muslim Welfare Centre, Islamic Foundation of Toronto, the Islamic Institute of Toronto, and the Canadian Council of Muslim Women (CCMW) on events thorough out October.
What else would you like to share with our readers?
I would like to thank the Councillor Shan, Tashnim who was a member of his youth leadership team, AMSA, SISA, SCSU, and the panelists for helping make this event happen.
I would also like to thank the VP External of the SCSU, Kubra Zakir for organizing and spearheading a community jummah (Friday prayer) earlier in the school year for all the Muslim groups on campus along with the Muslim Chaplaincy. This leadership is improving relations between all of the Muslim groups on our campus.
Going forward, I feel it is crucial for Sunni Muslim groups to maintain healthy and respectful relationships with minority Muslim groups. Differences should not be used to hate or oppress but neither should we pretend such differences are non-existent as that would be intellectually and spiritually dishonest. I firmly believe that one MUST stand in solidarity against the acts of oppression, injustice, and violence that minority groups sadly face and that can be done while maintaining a firm belief in religious particularism in how one defines their theology or Islam itself. 
This article was produced exclusively for Muslim Link and should not be copied without prior permission from the site. For permission, please write to info@muslimlink.ca.