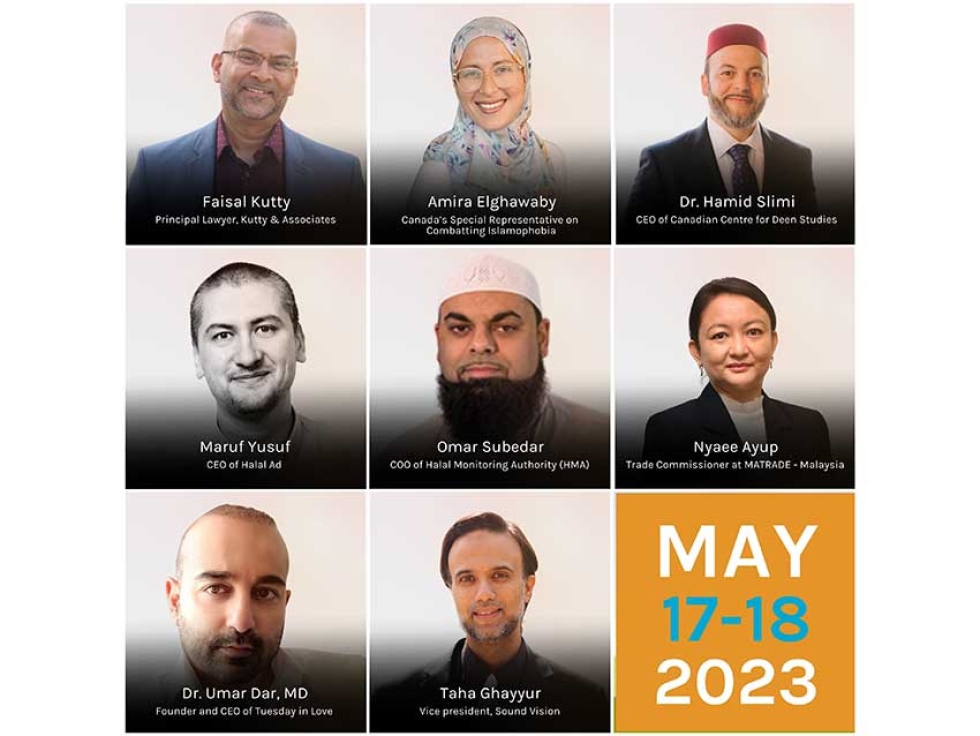 01
May


2023
Meet the Speakers at This Year's Halal Expo 2023
Written by Muslim Link
This year Halal Expo Canada will be taking place from May 17 to May 18 at The International Centre in Mississauga.
If you use Muslim Link's Promo Code ML100 you can attend Halal Expo for FREE!
We interviewed the Halal Expo team about what to expect at this year's conference and exhibition.
What can we expect at this year's Halal Expo?
This year's Halal Expo Canada will have over 150 exhibitors showcasing their products and services to attendees. The event will feature businesses from a variety of sectors, including food and beverage, fashion, beauty, finance, and more.
Who should attend Halal Expo?
Halal Expo Canada is a B2B event that is mainly targeted at buyers and suppliers in the Halal industry. However, the event is also open to other professionals and groups interested in Halal products and services, such as distributors, retailers, investors, and government agencies.
What are some highlights of this year's Expo?
One of the highlights of this year's Expo is the presence of Chef Sadiq from Singapore, a renowned chef and expert in Halal cuisine. Chef Sadiq will be conducting cooking demonstrations and sharing his knowledge and expertise with attendees.
What are some of the countries participating in this year's Expo?
The Halal Expo Canada 2023 will feature a number of international pavilions, including a Malaysia Pavilion. Other countries that are expected to participate in the event include Indonesia, Turkey, Singapore, and the United Arab Emirates.
What topics will be explored at the conference?
The conference will feature a range of topics related to the Halal industry, such as the Introduction to Halal Certification – Rules and Regulations (Halal Certification in the Post Covid Era), Halal and Inclusivity: Meeting the Needs of Diverse Muslim Communities, Halal Franchises in Canada, Understanding the Halal Cosmetics Industry, Trade Opportunities for Malaysian Halal Products and Services, Marketing To Muslims 101, Muslim Women Leadership in Culinary, Hospitality & Tourism, and How Islamophobia Impacts The Halal industry
There will also be sessions on topics such as finance, investment, and marketing strategies for Halal businesses. 
To read the full conference schedule, click here
What lessons learned from previous Halal Expos will you be implementing for 2023?
Based on feedback from previous Halal Expos, the organizers of Halal Expo Canada 2023 have made several changes and improvements to enhance the experience for attendees.
Some of the key lessons learned from previous events that will be implemented this year include:
Partnering with more local and international media partners: To expand the reach of the event and attract more attendees, Halal Expo Canada 2023 has partnered with more local and international media partners such as Grocery Business, Western Grocer, HalalWeekly, and EgyExporter. These partnerships help promote the event to a wider audience and provide more exposure for participating exhibitors.
Focusing the conference on educating mainstream retailers on Halal: One of the key themes for Halal Expo Canada 2023 is to educate mainstream retailers on the Halal industry. This is in response to feedback from previous events that indicated a need for more education on Halal for non-Halal businesses looking to enter the industry. The conference will also be relevant for new businesses looking to explore opportunities in the Halal market.
Reducing the duration of the show to two days: Based on feedback from previous events, the organizers have decided to make Halal Expo Canada 2023 a two-day show instead of three days. This change is aimed at attracting a more targeted audience of industry professionals who can attend the event without taking too much time away from their business operations.
Overall, Halal Expo Canada 2023 promises to be an exciting and informative event for anyone interested in the Halal industry. With a range of exhibitors, international pavilions, and expert speakers, attendees can expect to learn about the latest trends and innovations in Halal products and services, as well as connect with like-minded professionals and businesses.
To learn more about Halal Expo, click here