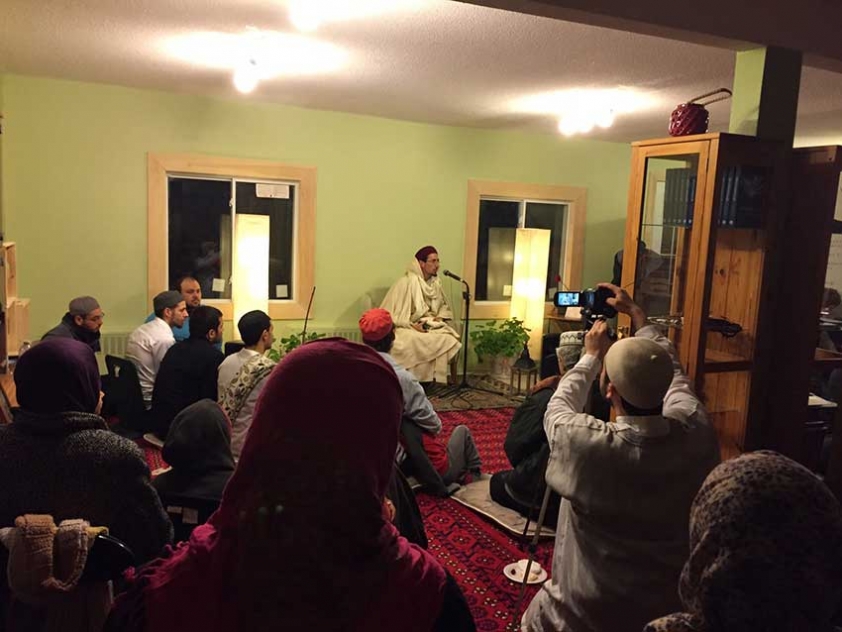 Gathering at Sanad Collective's Masjid Rhoda
Courtesy of Sanad Collective
09
March


2016
Meet The Sanad Collective: The Story Behind Ottawa's Newest Islamic Centre
Written by Muslim Link
The Sanad Collective's Masjid Rhoda is the city's newest mosque in Ottawa's East End. Muslim Link interviewed members of Sanad Collective to learn more about them and their plans for their new space.
Is Sanad an actual Collective? If so, why have you chosen this leadership structure to run your organization? What responsibilities do Collective members have?
We deliberately called ourselves a collective to indicate that we are a fellowship, as opposed to an "organization" or "association." Rather than a board having authority over decisions, each one of us who turns up for a meeting has the power to influence the decisions made. Every member of the Collective has an important role in determining how the Collective will move forward, and the responsibility to engage in decision making through consensus on the guidance of our Teacher, Sheikh Hamdi ben Aissa. The word "collective" comes closest to reflecting the notion of a spiritual family, which is how Muslims in traditional societies organized themselves socially.
As a collective, our identity is as much about working for a common cause as it is about working together and learning to do that really well. Learning the art of working together while keeping the heart pure of negativity itself contributes to our spiritual refinement. It's in working collectively for a common cause that one learns commitment, discipline, selflessness, good manners, patience, and the art of cooperation and mutual support—all virtues that Islam asks us to acquire.
As a member of the collective, one's responsibility is to commit to the three pillars of Prophetic action: Seeking wisdom, nurturing the soul, and sharing compassion.
Sanad Collective had been operating without an established location for a few years. Why did you feel the need to set up an actual Masjid (mosque)?
The interesting thing is that we didn't actually realize we were being led to open a Masjid.
Here's how it happened:
After coming together as a collective in 2012, we had been offering classes, events, and retreats. In order to anchor our programming and be able to offer more, Sh. Hamdi rented a larger house in 2013 and we transformed the basement into a sacred space, called the Rawdah. The Rawdah allowed us to expand programming to include Zidni Ilma Youth School, Eid celebrations, and scholar visits.
In early 2015 with the spring melt, we had a major flood in the Rawdah; the damage to the space meant we couldn't stay there any longer.
This really pushed us to look at ideas we had originally discussed, in 2012, when we first became a collective. From that time, our intentions had been to offer a space that could be accessed easily by all members of society, including non­Muslims. We had discussed opening a cafe, but had not been ready for such a challenge at that time. But now, having worked together for three years, we felt we had strong enough bonds to take on this new challenge. Our hope was to find a place with one space that could serve as an educational centre, and an adjacent space that would be the cafe­ bookstore. The idea was that the cafe ­bookstore would serve both as a means of reaching out to spiritual seekers, both Muslim and non-Muslim and a means to support the educational institute by being a source of income, so that we would not need to keep fundraising.
After searching for a couple of months, we were led to a building with white siding on the top of Beacon Hill with two adjoining spaces: one had been a convenience store; the other had been a hair salon.
When we looked at the zoning, we discovered it was one of the most generous types of zoning in the city—allowing specifically for a place of worship. With this kind of option, it felt wrong to do anything less.
At the same time, we were nervous about opening a masjid–it was a greater honour and responsibility than we had initially envisioned. But each time we did our istikharah (special prayer for seeking guidance) the answer came in the affirmative. This is how we ended up opening a space that would allow for the five daily prayers and Jumaah.
We called it the Rhoda Institute because a major focus is the classes and learning. Next door, there is the Lotus Community Corner. This was intended to be the cafe-bookstore, but we do not have enough funding yet for the salary of a manager. This is the major step that remains. We're planning to start a LaunchGood campaign soon to address this need, so look out for that!
Is there a reason why you chose Ottawa's East End?
We had been located in Ottawa ­East for the past few years and come to know the community. We did not want to go too far from those who were already benefitting from our projects. We also wanted a location easily accessible from downtown (We are along the 12 Bus Route). There are a lot of great centres and masajid (plural of masjid) in Orleans, Ottawa­ West and Ottawa South, but there are not that many in Ottawa ­East.
We never imagined that the building we were renting would need as much work as it did. It was a real challenge, but we were blessed with many miracles along the way. Alhamdulilah (thanks to God), we received support. We continue to need support to pay off the renovation costs, as well as for the rent. We will need help with rent until we can successfully start the cafe.
Until it's fully functioning, we are calling the cafe the "Lotus Community Corner." We will be opening it on certain days of the week, especially after Jum'aah (Friday prayer), insha'Allah (If God wills it). So please do stop by for Jum'aah and stay for coffee. 
Any help you can offer that will support us to get this cafe element off and running will allow the whole project to eventually become self-sustaining, insha'Allah.
In order to meet the present needs, we have recently launched 25 for 24, a campaign which asks for a pledge of $25 for 24 months to help us keep our doors open.
Alhamdulillah, less than a week into the campaign the response from the community has been encouraging. We still have a ways to go, so please give and be among those who helped establish a house of God. Now that our project is officially a masjid, we can see that it is filling an important need in the neighborhood. Many neighbors including non-Muslims have come by to express their welcome. We are also located right across from two care facilities. Imagine if the masjid could become a place of connection for those who are elderly and alone. We have this hope and prayer.
Your team is relatively young, with the majority of members in their twenties and thirties? What are the challenges and the benefits of this when establishing a new Masjid?
Alhamdulillah, all of the members of the core of our team are quite young – I believe all younger than 40. I'm not sure if any of the benefits or challenges we have with our team can be attributed to age. We have a diverse group of people in our core, with different life experiences which adds richness to our group.
We have teachers who have a strong background in traditional learning of the Islamic sciences in Sheikh Hamdi and Sister Shehnaz–both of whom have an excellent understanding of the Canadian context.
Among the members, we have people who have completed, or are pursuing, their studies in philosophy, social work, law, education, pharmacy, and engineering. We have newlyweds and young families. We have converts and lifelong Muslims. The majority of the core grew up in Canada but we also have those who grew up abroad. Again, I think this diversity has much to do with each person's lived experience, and not so much with their age.
I would say we are all very passionate and keen to make change. I think, however, that you can find this amongst many of the organizations in the city–regardless of their age.
The one main challenge that I could say is tied to age is lack of experience. For much of the group, this is the first time we're embarking on such a big initiative. Alhamdulillah, we have been quick to seek advice of our elders and the many others who have walked a similar path before us.
We continue to need the support of elders and others in Ottawa--we've held a few events including an Imam's dinner, for this very purpose. We ask all those reading this article: Please join in on our events so that we can benefit from you and your advice.
Do you feel your space could appeal to the many Muslims in Ottawa who feel "unmosqued"? If so, why?
Insha'Allah this space will appeal to a wide range of people, including Muslims who feel unmosqued. We were very intent on establishing a place where people will not feel judged, who can come as they are, who can come with their questions, their doubts, and their insecurities–this is what we mean by a spiritual safe space. Our Shamail (characteristics of the Prophet Mohammad pbuh) class on Friday nights is a great example of this kind of openness. Men and women sit in the same space, just like they would in a regular classroom, and anyone can ask questions. People ask very insightful questions and challenging questions that help us all rethink our way of being Muslim. And the Teacher, Sheikh Hamdi ben Aissa, provides honest answers that encourage us. We'd love to see more parents bringing their youth to this class. These opportunities are extremely important.
We also have a focus on mentoring and chaplaincy—or what is called "pastoral care." Often people become unmosqued because they don't feel a sense of community in the mosque; they feel like outsiders and strangers. Pastoral care is about showing one another we care about each other, by building real relationships, and receiving support from our chaplains through the hard patches in life—without being judged or made to feel inadequate.
Recently, one of the brothers at our volunteer orientation asked the question: Is it normal for a person to lose faith when going through a hard time in life? Sheikh Hamdi responded: Yes, it is normal, but it's also important to know: you haven't actually lost faith in that time—your faith is just hidden from you because you are experiencing such intense testing.
These kinds of responses are so important. They lift us up and let us know that we are still held in God's care, even when it feels like we are "distant." This is what Sanad is all about: being a link and a support on the journey of faith, keeping us close to our Lord.
Do women have an equal role to play in the Masjid and within the Collective? If so, what does this entail?
Yes, they have an equal role to play. About half of our core members are women. We have both men and women teachers; we have women and men who lead projects and initiatives; we have invited men and women scholars.
How can people get involved with Sanad Collective? How does membership work?
We are currently really looking for new people to get involved in Sanad, because with the opening of our two new spaces, there is lots of room for those who wish to be part of this goodness. We need you to help us with everything from vacuuming the new masjid to helping spread the word about activities and our fundraising campaign. Don't be shy, even if you can only offer an hour per year, do so! We had put Zidni Ilma School on pause while we searched for a new location, and we need help to re­start it as well –so if there are people out there who'd like to work with youth, this is your chance.
In terms of membership, we don't function in such a manner. Membership is determined more by the person him or herself, than by us. If you feel that, after working with us, this is the place you belong and can commit to, then that makes you a member without any official declaration.
Membership dues are paid in service and care, not anything else. And benefits are: belonging to a fellowship of people committed to the same cause of spiritual refinement and service to God; experiencing heightened engagement in one's journey to God; making a real difference to the community and Ottawa as a whole.
What is the nature of the regular programming Sanad Collective offers?
We have a schedule that includes regular weekly programming, such as classes including Arabic and the Shamail of the Prophet (pbuh).  On Saturdays, we gather to recite recite the lifestory of Prophet Mohammad (pbuh), in order to keep our love for him (pbuh) alive in our hearts.  At this gathering we also share a community potluck dinner. Everyone is invited to attend with us! 
We also offer annual activities such as retreats and the Letters to the Beloved Writing Competition. Additionally, we invite scholars from outside of Ottawa to visit and offer talks. The best way to stay up to date with all these offerings is to sign up to our mailing list.
Sanad Collective ran regular programming for children. Will this programming continue at Masjid Rhoda?
We would love to continue this programming but we need community support. We are looking for those who can work as mentors with our youth. We will offer the training in mentorship, insha'Allah, and regular support of the mentors. So, if you are interested in showing your care for youth, please contact us today.
We also need community support to help us fund the kind of activities we do with youth including fieldtrips and outings, as well as summer camp. We've been blessed to offer Camp Connect for boys for the past few years, and every year we've been asked about doing a girls' camp. We just haven't had enough resources to be able to do one. Please contact us if you can support these efforts to help us offer programming for youth.
Because of the prison chaplaincy work of Sanad Collective members, such as Sheikh Hamdi ben Aissa, your organization has a special connect with Muslims in prison. How is that also addressed in the programming at Masjid Rhoda?
There are two ways that prison chaplaincy is addressed in our work. First, we are committed to developing programming that will support Muslim inmates. This is essential. Our brothers and sisters in prison have far fewer resources than other inmates, on a spiritual/religious level, and often feel neglected by Muslims on the outside.
We produced a calendar with uplifting messages from Qur'an this year, as a small start in attempting to provide more resources for inmates. Thanks to the community's donations, we were able to deliver this calendar to Muslim inmates in Quebec. Importantly, Sheikh Hamdi has also trained volunteers to make prison visits on a regular basis as well as for special events like Eid. If you are interested in this kind of work, please contact us.
Secondly, in listening to what Muslim inmates say, we can design programming for the wider community that is crime­preventive. All the inmates, without exception, share that if they had had a mentor in their lives, they would not have ended up where they are. This underlines the importance of offering mentorship to our youth. One of the reasons for opening the Lotus Community Corner was for it to be a safe place that youth could hang out: a place they find "cool" but that is free from harmful influences. We would like to offer special programming for youth ­from movie nights to counselling. If you are interested in learning more about what this could look like, please check out the Lotus's vision.
For your inaugural event, you invited leaders of several local Muslim organizations to speak at your event. What was the significance for Sanad of having representatives from these organizations speak at Masjid Rhoda?
We were so thankful and honoured to have so many of Ottawa's community leaders attend our inaugural event. There are a number of reasons as to why we wanted to invite and get the blessings of these leaders. Firstly, we call ourselves Sanad. Sanad means 'chain' ­ it's all about being part of something larger than ourselves, and being a continuation of a tradition that is rich and strong. This means we stand on the shoulders of the achievements, efforts, and prayers of all of those who came before us and who surround us. There would be no better way for Sanad to open its Institute, than by honoring our connection to our local leaders and elders without whom we would not be where we are.
All of us Ottawans need to know and seek inspiration in the work of people like Uncle Sulaiman Khan and Sister Khadija Haffajee to name a few of the community elders who were at the Inauguration (we invited many more who sent their regrets). These elders, along with their families, were leaders in establishing institutions such as the Ottawa Muslim Association, Human Concern International, the Ottawa Islamic School, and the Islam Care Centre.
Secondly, we wanted to highlight the richness and diversity of our community. Our invite list included Sunni, Shi'a, youth, women, advocacy, spiritual, and service organizations. We invited imams from across the city and Imam Zijad Delic of the South Nepean Muslim Community (SNMC), Imam Sikander Hashmi of the Kanata Muslim Association (KMA), Imam Ahmad Limame of Masjid Gatineau, and Imam Samy Metwally of the Ottawa Muslim Association came to speak at our event about the role of the masjid in the community. We also had mosque board members attend from Masjid Bilal, and Jalil Marhnouj of the Masjid Assunnah also spoke.
We believe that our ummah (the global community of Muslims) is stronger when it is inclusive. This doesn't mean that we all have to agree on everything, but we do need to know how to disagree with respect and love. Imam Ahmed Limame addressed this very topic at the Inauguration, explaining the art of disagreement (adab al­ikhtilaf).
As Shaykh Hamdi said, we see all the beautiful masajid and institutions of Ottawa as being beads on a single thread of prayer beads, and the Rhoda Institute is now a new bead joining the others.
Together, in harmony, may we glorify our Lord and be of aid to His creatures.
Are there any other points you would like to share with readers?
We'd love for all the readers to come and visit the Rhoda. Come pray a prayer here, come find out more. Do something for Allah by contacting us to be part of our masjid maintenance schedule—pick a day to come in and vacuum. These small actions weigh heavily in the scales. This is the kind of door that is opened to all of us when a House of God opens. We invite each and every one to come through that door in whatever capacity they can.
We'd also love for you to come have a coffee and read a book at the Lotus Community Corner—join us after Juma'ah.
Please join one of our meetings or just email us (This email address is being protected from spambots. You need JavaScript enabled to view it.) and advise us on what you think we should do or how to do things better. If you have comments or questions after reading this article, it would mean a lot if you'd share them with us.
We are yours, so we ask that you take us on in this relationship and keep the lines of communication open.
This article was produced exclusively for Muslim Link and should not be copied without prior permission from the site. For permission, please write to info@muslimlink.ca.