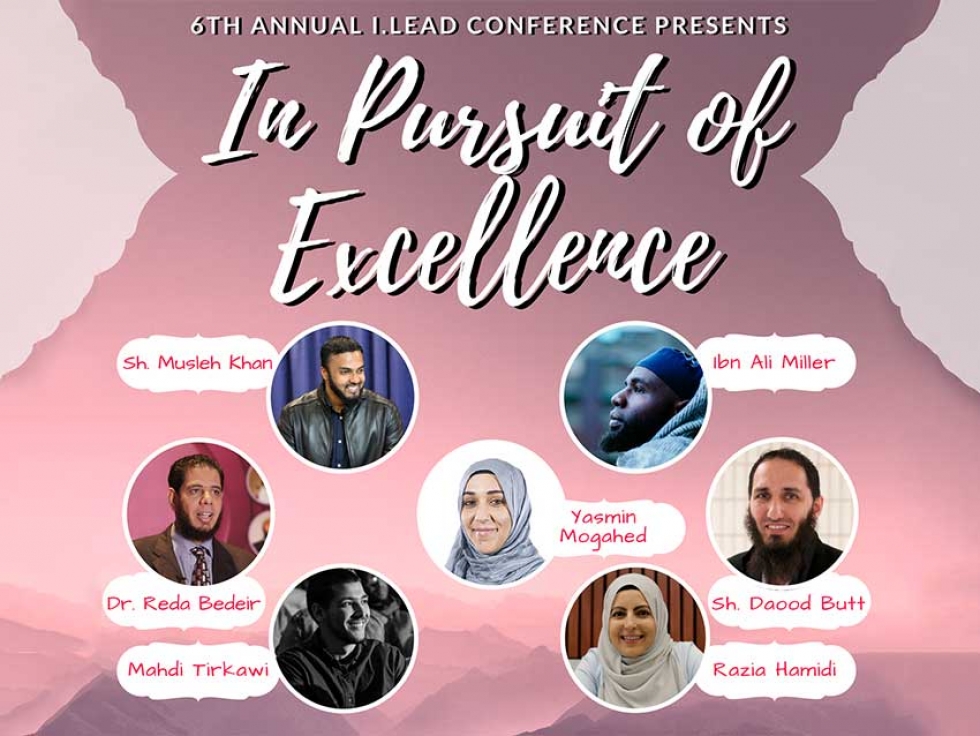 I.LEAD, Ottawa's biggest and most anticipated Muslim conference is back on Saturday, March 17.
27
February


2018
I.LEAD, Ottawa's biggest and most anticipated Muslim conference is back!
Written by ILEAD
1. What is the theme of this year's conference? How was this theme chosen?

The theme of this year's conference is "In Pursuit of Excellence." This theme was chosen through an extensive process of brainstorming and planning. To help us in developing the program, we conduct feedback surveys at the end of each I.LEAD conference to understand issues pertinent to our community. Based on these responses, we develop a theme for the year, and then consolidate topics relating to the theme. We also take inspiration from our committee members and consult with local Islamic organizations and youth.

2. Why do you think the theme you chose is relevant for Muslims in the National Capital Region?

Our beloved Prophet Muhammad (peace be upon him) said, "Allah has prescribed Ihsan in every matter." This is an authentic hadith found in Saheeh Muslim. Our religion has prescribed upon us to seek ihsan (excellence) in everything we do and to work hard to reap the reward of our labour in this life and the next. We've all had experiences where we were rewarded for our hard work in this life. Sometimes it was the A grade on that difficult exam you didn't think you would do well on. Sometimes it's the praise heaped upon you from your boss for having successfully completed a long-term project. Sometimes it is the smile your mother gives you after you've memorized a long chapter from the Qur'an. Yet, at the same time, we sometimes fall short. Even after a lot of hard work you may not get the outcome you desired. The journey of life is full of struggles, frustration, and setbacks. Yet, with these challenges we, as Muslims, should never settle for less than what we are capable of. We hope this year's theme, "In Pursuit of Excellence," will inspire us all to aim higher in every aspect of our lives and become the best Muslims we can be.

3. Explain the format for this year's I.LEAD Conference. Is there a separate program for children?

The format for this conference is similar to earlier years where we offer a variety of lectures as well as interactive workshops and/or panel sessions. This year we will also be including more panel discussions, and an opportunity for attendees to ask questions and interact with the multiple speakers and local imams.

Yes, there will definitely be a program for children at this year's conference. The children's program is a chance for younger kids to experience a day full of activities and learning opportunities all in relation to this year's theme. Children between the ages of 7-12 will learn how they can "Be the Best Me I Can Be" through workshops, games, presentations and even speeches from the esteemed I.LEAD line up. You can register for the program to guarantee your child's spot by visiting our website.
4. Why are you excited by this year's line-up of speakers? What insights do you hope they will offer Ottawa-Gatineau's Muslim communities?
This year our target was to invite speakers who would appeal to various demographics from children to Millennials to Baby Boomers and everything in between. Whether it's the enlightening speaking style of Yasmin Mogahed, or the raw passion of Ibn Ali Miller, or the enthusiastic, yet powerful flow of Dr. Reda Bedeir, we have worked hard to find a diverse set of speakers that could benefit the community. In addition to our incredible lineup of international speakers, we also have our local all-stars. A number of Imams from the Imams Council of Ottawa-Gatineau will also be on stage with talks in both English and French. The speakers will draw upon our theme of "In Pursuit of Excellence" in unique ways. We are looking forward to their messages for the community about pursuing excellence in character, good deeds, relationships with others and excellence in all things.
5. Why should businesses and organizations join I.LEAD's Bazaar?
The bazaar is always one of the highlights of the I.LEAD Conference as it is always filled with bustling activity and interesting booths.
Joining the bazaar at this year's I.LEAD conference
is one of the easiest ways to expose your business or your organization's cause to thousands of Muslims from all corners of the Ottawa-Gatineau region. This is an opportunity for businesses and organizations to share their stories, products or services to prospects who may not have heard from them before. It is also an excellent opportunity to further strengthen relationships with repeating customers.
6. How have you brought together Muslim organizations from across the National Capital Region to organize the conference?
Every I.LEAD conference has been organized by the United Muslim Organizations of Ottawa-Gatineau (UMO-OG) and this year is no different. The UMO-OG is made up of over 10 Muslim organizations all across Ottawa and Gatineau. The I.LEAD organizing committee is 100% made up of volunteers from various ethnicities and backgrounds. In addition, we are proud of the support we receive from other Muslim organizations such as the Muslim Student Associations at Carleton University and the University of Ottawa as well as Qabeelat Ansar (Almaghrib Institute). Our I.LEAD meetings were scheduled in different masajid across the Ottawa-Gatineau area, and those who were unable to attend participated via teleconference; thus, everyone was heard and contributed to the event with passion. Bringing together this team of great partners has been a tremendous blessing and we are excited to share this year's beautiful theme of excellence with our community.
7. How are Muslim Students' Associations being engaged in the conference?
We have engaged both MSAs from Carleton (CUMSA) and uOttawa (UOMSA) to take part in the planning of this conference. Members from their respective organizations are supporting the I.LEAD committee in different capacities such as participating in the Shurah meetings to make critical decisions or in promoting the conference with their marketing support, to name a few. In fact, one of this year's most anticipated speakers, Ibn Ali Miller, came as a suggestion from an MSA executive. Furthermore, the theme was also suggested by a MSA executive.
8. This is I.LEAD's sixth year. How has organizing this conference together improved collaboration between the region's Muslim organizations?
While every new I.LEAD conference presents its own unique set of challenges, the one constant over the past six years is the excellent teamwork shown by the Muslim organizations involved in the planning of this conference. I.LEAD has enabled all of the partner organizations to blend their complementary strengths together, build stronger levels of trust and camaraderie, and deepen working relationships.
9. Is there anything else you would like to add?
What makes I.LEAD special is experiencing this conference with those close to you. On Saturday, March 17th we hope you will invite your family and close friends to join you at the EY Centre. Good times are always sweeter when good people are around you. I.LEAD 2018 is sure to be a wonderful experience, insha Allah, and we look forward to seeing you there!
To purchase a ticket to I.LEAD, click here
To purchase a booth in the I.LEAD Bazaar, click here
To become a sponsor of the I.LEAD Conference, click here
This article was produced exclusively for Muslim Link and should not be copied without prior permission from the site. For permission, please write to info@muslimlink.ca.