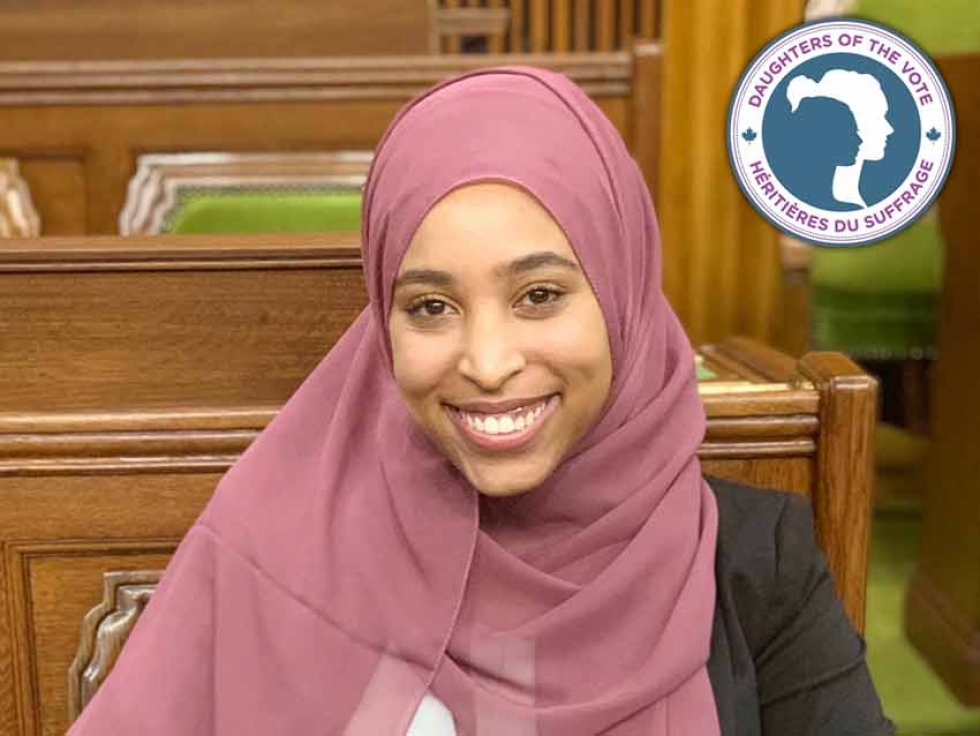 Ethiopian Canadian Niya Abdullahi represented the riding of Scarborough North, Ontario at Equal Voice's Daughters of the Vote gathering in early April 2019.
Niya Abdullahi
12
Apr


2019
Muslimahs on Parliament Hill: Niya Abdullahi from Scarborough North, Ontario
Written by Making Headlines
Ethiopian Canadian Niya Abdullahi represented the riding of Scarborough North, Ontario at Equal Voice's second Daughters of the Vote gathering in early April 2019, which brought together 338 young women between the ages of 18 and 23, representing each Canadian riding and take their seat in the House of Commons during a historic sitting of the House of Commons. They were addressed by every federal party leader, and engaged with an array of Ministers, critics and advocates.
Daughters of the Vote (DoV) was aimed at encouraging more young women to become involved in Canadian politics, a space where there are still challenges to gender equity.
Muslim Link had the opportunity to interview several of the young Muslim Canadian women who were selected to participate in this historic event, including Niya.
1. Tell us about yourself
My family came to Canada in the early 90s from Ethiopia. I was born and raised in Scarborough and identify deeply with my Ethiopian roots. Growing up my mom made it a must to visit Ethiopia every 2 years which is the primary reason I've developed such a close relationship with my heritage.
I am a Business Technology Management student at Ryerson University. My program consists of general business related courses as well as IT courses. I am a self-proclaimed technology enthusiast that genuinely loves discussing all things tech.
I have had the privilege of volunteering during several electoral campaigns. My love for politics and sincere concern for the future of the community is the driving element for the reason I like to stay involved during any election. I took part in many community outreach activities such as canvassing various neighborhoods, making phone calls to constituents, as well as computer work in the form of inputting data.

I am also currently a fellow in the Muslim Youth Fellowship, a non-partisan program that provides students with an opportunity to work with an elected government representative in the City of Toronto.
2. Tell us about the riding your represented in the House of Commons. What challenges socially and economically is the riding facing? Do you feel that many in Canada know about and/or understand these challenges? How do you hope to increase awareness about the challenges your riding faces to broader Canadian society?
I represented the riding of Scarborough North. We are the most diverse riding in Canada but unfortunately racism and Islamophobia is still a problem within my community. I am the sister of a teenage Black male that excels in his academics but I am still constantly made aware that the police only see the colour of his skin rather than his many successes. The profiling of black males is alive and habitual for most police officers in Toronto. Most are aware of the carding practice but I think the general public doesn't care as it does not directly affect them. I plan to continue to advocate against this unfair disgusting practice in all spaces that I am in; making a story more personable and putting a face to it makes it more real for some people.
3. As young women involved in politics, what challenges, if any, do you face? Do you feel that the presence of more young women is changing politics? If so, how?
I feel like the major challenge that women in politics face is the constant act of having to prove themselves and their abilities. It is very easy to conform and lose yourself as a woman in politics. Women especially racialized women are subjected to ridicule when revealing the slightest bit of emotion and are constantly having to prove ourselves/self-worth. It is very easy for many to get lost in the sauce, staying authentic to one's beliefs and values proves to be challenging for most. It is of primary importance, to continue to stay confident and speak our truth in every aspect of life.
I feel like the presence of White women has been pacing at a pretty good rate. It is not the same for other women such as Indigenous, Black etc. There is not enough representation and it frightens me. Representation is critical to ensure that the boys and girls from diverse communities, have the ability to dream big and provide them with the means to accomplish their goals. Ensuring they are not merely living up to the media's expectations; to have supporters rooting for their dreams. It is important that Canada hears from the marginalized and forgotten groups. Everyone deserves an equal voice.
4. By attending DoV you had an opportunity to meet young women from across Canada. Did any of the realities they shared challenge you to unlearn some assumptions about your fellow Canadians or seek out knowledge about issues you had otherwise not known about your fellow Canadians ? Please elaborate.
One of my fellow hijabi delegates was telling me about another delegate she met that admitted that this was her first time being around "nonwhite" people in her entire life. That astonished me as living in Scarborough pretty much means being exposed to people from disparate backgrounds on a daily basis and I'm so grateful for this aspect of my community! Being in a room and being a part of the conversation was moving and powerful. Being a visibly Black-Muslim woman, my presence in that room of 338 other delegates allowed for us to shatter deeply embedded stereotypes of my people, my religion and my struggles. The voices of the often marginalized and forgotten groups were heard loud and clear.
5. By attending DoV you had an opportunity to meet young Muslim women from across Canada. Did any of the realities they shared challenge you to unlearn some assumptions you had about Muslims in Canada or seek out knowledge about issues facing Muslims in Canada you had otherwise not known about? Please elaborate.
After some of my fellow Muslim delegates spoke at the House of Commons, hijabi delegates have been receiving lots of hate online and it's been extremely disappointing and disheartening; but unfortunately I'm not surprised. It's atrocious that in 2019 Muslims cannot freely walk on the street without fear of being verbally assaulted, attacked or subjected to discrimination solely for our choice in religion. Islamophobia is prevalent in our nation and at times I really don't know where I fit within Canadian society.
Hearing from other Muslim delegates about their experiences in professional settings as Muslim woman made me understand that I am not alone in this battle. The stories and tears shed while describing personal stories struck a chord in my soul and these are the moments of my life that I'll remember forever. The sisterhood that we developed was real, beautiful and empowering. I know that I can lean on any of them to support each other in the future InshaAllah!
6. As it is an election year, what will you be doing to try to get out the vote in your riding?
God willing, I'll be campaigning hard and will be dragging my friends and family to canvass and support. As Muslims our votes are critical to ensure the optimal success of the future generation. Please volunteer your time to a campaign if you can and advocate within your communities about the importance of getting to the polls. If time is an issue that's not a problem, voting literally takes 2 minutes.
7. What is the key lesson from your experience at DoV that you will be taking back into your work in your riding?
It was absolutely beautiful being surrounded amongst powerful young women in the House of Commons. Although many will hate us, constantly antagonize us and disregard our struggles, we are stronger together, united we shall never fall.
Having a solid support system is crucial when entering the world of politics being a racialized female with many intersecting identities; many will try to tear my peace and having rocks like the women I met during this gathering to fall back on is amazing for my overall mental health.
Follow Niya Abdullahi on LinkedIn here.
This article was produced exclusively for Muslim Link and should not be copied without prior permission from the site. For permission, please write to info@muslimlink.ca.