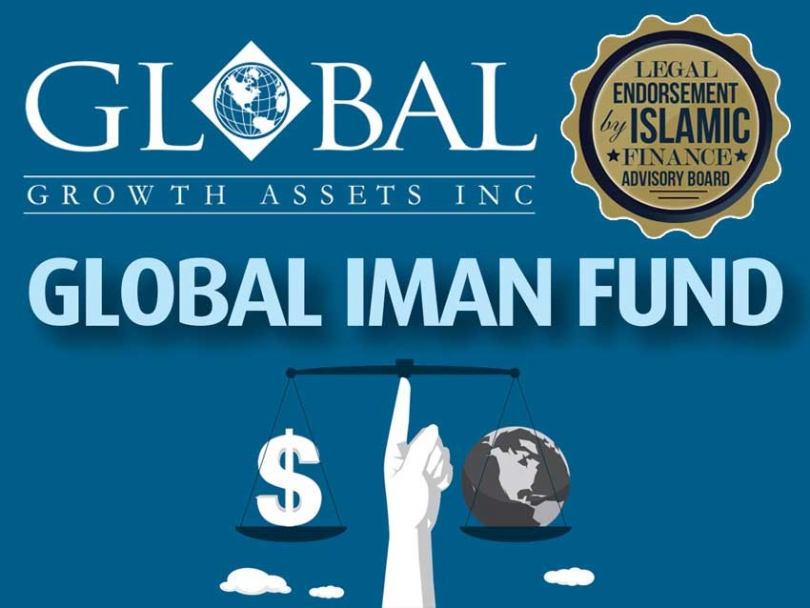 Global Iman Fund: A Halal Investment Option for Canadians
18
August


2017
Global Iman Fund: Pioneering Halal Investments for Canadians
Written by Sawitri Mardyani
Asking people to trust you to invest their hard earned cash is a challenge in the best of times. Doing that in the wake of a major global financial crisis and asking them to invest in a brand new Shariah compliant mutual fund takes the challenge to a whole other level.
But this is exactly how Global Iman fund, Canada's longest running Shariah compliant mutual fund got started. And now, 8 years later, with in excess of 40 million dollars in assets under management, the Global Iman Fund is the investment of choice for many Canadian Muslims looking to invest and grow their wealth while adhering to the financial guidelines of their faith.
An ethical mutual fund with diversification
Like any mutual fund, the Global Iman Fund allows individuals to reduce their risk by investing in a variety of investments at once. To get this diversity through buying individual stocks, an investor would need hundreds of thousands of dollars.  Mutual funds pool money together from many investors, so that even with a small initial investment of $500 or $1000 an investor can diversify their investments.
To diversify their investments, some mutual funds include bonds as well as stocks.  A bond is a a loan that you give to an institution or government entity, which they pay back with interest.  Unlike stocks, whose value can go up and down, bonds are very secure and there is little chance that you will not get your money back.  Since  interest is haram, however, Muslims can't invest in mutual funds that include bonds.  Instead, they need to invest in equity, where the investor takes partial ownership of a company and shares the risks with the company, making money when the companies make money and losing when they lose.  The Global Iman fund only invests in equity.
Access to Renowned World-Class Portfolio Manager
Mutual funds are managed by professional portfolio managers who determine which companies to invest in and how much to put into each one based on the fund's objectives. Global Iman Fund is managed by UBS, a world renowned Swiss global financial services company.  For investors who don't have the time, knowledge or interest to sift through the thousands of potential investments out there and choose where to put their money, having their investments managed by professionals offers convenience and peace of mind.
In choosing what stocks make up the fund, the portfolio managers of Global Iman Fund aim "to provide investors with long-term growth by investing primarily in a diversified portfolio of global investments that are in accordance with Islamic investment principles." The fund buys stocks or shares of many different companies from around the world that they believe will increase in value in the long term. To do this in accordance with Islamic investment principles, however they can't just by shares of any company.
Businesses that sell alcohol, pork products or adult entertainment, for example, would be off limits to Muslim investors.  Because interest is prohibited in Islam, companies that make their money from interest-based financial services, like banks, for example, would also not be Shariah compliant.  Further to that, even if the nature of its business is permissible, if the company carries too much interest-bearing debt, it would also not be Shariah compliant.
Rigorous Portfolio Selection and Monitoring to Remain Shariah Compliant
To ensure that the fund is shariah compliant, Global Iman only invests in companies that are listed in the Dow Jones Islamic MarketTM Titans 100 Index (DJIM Titans 100). The DJIM Titans 100 is a list of the 100 largest companies traded globally which pass both the qualitative and quantitative screens of Shariah compliance.  The qualitative screen takes out companies whose core business involve alcohol, pork products, interest-based financial services, entertainment, weapons, and tobacco products.  The quantitative screens look at the company's balance sheets and disqualify companies with either too much debt or interest income from being on the list. 
S&P Dow Jones Indices, the creators of the DJIM Titans 100, has contracted with Ratings Intelligence Partners to provide the Shariah screens and filter out stocks based on those screens. Ratings Intelligence Partners is a London/Kuwait-based consulting company whose team of qualified Islamic researchers work directly with a Shariah Supervisory Board.  The Shariah Supervisory Board consists of scholars around the world, Shaykh Nizam Yaquby (Bahrain), Shaykh Dr. Mohd Daud Bakar (Malaysia), Shaykh Dr. Mohamed A. Elgari (Saudi Arabia) and Shaykh Yusuf Talal DeLorenzo (United States).
Since companies can change the nature of their businesses and have constantly changing financial situations, the DJIM Titans 100 is updated regularly.  This list of companies that are in the DJIM Titans 100 sold as a subscription to financial institutions.
Global Iman Fund's portfolio managers at UBS choose 30-40 stocks from the DJIM Titans 100 list to invest in.  Currently, the portfolio includes companies in the Information Technology, Health Care, Consumer Products, Energy, Industrial Products, Materials and Telecommunication sectors including companies in North America, Europe and Asia.  Their top 10 holdings include Apple, Microsoft, Johnson & Johnson, Nestle, McDonald's, Pfizer and Chevron.
The Islamic Finance Advisory Board, which is an independent non-profit body engaged in the promotion of Islamic Finance in Canada, has also issued a fatwa endorsing the fund as Shariah compliant.  The fatwa was signed by Dr. Muhammad Iqbal Al-Nadvi, Dr. Hamid Slimi and Sheikh Nafees Bhayat.
Many investors today want to ensure that their investments are socially responsible and do not go towards companies that do harm to society.  Hanane Bouji, Executive Vice President of Global Growth Assets points out that the screening to ensure that the fund is Shariah compliant acts as a "two for one", making the Global Iman Fund a socially responsible investment as well.  
Long-Term Track Record with Proven Results
Since its inception in 2009, the Global Iman Fund has made an average 9.1% per year, net of all fees, as of July 31, 2017.  This means that if you had invested $1,000 in the Fund on March 6, 2009, your investment would now be worth almost $2,000.  The past few years have been particularly good for the Global Iman fund.  Its average growth in the past 5 years is 13.69% per year.
Like any mutual fund, however, returns aren't guaranteed and the investments can go down as well as up.  In 2010 and 2011, the fund had losses of 5.31% and 1.63% respectively.  The following years, though, in 2012 and 2013, it more than made up for those losses, posting gains of 5.60% and 31.49% respectively. 
As Global Iman Fund's objective states, it's designed "to provide investors with long-term growth".  If you're building a halal Tax Free Savings Account, a halal RRSP for retirement or saving for your child's education, the fund gives your savings a chance to work for you and grow over time rather than sit in a bank account doing nothing while it loses value year after year due to inflation.
Global Iman Fund isn't the first Shariah compliant mutual fund to be launched in Canada but it is the most enduring one.  In 2000, the Shariah compliant Dynamic SAMI fund was launched in Canada.  It outperformed the S&P 500 composite index between 2002-2006, returning an average 8.4 per cent annually while the index has lost an average 3.6 per cent annually.  Unfortunately, because it wasn't able to attract enough investors, raising less than $7 million in investments, the fund was closed in 2006.  Another Shariah compliant mutual fund called the FrontierAlt Oasis Fund was launched that same year, but it was closed in 2009.  That was the year that the Global Iman Fund was launched.
Despite a challenging start on the heels of a global financial crisis and initial years where it posted losses, the Global Iman Fund persevered.  Facing hesitation and lack of understanding from the public as they introduced the concept of Shariah compliant investing to Canadians, they were able to win investors and offer a highly needed service to the community -- making Shariah compliant, professionally managed investments available to Canadian Muslims.
For more information, call customer service: 1-866-680-4734, or email: This email address is being protected from spambots. You need JavaScript enabled to view it.
Visit the Global Iman Fund website here
This article was produced exclusively for Muslim Link and should not be copied without prior permission from the site. For permission, please write to info@muslimlink.ca.
This article was produced exclusively for Muslim Link as part of a paid advertising package. For more information on how to advertise through Muslim Link and support the running of Canada's Online Hub go here.