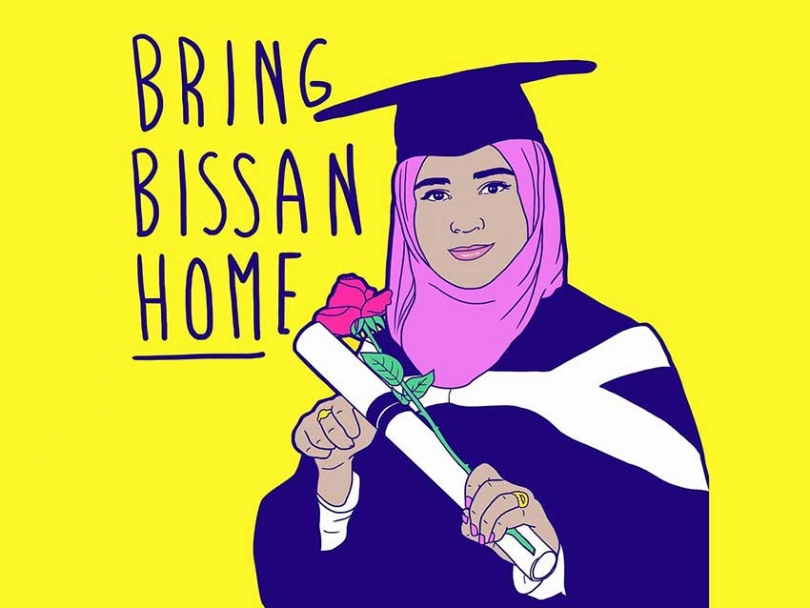 Bring Bissan Home Campaign by the Concordia University Student Union
18
April


2017
Bring Bissan Home: Concordia University Student Bissan Eid Has Returned Home From Gaza
Written by Concordia Student Union
Bring Bissan Home Campaign by the Concordia University Student Union.
Updates:
On Friday, June 30th, Bissan Eid and her infant daughter Sarah returned to Montréal after six months in Gaza. They had previously been unable to leave due to the Israeli military siege over the Palestinian territory. In January 2017, Bissan and the Eid family first called on the Canadian government to take action in support of Bissan's right to return to Montréal. Yet, for over six months, the Canadian government failed to act. As a result, Bissan was forced to give birth in Gaza — far away from immediate family and friends and under military blockade.
To see the joint statement by the Eid Family, Tadamon! and the CSU, click here.
***Update***
After many months and considerable public pressure, the Canadian government finally responded to calls to bring Bissan Eid home, but their offer of support arrived too late in Bissan's pregnancy. As such, Bissan was forced to give birth in Gaza - far away from her immediate family and from the medical facilities that she should have been able to access in Montreal.
On May 11th, Bissan gave birth to Sarah - a healthy, beautiful baby girl. Despite the difficult circumstances faced by Bissan and by medical workers in Gaza due to the Israeli military siege, local healthcare workers struggled to support Bissan to the best of their abilities and Sarah was born safely.
We are still calling on the Canadian government to take action and follow through on their responsibilities to support Bissan and Sarah. More specifically, we ask that they expedite the processing of Sarah's citizenship papers in a timely fashion. We also demand that they continue to pressure the Israeli government to ensure that exit permits are issued and safe passage is ensured for Bissan and Sarah as soon as they are ready to travel in early June.
For more information see June 1, 2017 - Press release
For over four months, Bissan Eid, a 24 year old Concordia graduate student has been prevented from leaving the Palestinian territory of Gaza.
She is in urgent need of support from the Canadian government to secure an exit visa from the Israeli government. In June 2016, Bissan, a Canadian citizen since 2005, travelled to Gaza to get married and to visit her aging grandparents. When she tried to travel back to Canada, she was prevented from leaving due to the slow processing of her exit visa by the Israeli authorities, who seldom prioritize the applications of Palestinians from Gaza who hold other passports
Beyond the difficulties of living in Gaza, her inability to return to Canada is detrimental for two reasons. First, she is pregnant and expected to give birth in May. She is having a difficult pregnancy and is in need of medical attention in Canada. Further, she wants to be surrounded by friends and family for her child's birth. Second, after successfully completing a bachelor's degree in science and civil engineering from Concordia in 2015, Bissan is pursuing a masters in civil engineering at the same university. She has already completed one year of studies in her program but was unable to enrol in the Winter semester as she is blocked from leaving Gaza.
What can I do?
Sign and share this petition
Write to your provincial and federal MPs, and City Councillors, for them to pressure the Canadian government to take action
Contact Concordia University, to ensure that it takes a strong position and actively works to bring Bissan home

Alan Shepard, Concordia University President,

This email address is being protected from spambots. You need JavaScript enabled to view it.

- 514-848-2424 ext. 4849

Contact your professors, for them to share the information, and pressure the University
Make this your profile picture, share the #BringBissanHome hashtag, tell your friends about, and stay tuned!
This article was produced exclusively for Muslim Link and should not be copied without prior permission from the site. For permission, please write to info@muslimlink.ca.