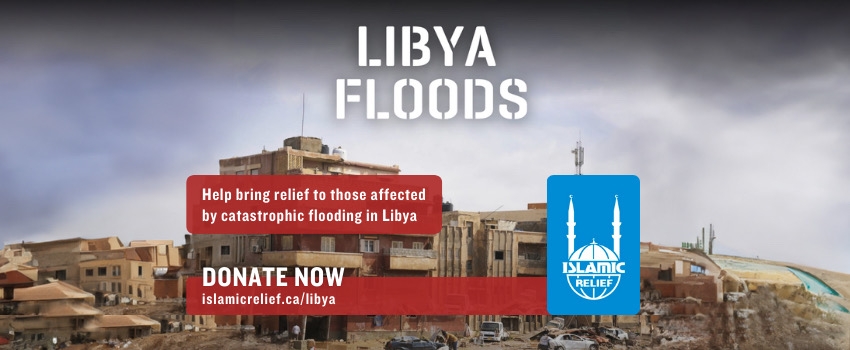 Islamic Relief Canada The People of Libya Need Your Prayers and Urgent Support
Over 5,000 are dead and 10,000+ missing after Storm Daniel made landfall in northeast Libya, resulting in strong winds, heavy rainfall and catastrophic flooding.
Dams near the eastern city of Derna have collapsed – sweeping away entire neighbourhoods and destroying homes, bridges and roads.
Islamic Relief Canada (IRC) are heartbroken to see families torn apart and mothers unable to find their children due to the destruction of vital infrastructure. Hundreds of thousands of people are affected, and many are now homeless.
We urge you to stand with the Libyan community, reach out to them, share in their grief and remember them in your prayers. They need our support now more than ever as they face the second deadliest flood North Africa has seen in more than a century
Islamic Relief is coordinating relief efforts now. We are working through local partners to provide emergency food supplies, shelter, and vital living essentials, such as blankets and mattresses, to the countless affected.
If you are looking for a way to support the people of Libya, your donation can help bring urgent relief to them today.
Our hearts ache for our sisters and brothers. We pray that these calamities pass and that they can endure these difficult times with patience, perseverance, and immense strength.
You can help ease the burden of this catastrophe by donating towards our life-saving work.
Please give generously and remind the people of Libya that they are not alone.
How your donations can help people in Libya
Alongside keeping the flood-affected people of Libya in our prayers, we have a duty to not turn our back on them during this time of dire need.
You can help ease the burden of this catastrophe by donating towards our life-saving work. Islamic Relief is working through local partners to conduct immediate needs assessments and provide relief to those affected by the floods.
We are focused on providing urgent food supplies, emergency shelter and basic essentials at the moment. Help us send relief today.
$65 can provide life-saving essentials
$150 can provide a family with an emergency food pack
$250 can provide urgent shelter to those who have lost their home
Islamic Relief's thoughts and prayers are with the people of Libya, as they face the aftermath of one of the deadliest floods in North Africa in recent years.