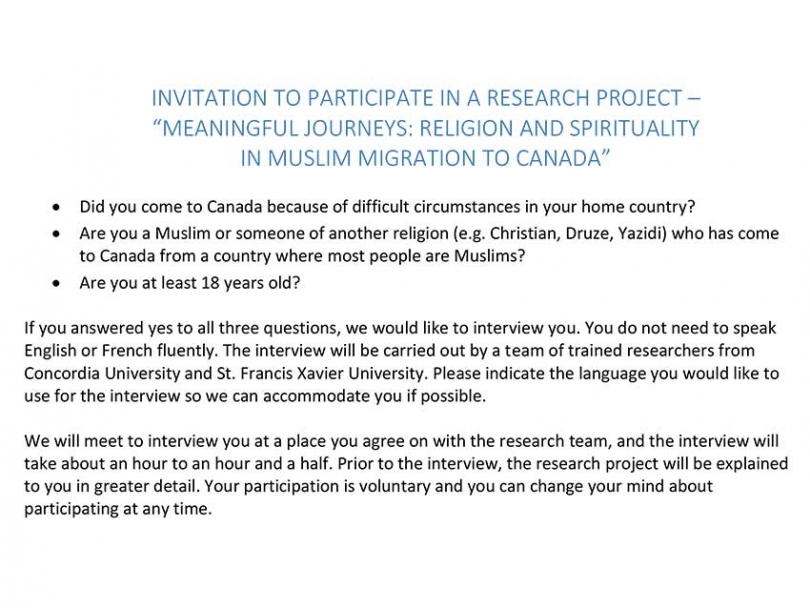 Invitation to Participate in a Research Project – "Meaningful Journeys: Religion and Spirituality in Muslim Migration to Canada"
01
June


2017
Invitation to Participate in a Research Project – "Meaningful Journeys: Religion and Spirituality in Muslim Migration to Canada"
Written by Chelby Daigle
Invitation to Participate in a Research Project – "Meaningful Journeys: Religion and Spirituality in Muslim Migration to Canada"
• Did you come to Canada because of difficult circumstances in your home country?
• Are you a Muslim or someone of another religion (e.g. Christian, Druze, Yazidi) who has come to Canada from a country where most people are Muslims?
• Are you at least 18 years old?
If you answered yes to all three questions, we would like to interview you.
You do not need to speak English or French fluently.
The interview will be carried out by a team of trained researchers from Concordia University and St. Francis Xavier University.
Please indicate the language you would like to use for the interview so we can accommodate you if possible.
We will meet to interview you at a place you agree on with the research team, and the interview will take about an hour to an hour and a half.
Prior to the interview, the research project will be explained to you in greater detail.
Your participation is voluntary and you can change your mind about participating at any time.
Your interview will contribute to a publication about the relationship between migration and religion and spirituality.
All personal details will be omitted from publication so that you remain completely anonymous.
Your participation will provide you with the opportunity to reflect on your experience of migration, which may be of benefit to you as you look back at the story of your life until this point.
Your contribution to this research project will also help Canadians to better understand and appreciate the experiences and needs of migrants.
The stories of the participants are important for Canadian history and will be read in the future by many people.
To set up a meeting or for more information, please contact us
• by sending a message to This email address is being protected from spambots. You need JavaScript enabled to view it. or This email address is being protected from spambots. You need JavaScript enabled to view it.
• OR call 514-655-5806 (L. Darwish) or 514-848-2424 Ext. 2076 (L. Clarke)
We look forward to hearing from you,
L. Darwish (St. Francis Xavier University)
L. Clarke (Concordia University)
This article was produced exclusively for Muslim Link and should not be copied without prior permission from the site. For permission, please write to info@muslimlink.ca.