Call for Donations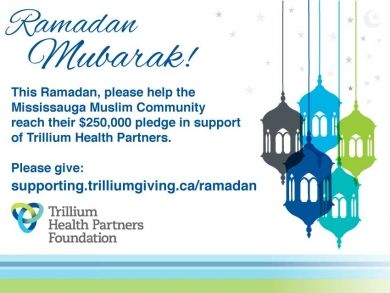 This Ramadan Help Mississauga Muslims Raise $250,000 For The Credit Valley Hospital Emergency Department
Trillium Health Partners is a leading hospital with an outstanding record of performance, fiscal responsibility and quality patient care.
The hospital encompasses three main sites – Credit Valley Hospital, Mississauga Hospital, and Queensway Health Centre – offering the full range of acute care hospital services, as well as a variety of community-based, specialized programs.
We are so grateful to our Muslim community for being dedicated supporters of Trillium Health Partners.
In 2011, the Mississauga Muslim Community pledged to raise $250,000 in support of critical health priorities at Trillium Health Partners, Credit Valley Hospital. Through their annual community walkathon in 4 short years, they achieved their goal!

This year, the Mississauga Muslim Community has pledged to raise another $250,000 in support of our Credit Valley Hospital Emergency Department.
Muslim Link interviewed Abdul Qayyum, the chair of the Mississauga Family Day Walkathon in support of Trillium Health Partners and a Trillium Health Partners Foundation Board Member, about why Muslims should support local hospitals like Credit Valley.
1. What Trillium Health Partners services did the original $250,000 raised by Mississauga Muslims help to support?
The Mississauga Muslim Community originally raised $250,000 for Children's Health at Trillium Health Partners and has since committed to raise a second $250,000 pledge in support of the Emergency Department at Trillium Health Partners, Credit Valley Hospital.
Supporting this area is important to us, as the ED is a critical entry point of our hospital. In fact, our hospital currently sees more than 100,000 ED patients a year in a space that was designed to treat 50,000. Despite these volumes, it continues to remain a provincial leader in reducing ED wait times. 
We believe in the incredible work Trillium Health Partners does every day that we are inspired to host a Family Day Walkathon every year and encourage the community to join us in February 2018. All proceeds support Trillium Health Partners.
The Mississauga Muslim Community invites the community to support their pledge in the spirit of Ramadan and Eid.
2. What are other ways that Trillium Health Partners has collaborated with local Muslim communities (ie examples of accommodations of Muslim religious practices in the context of health care)?
Trillium Health Partners is committed to addressing the spiritual and religious health needs of patients and families – and are here to help create a new kind of health care for healthier communities.
Spiritual Care Practitioners and trained Spiritual Care Visitors are available to meet with patients of any or of no faith or religious belief to listen, and to provide support, empathy and caring. Community Faith leaders/visitors are in the hospital regularly and can visit patients upon request.
3. Why is it important to donate to local hospitals?
As our population continues to grow and age, more residents in our community will require more care. As a community, it's important we continue to be there for our hospital, just like it's always here for us and our loved ones.
The government only covers operating costs for the hosptial, so it's up to us as a community to ensure we invest in the spaces, equipment, technology, research and education – so that patients in our community can continue to have access to high-quality health care at Trillium Health Partners, close to home, without having to travel far.
Ramadan is a great way of uniting the Muslim community for a great cause.
In the spirit of Ramadan and Eid, we want to continue to support our neighbours as part of our responsibility in the Muslim faith – and we invite the community to support Trillium Health Partners by making a donation today.
Donate online here
This article was produced exclusively for Muslim Link and should not be copied without prior permission from the site. For permission, please write to info@muslimlink.ca.