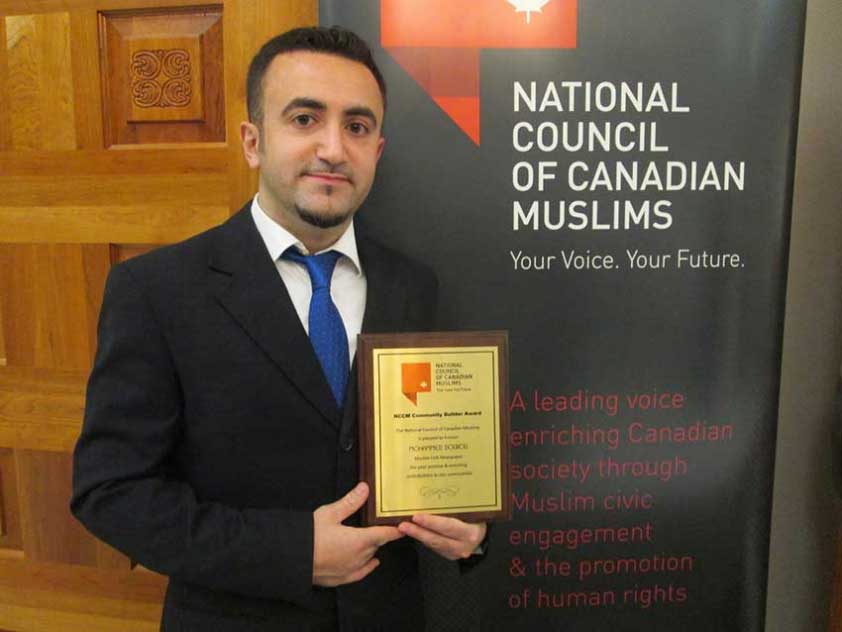 Mohammad Dourou wins NCCM's Community Builder Award
Chelby Daigle
30
Nov


2014
Muslim Link Publisher Is Honoured With the National Council of Canadian Muslims' Community Builder Award
Written by Chelby Daigle
It was clear that some audience members were suprised to realize that Muslim Link is owned by an individual in his early thirties. Dourou's decision to take over ownership of Muslim Link after its original founder, Ali Bokhari, withdrew from the business, has ensured that it has remained independent of any Muslim organization. Since then, he has worked tirelessly to ensure the paper survives, despite limited revenue. Like most entrepreneurs, Mohammad is responsible for a variety of tasks from website design and maintenance, to sales and distribution. He is a graduate of Carleton University's Computer System Engineering Program and works full-time for a local agency that provides digital marketing and global e-commerce solutions. He is also the owner of Eye Media Solutions which specializes in website design.
While working in the business his family founded, Damas Supermarket, as a student at Bell High School, Dourou got to know many members of Ottawa's growing Muslim community. It is his affection for the community which has pushed him to keep Muslim Link going.
Here is his acceptance speech:
Assalaamu Alaikum,
I'm deeply honoured to be receiving this award from NCCM.
I actually consider myself an entrepreneur who accidentally became a community builder. Muslim Link is actually the longest running Muslim publication in Canada of this kind, alhamduillah.
But maintaining Muslim Link has been a struggle over the years both financially and in terms of making sure that we had the right talent to maintain a quality publication. But alhamduillah, I am grateful for the many individuals, such as Amira Elghawaby and Chelby Marie Daigle, who have shared their skills with us, over our 10 year history. I'm also grateful for the team we have now who has galvanized the project with a vision of "Community-Building through Story-Telling" and doing the outreach necessary to find the stories that will "Inform, Connect, Inspire, and Celebrate" the over 70,000 Muslims who call Ottawa-Gatineau home.
Our social media is followed by everyone from imams to high school students, from Mayor Jim Watson to mainstream journalists who regularly get story ideas from us.
We are now committed to trying to create a publication that all people who identify as Muslim, no matter their race, class, age, gender, religious sect or even degree of religious practice feel is for them.
I'm also excited about our decision to focus our efforts just on the Muslim Link website as a community portal where you can find an extensive listing of events by and of interest to our community, and we are now working hard to develop a comprehensive directory of businesses and services in Ottawa-Gatineau owned by Muslims or offering services needed by Muslims.
So please continue to support Muslim Link by visiting our website, encouraging your friends and family to visit it, sharing our stories and events, advertizing on our website-that's a big one-subscribe to our mailing list, and following us on social media (Twitter, Facebook).
Without your support, Muslim Link will not be able to continue for another 10 years.
Thank you.
This article was produced exclusively for Muslim Link and should not be copied without prior permission from the site. For permission, please write to info@muslimlink.ca.