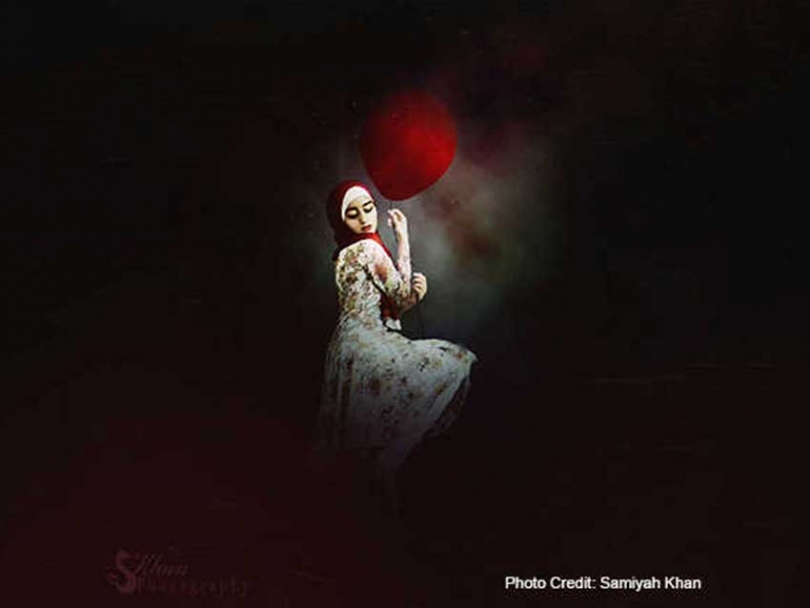 12
Jan


2014
Samiyah Khan: Teen Photographer uses Photoshop to create art
Written by Staff Writer
Grade 12 student Samiyah Khan first came to Muslim Link's attention when she made second place in our 2013 Ramadan Photo Contest. She was invited to work with the paper, creating conceptual photos for articles in our Heart & Soul Section. She recently had the opportunity to showcase her work in public at the 2013 Expressions of Muslim Women event. Muslim Link had a chance to interview Samiyah about her journey as a conceptual photographer.
How did you get involved with photography?
I've always loved art and visual art. But I didn't like photography at all. I always thought it was just something the media used to make women look perfect. But while doing research I came across the photography of Nizaad. She's Muslim and she wears hijab. I just feel in love with her photos. I didn't know you could use PhotoShop to create art. I was just so inspired to try it out and do my own photos.
Why do feel compelled to express yourself visually?
I just want to express myself. I find it easier to get my ideas across visually than by writing an essay or a poem or something. I like to create stories with my images and get a concept across. Even colour in my pictures has meaning and purpose.
What do you feel your common themes are?
I think a lot of it is how I see life and growth and being human. My images usually follow two themes: Freedom or Struggle. These are two very different things but I feel that they both interlink eventually when it comes down to growing as a person.
Why do you feel you want to share those themes with people?
It is a great way to connect with people and there is such a supportive community for art. Artists are very open-minded and inspiring and they will push you so you can grow. They share tips and advice on how I can improve or do something different with my work. At Expressions of Muslim Women, I felt so supported and people were interested in my work but even on Flickr people are very encouraging when they comment on my photos.
What has been your experience with Flickr?
At first, I wasn't sure I wanted to create a Flickr account; I wasn't sure I wanted my pictures to be public. Because I wear hijab I was worried that people might misinterpret my photos. Like if I'm struggling in a photo they might think I'm struggling because I wear hijab. But I got over it, because I don't want my hijab to stop me from expressing myself.
How did you develop your Photoshop Skills?
There is a lot of support online on sites like Phlearn.com. But once you get the hang of it you can figure things out. It is really about letting go. I used to be so scared about making a mistake but it's a computer so you can undo a mistake. So I just experiment.
What are your future plans as an artist?
For now, I just really want to grow. I'm not planning on becoming a fine art photographer professionally; I'm just going to keep it on the side. But I think I need to keep it on the side because I'm a science student so all I do is biology, physics, chemistry over and over again so art is how I escape from that. It is how I use the other side of my brain and use my creativity. So I do want to get my art more out there and maybe start a print business or get it into galleries. I love sciences but I couldn't only study art or only study science. I need both. It's healthy. It's good to have a balance in life.
Samiyah is now considering submitting her photos to the City of Ottawa's Young at Art contest which is a juried art exhibition that brings the work of young visual artists to local art galleries across the City of Ottawa.
To learn more about Samiyah Khan's photography visit: http://www.flickr.com/photos/skhanphotography/
To learn more about the City of Ottawa's Young at Art contest visit: http://ottawa.ca/en/residents/arts-culture-and-community/arts-theatre-music/young-art-2014
This article was produced exclusively for Muslim Link and should not be copied without prior permission from the site. For permission, please write to info@muslimlink.ca.