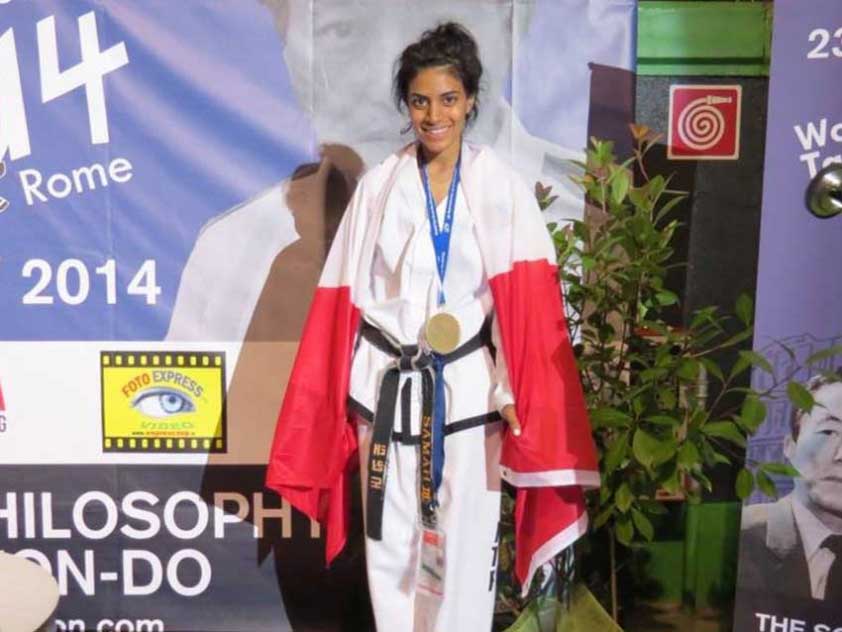 International Taekwondo Champion Samah Syed
Courtesy of Samah Syed
01
October


2014
Ottawa Taekwondo Star Samah Syed Set for a Bright Future
Written by Mohamed Suleman
Fresh from securing four medals at this summer's International Taekwondo Federation (ITF) World Championship in Rome, Ottawa's Samah Syed is set for a bright future both on the mat and off it.
The 22-year-old University of Ottawa student is a third-degree black belt and was one of 40 Canadian athletes who took part in the biennial ITF World Championships in July.
Competing in her second World Championship, Syed won a bronze medal in the Individual Patterns to go along with three more medals in Team Patterns, sparring, and special technique.
"The feeling was surreal," she says. "It was a huge accomplishment for something I have been working on for almost two years."
As a junior, Syed competed in the 2007 World Championships in Birmingham, England where she brought back two silvers medals and one bronze for all team events.
This year in Rome, she went one better by winning her first ever individual medal.
"I felt that all of the hard work I have been putting in for so many years has finally shown through my first bronze medal in Individual Patterns," she says.
Syed was only three years-old when she got into taekwondo and hasn't looked back since. For her, taekwondo is more than just a sport.
"The thing about taekwondo that I love the most is that it is a martial art that is practical and can be applied to all daily skills," she says.
"Not only is it a great form of physical activity, but it also instills discipline - taekwondo is a way of life that can be instilled in anyone at any age and will always be a part of you."
Syed is of Pakistani origin but was born and raised in Ottawa. Currently she is working on her Bachelor of Science degree with a specialization in Human Kinetics from the University of Ottawa.
Competing as a young female Muslim in a male-dominated sport, Syed says she hasn't been subject to any restrictions or abuse from her peers with regards to her faith.
"As a young female Muslim Canadian athlete, I haven't encountered any challenges that include my religion," she says. "Everyone at my taekwondo school and the people I meet at competitions are not racist or show any negative attitudes towards Islam."
For Syed, taekwondo fosters a positive ethos of multiculturalism that goes beyond the mat because so many different kinds of people play the sport.
"Since so many people with a variety of cultures and religions participate in taekwondo, people are never negative to different cultures or religions, which is great because everyone respects one another," she shares.
Syed says she owes her success to her family and taekwondo instructor, who continue to stand behind her on every step of the way.
"Without the support of my taekwondo instructor and especially my family, I can't see myself as a competitor for the World Championships."
"My parents have always showed so much support and dedication throughout all the 17 years now that I have been practicing and continuing with taekwondo - winning at any competition shows that my parents have always been the backbone to my training."
Syed says that if she were to give one piece of advice to young Muslim women who are interested in sports, it would be to follow their dreams and not second guess themselves.
"You never know what you can accomplish and succeed unless you try. Many people are afraid to try new things, but you'll never know what you really like until you give it a try."
She also says that while coming out of your comfort zone isn't always easy, the reward of success makes it worthwhile in the end.
"It's important to try new things. Don't give up, keep working hard because one day you'll succeed and feel amazed about what you have done."
With one of her biggest goals of winning an individual medal already achieved, what are her plans for the future?
"In taekwondo my plans going forward are to continue training until I am eligible to go for my fourth degree. Other than that, it's just to be in school and continue my studies."
If her attitude and recent success are anything to go by, in the years to come, Samah Syed's name is one we will be hearing a lot more of in the field of sport. ■
This article was produced exclusively for Muslim Link and should not be copied without prior permission from the site. For permission, please write to info@muslimlink.ca.