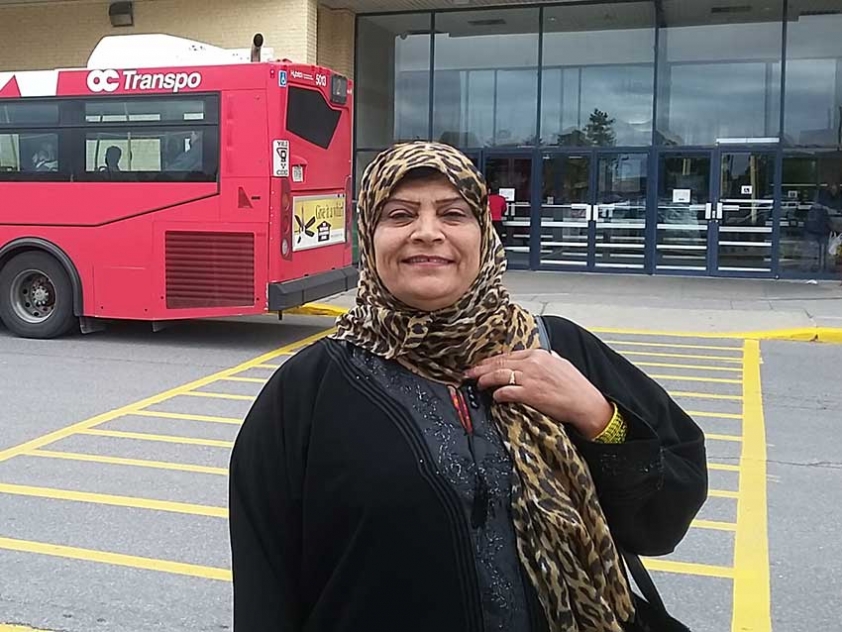 Nahid Khan wants you to help make public transportation more affordable in Ottawa.
14
Jun


2016
Ottawa Mother and Refugee Advocates Want Community to Stand Up for Low-Income Transit Pass
Written by Chelby Daigle
Naheed Khan wants Ottawa's Muslim community to contact their city councillors and ask that the Ottawa Transit Commission agree to provide a low-income transit pass for Ottawa's low-income residents.
She has made deputations to councillors' on the commission and will be speaking again on June 15th, when the commission makes a decision on whether to move forward with the proposal to fund a low-income bus pass for Ottawa residents who are struggling to afford public transportation.
Naheed never imagined she would be presenting to city council when she first came to Canada from Northern Pakistan. "Where I come from, you can't just meet the mayor," she shared, "There are so many protocols. You can't just talk to elected officials." She admits that for much her life in Canada, she didn't even see why voting was important. But when she found herself struggling with poverty alone with her children, Naheed became involved with the Making Votes Count project of the City for All Women's Initiative (CAWI) and began to understand how her financial struggles were related to municipal politics. "I learned why voting mattered and how to get other people to understand why voting matter," she explained.
Naheed also gained the confidence to speak publicly about her family's struggles making ends meet. "I don't have to be ashamed," she shared, "A lot of Muslims are struggling. We just don't talk about it. But when you talk about it, you may find that the person beside you is struggling with the same thing."
Recently, Naheed has been speaking out to city council about the need for more affordable transit in Ottawa. She is not alone. A coalition of over 40 organizations have come together to encourage Ottawa residents to petition city council for a low-income transit pass, passes which exist in several cities across Ontario and Canada. They also want to raise awareness about the fact that Ottawa has one of the most expensive bus fares in the country, making transportation as a serious barrier for many people in Ottawa to access employment and education.
This reality is not lost on Louisa Taylor, the director of Refugee 613, one of organizations that has joined the coalition. The high cost of public transit is presenting many problems for Ottawa's newly arrived Syrian refugees who often can't afford to take their families to the many services and programs being developed to help their integration. "We work with every sector supporting refugees and they all tell us the same thing, 'If you can't get where you need to go, you are not going to integrate in a smooth, successful way'," Louisa explained, "Refugees are living on very low fixed incomes and often they can't afford transit passes. If you are lucky enough to have a job, you need to get there, if you are looking for a job, you need to be able to go to interviews, if you have a spot in a language class, you need to be able to get there, and our bus passes take a huge chunk out of people's monthly incomes." Another challenge facing Syrian refugees is the size of their families. "Some families have six, seven, eight members. How do you afford to get your family around when you are paying regular bus fares?"
Louisa hopes that more Ottawa residents will learn about issues like the lack of affordable public transit and start trying to find solutions. "If we bring refugees here, our support for them shouldn't stop once they have arrived-that's when it begins," she stated, "We need to invest in their success. That means giving them the tools they need to take advantage of the opportunities our city has to offer."
Naheed knows that this is a struggle for many refugees and newcomers in Ottawa and feels it is her duty to speak out to city council on this issue. "I think I am more effective as a speaker because this issue really affects me," she explained, "Many people talk about low income people but it is important that I talk about it because I have a low-income. My family is struggling to afford bus passes for everyone. When you speak for yourself, it comes from the heart, I know what life is like in my shoes, other people don't know so I am the one who should be talking."
She has not let the fact that English is not her first language intimidate her. "Even if my English or accent is not correct, [the councillors] know how I feel, that I am speaking from the heart. They give me five minutes to talk and I talk. They want to hear your facts, your experience. It is okay if your English isn't the best."
Naheed hopes more Muslim women like her will get involved in projects like CAWI. "They need to know their rights and what they can ask for as a citizen," she stated, "There is no reason to be ashamed because we don't have money. Our government, our councillors, we can ask them for help, we can ask them to make things easier, that is our right. I have met so many councillors doing deputations at city hall. They are very respectful. When I see myself in city hall talking to the councillors, I feel proud because this is my right."
Although Naheed wants everyone in Ottawa to help make a low-income transit pass a reality, she really hopes Ottawa's Muslim community steps up to address this issue, particularly during the month of Ramadan, when Muslims are asked to reflect on issues of economic justice by giving zakat (charity). "I want Muslims to sign the petition, and email and call their councillors and tell them that we need the low-income bus pass," she stated, "Then the councillors will know that many people are in need and many people support helping those in need."
To learn more about the issue of Affordable Transit in Ottawa click here
This article was produced exclusively for Muslim Link and should not be copied without prior permission from the site. For permission, please write to info@muslimlink.ca.