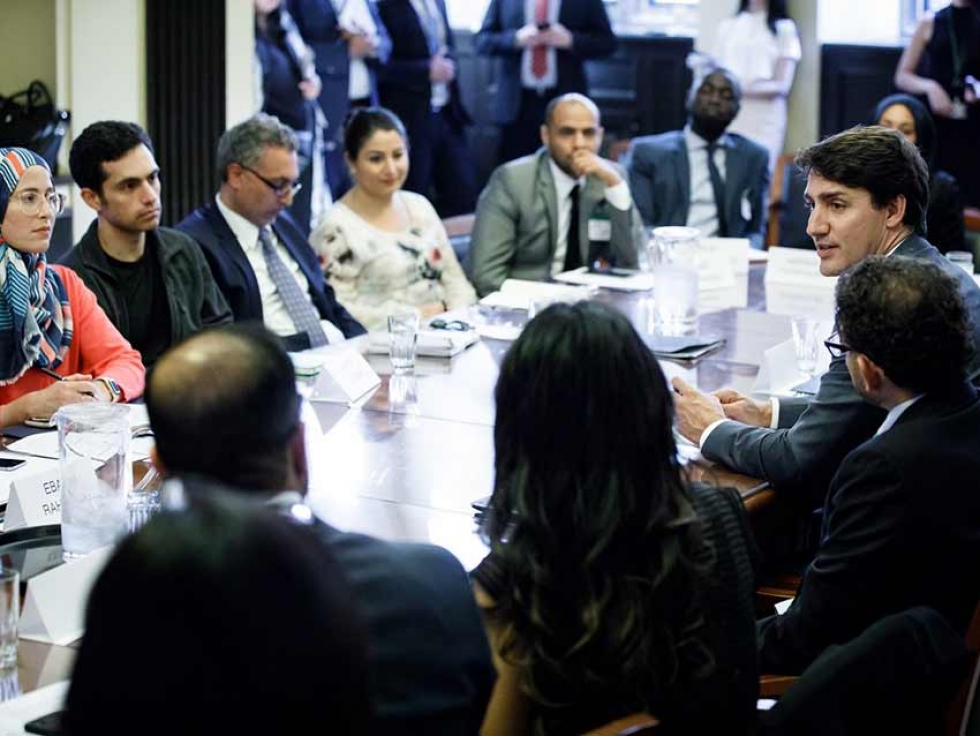 Prime Minister Justin Trudeau meets with leaders from national Muslim organizations in Ottawa on June 19.
Prime Minister Justin Trudeau Twitter Account
20
June


2018
Prime Minister Justin Trudeau Meets with Members of National Muslim Organizations
Written by Chelby Daigle
Selected leaders of Muslim organizations based in Ottawa or Toronto but with a national focus attended a meeting with Prime Minister Justin Trudeau and the Liberal Caucus on Tuesday, June 19.
Groups also met with the leadership of the Conservative Party and the NDP.
Topics explored included foreign policy, humanitarian efforts particularly in relation to Palestine, Yemen and Rohingya refugees, and Islamophobia.
We hope that minutes were taken from these meetings that will be made publicly available to the wider Muslim Canadian communities so we all can have a clear picture of what was discussed and how local Muslim Canadian initiatives can follow up on these efforts.
We strongly encourage readers who are interested in knowing more about these meetings to contact the organizations and individuals who attended:
We are currently verifying the attendee list to make it easier for readers to reach out and follow up.
We have included links to the biographies and Twitter accounts of indivdual participants when available.
Organizations
National Council of Canadian Muslims (NCCM)
Canadian Muslim Lawyers Association
Individuals
Amira Elghawaby @AmiraElghawaby
Sabreena Ghaffar-Siddiqui @sabreenaGS
This article was produced exclusively for Muslim Link and should not be copied without prior permission from the site. For permission, please write to info@muslimlink.ca.