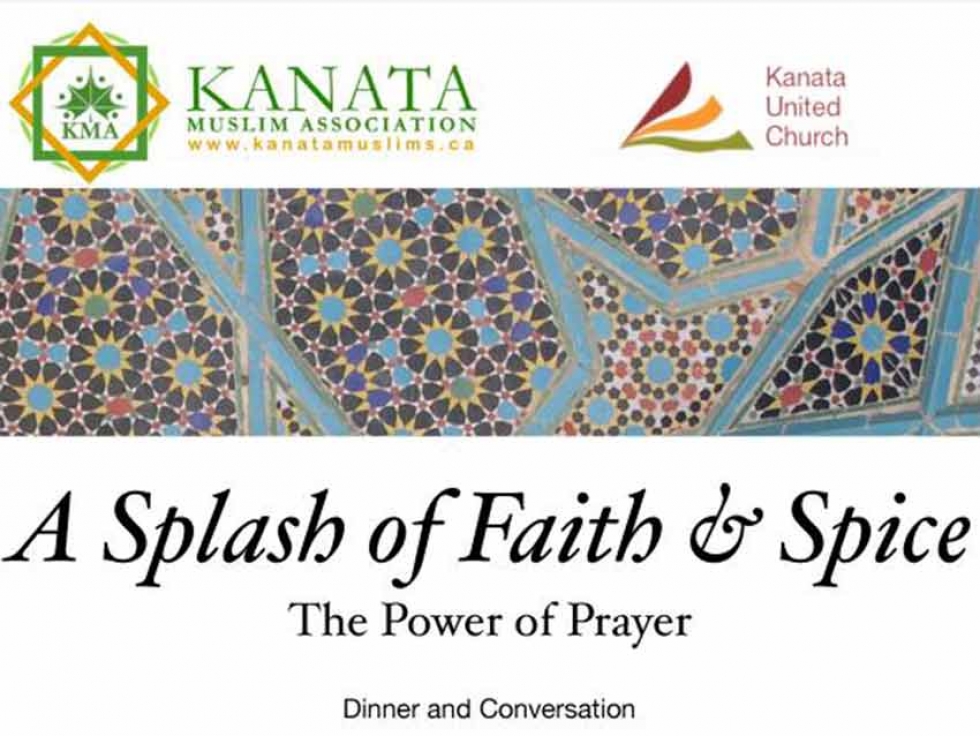 The Kanata Muslim Association (KMA) has partnered with the Kanata United Church (KUC) to organize their third annual joint fundraising dinner for Caldwell Family Centre.
01
Feb


2019
Muslims and Christians Unite to Raise Funds for One of the Busiest Food Banks in Ottawa This Sunday
Written by Chelby Daigle
The Kanata Muslim Association (KMA) has partnered with the Kanata United Church (KUC) to organize their third annual joint fundraising dinner for a community cause. This year they have partnered to raise funds for the Caldwell Family Centre, that runs programs for families in the Caldwell-Carlington area community, including one of the busiest food banks in the city of Ottawa. 
Muslim Link interviewed Humaira Kadri, one of the fundraiser's organizers, about this interfaith collaboration, why people should attend this event, and the tasty food they can look forward to eating.
Tell us about your team organizing this event came together
The Kanata Muslim Association (KMA) has outreach as one its areas of work (spirituality and wellness being the other two). In an effort to establish a bridge of communication and foster understanding with neighbours of other faiths, Imam Sikander Hashmi reached out to his good friend Rev. Stephan Vermette, who was the minister at Kanata United Church (KUC) at the time. They decided they wanted to have a bazaar selling handcraft items, mainly from the church congregation, and food provided by Muslim community along with some other cultural items.
Imam Sikander reached out to Sameena Khan and me, Humaira Kadri, to ask if we would be interested in coordinating this event with Kanata United Church members. Even though we only had a couple of weeks to try and pull it together, we decided we are up for the challenge because we strongly believe in supporting such multifaith events that fosters understanding and respects between faiths. It was from there that the first joint Multifaith Bazaar event took off between KMA and KUC, on Saturday, January 30th, 2016. Our two communities worked together to make this a fun and learning event. It successfully raised funds $2,600.00 that was graciously given to our Kanata Masjid & Community Centre project.
Our food was loved so much that from the following year, we dropped the bazaar and just focused on holding a dinner. This is our third year of holding this joint dinner. It has turned into an annual tradition that gives both communities the opportunity to meet socially and share our respective beliefs and practices of faith.
Why did you choose to support the Caldwell Family Centre?
Both KMA and KUC wanted to be able to not only share a joint event but also to try and contribute to a cause that is important to both communities and helps others. In 2017, we donated 100% of all funds raised -- an amazing amount of $2500 – to support local Syrian refugees, Mashaa Allah. Last year's dinner, on April 15, 2018, helped raised over $700, which was split equally between the Kanata Food Cupboard and our Masjid & Centre Project.
One of our coordinators from KMA, Sameena Khan had the opportunity to attend a fundraising dinner called "Harvest of Hope" that helps to support Caldwell Family Centre services. She was amazed at all the wonderful work they do and the wide range of programs that Caldwell Family Centre offers to children, youth, families, and seniors in its community. In addition, Caldwell Family Centre offers an emergency food program that is one of the busiest food banks in the city which helps feed 1700 people each month.
Tricia Carran, the coordinator from KUC, had the opportunity to visit the Caldwell Family Centre and meet with the executive director and organizers of the centre to learn about the support they're providing to many people in need, including a large number of refugees in Ottawa. Looking at Caldwell Family Centre's impressive work, we felt this is an amazing organization to help support. If you're interested in learning more about this organization, please come to our event and meet with their Executive Director, Marilyn Matheson, who I'm sure would love to share information about the centre.
What can attendee's expert at this event?
Guests attending the 3rd Annual "A Splash of Faith & Spice" dinner can expect a delicious Halal meal and engaging conversations between members of both faith communities on this year's topic, "The Power of Prayer". We're encouraging members of both communities to share their beliefs and thoughts on what prayer means to them. The delicious halal dinner is being catered by two of our local caterers here in Kanata.
Here are just a few of the savory dishes we are serving: Chicken Biriyani, Beef Haleem, and Palak Paneer (spinach and cheese in a delicious creamy sauce), Chinese Hakka Noodles, Garden Salad, Naan, and finally dessert (provided by members of the church), tea, and coffee. We welcome everyone including families with their children to enjoy socializing in this informal, friendly and welcoming atmosphere. A prayer room will be available for those wishing to offer Maghrib prayer. All proceeds will support the Caldwell Family Centre and we have invited the Executive Director, Marilyn Matheson, to give a brief speech of services and programs they offer and the good work they do in the community.
Is there anything else you would like to add?
We have a very limited number of seats (around 125) and are hoping to sell all our tickets to be able to donate a respectful amount to the Caldwell Family Centre.
We are asking our community to please come out and support this event happening this weekend Sunday, February 03rd.
Doors open at 5:00 pm and dinner will be served at 5:30 pm sharp.
You can go online and purchase your tickets online here, or call KUC at 613-592-5834 or KMA at 613-973-5000.
Also, if you can not make it but would like to sponsor a family or individual, please call and let us know. We are looking forward to seeing you and your family this Sunday, February 03rd.
Please kindly come out and support this joint community dinner.
We look forward to seeing you there!
This article was produced exclusively for Muslim Link and should not be copied without prior permission from the site. For permission, please write to info@muslimlink.ca.