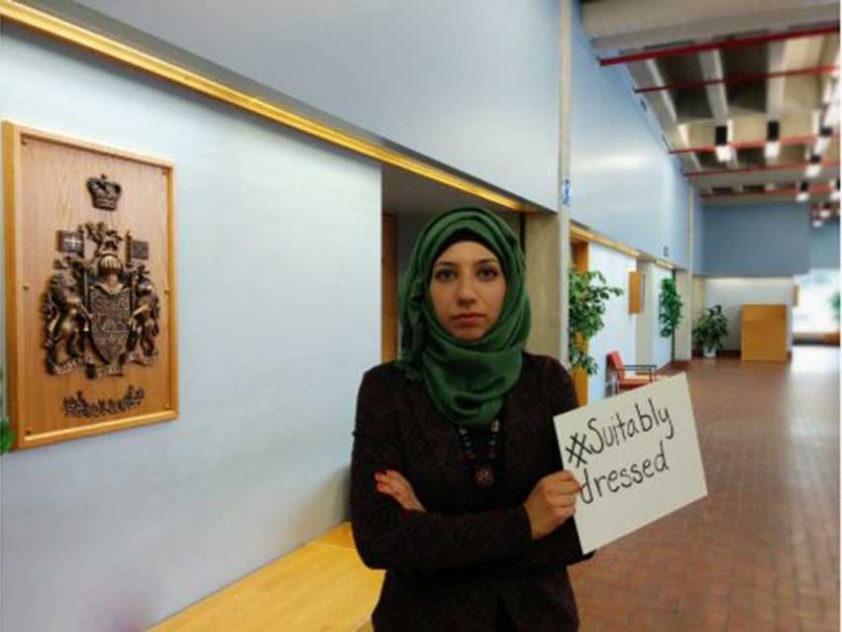 Amna Qureshi posted this photo on Twitter in protest of Montrealer Rania El-Alloul being told by Judge Eliana Marengo that she had to remove her hijab in order to be "suitably dressed" in a "secular" Canadian courtroom.
Courtesy of Amna Qureshi
17
March


2015
So You Want To Go To Law School? Amna Qureshi
Written by Amna Qureshi
A twitter photo by Amna Qureshi just went viral. Posted in protest of Montrealer Rania El-Alloul being told by Judge Eliana Marengo that she had to remove her hijab in order to be "suitably dressed" in a "secular" Canadian courtroom. The incident made the ongoing Islamophobia that Muslim women who wear hijab or niqab face in accessing services a national issue. It also raised the question of how Muslim women lawyers who veil will be treated within the legal system.
As part of Muslim Link's ongoing So You Want To… Series where we interview Muslims about their programs of study or career choices, Amna Qureshi, a graduate from the Law School at the University of Ottawa discusses the opportunities and challenges pursuing a law degree offers for Muslim women. A Pakistani Canadian, Qureshi now works as a staff lawyer at Legal Aid Alberta.
Tell us about yourself.
So this always surprises people, but I grew up on a farm just outside a small conservative town in rural Alberta. My parents emigrated here from Pakistan and myself and my three other siblings were born and raised here. My family was not wealthy, and we were virtually the only visible minorities in the town and that came with it a whole host of challenges and lessons. I started wearing the hijab in grade 6 and was in grade 10 when 9/11 happened. That was a turning point in my life, like many Muslims of my cohort. As is the story with many minorities, I was called upon, sometimes unfairly, from an early age to speak for various minority groups and marginalized communities. Needless to say, it was a maturing and strengthening experience.
Why did you want to attend law school?
I knew from an early age that I wanted to be in a helping profession and saw attending law school and becoming a lawyer as a way to do that, especially when it came to helping marginalized members of our community. I was inspired at a young age by stories like Harper Lee's "To Kill a Mockingbird" and songs like Bob Dylan's "Hurricane." I still am.
What advice do you wish you were given about attending law school that you wish to share with aspiring law school students?
The vague: The people making the rules can be wrong. Don't be afraid to challenge them, but do so using tact and empathy. You have the ability to spark change and move history along. Yes other people might be able to do a better job than you, but you are the only one who can do the job now. So do it.
The specific: Find a club or association that does work you are passionate about and get involved. Get involved in events and activities outside the law school – it keeps you grounded, gives you perspective, and makes you unique. Worry less about finding a job and more about making law school a learning experience. Make sure that learning includes practical skills: internships, moots, watching Supreme Court hearings, [and so forth].
What barriers, if any, do you feel someone from your particular background might face when attending law school?
Muslim law students face unique barriers and challenges to entering and attending law school, and they have been historically underrepresented in the field like many minority groups. Despite the amazing progress, our legal system is a still a dated one and has remnants of colonialism and patriarchy. Law students face incredible pressure to conform to some of the more dated ideals. Many law students feel the need to pretend to drink alcohol at firm sponsored events/receptions even if they don't drink or don't want to drink, or to suppress their minority identity by anglicising their names or taking certain identifying details off their resumes.
I have to admit, in my experience, I learned that law school career services have contributed to this problem and so there is a burden on them to reform their practices in a big way. There are other barriers that people from low-income backgrounds face [in] applying to and attending law school as well. Things like needing to pay high application and tuition fees, having to adhere to expensive business dress codes at events and interviews, having to fly to different cities for job interviews while in law school – the list goes on, but all this [is] to say that law schools have some way to go in becoming accessible.
I wouldn't want future law students to be disheartened when hearing these things though. For me, these realizations as I went through law school didn't daunt me but instead made me more passionate and engaged in my community and allowed me to forge very strong networks with like-minded people. There is a powerful feeling in knowing where change needs to occur and knowing you can be a part of that change.
Describe what level of law school you have just completed, any challenges you faced and what advice you would give to students going into that level.
I completed my articles, which is the one year after you finish law school, where you work at a firm or organization under the supervision of other lawyers in order to become fully qualified as a lawyer. I completed my articles with the provincial government which allowed me to gain rich on-the-job experience in various areas of law. Articling is regarded as one of the most intense experiences in law as students compete for hire-back positions, study for their bar admission exams/courses, and put in long hours to get the work done.
My advice to students just starting their articling is to get as much experience as you can while still within the safety net of your title as a "student-at-law" and the supervision of lawyers. Specifically, try and get as much court experience as you can. Lawyers and judges do bestow a unique status on articling students that makes court a huge learning opportunity – especially those off the record de-briefing sessions afterward! Also, I would say try and connect with other articling students because articling can be very stressful and they, more than anyone, will be able to empathize and help. In the end, articling is a great way for you to realize if the setting you are in is where you want to end up long term, so experience as much of it (good and bad) as you can.
Have you done any grassroots activism/community work with your law skills? If so, describe it and the impact you hope it had within the community.
My legal education has opened many doors to me in terms of community work. While I was active in my communities prior to law school, I believe that my legal education allowed me to gain the credibility, knowledge, and the networks required for successful grassroots activism and community work. This work has included internships with community legal clinics, disability rights advocacy centres, and legal education organizations, as well as more informal organizing around social justice issues in the community from discussion panels and law reform submissions to rallies and marches. I believe that doing work like this can help dispel stereotypes about lawyers as being profit driven and social pariahs as well as inspire the younger generation to go into law and understand that it can have a real social impact.
Do you feel Muslim lawyers should be providing or building networks of support for Muslim law students? Do you see similar networks of support for students from other communities?
I absolutely see the necessity for such initiatives and believe that the network and mentoring within the Muslim legal community has flourished over the past few years because of that necessity. There are the student-led Muslim Law Students' Associations with chapters in many law schools in Canada and America, as well as the National chapter, which are great ways in which Muslim law students can build a sense of community, ally with other equity-seeking and social justice groups, and to mentor and be mentored by others in the field. Other groups include the Canadian Muslim Lawyers Association, Canadian Muslim Forum, and the Canadian Association of Muslim Women Lawyers all doing great work to connect law students with practicing lawyers.
I do see similar networks for students from other communities and look to them for guidance on how to best build our own. A good example of this is the National Black Law Students Association which is very successful as a resource for law students and young lawyers.
Further Reading:
Facing Injustice: Implications of Ordering N.S. to Remove Her Niqab by Amna Qureshi (Slaw, Canada's online legal magazine, 2013)
Retired Supreme Court justice wrong to endorse Quebec values charter by Amna Qureshi (The Toronto Star, 2013)
A hijab is perfectly suitable attire for a courtroom by Amna Qureshi (The Toronto Star, 2015)
This article was produced exclusively for Muslim Link and should not be copied without prior permission from the site. For permission, please write to info@muslimlink.ca.